February 21, 2015
Having successfully tested Joe's retro equipment, and setting the depth record for the regulator at 74 feet, it was now his turn for the dive.
I needed to get back into my truck to get my own gear.
I wish I had my keys in easier access, because I now had to peel my newly acquired wetsuit off to get my keys and squeeze back into the thing – the entire process was more strenuous than the last dive.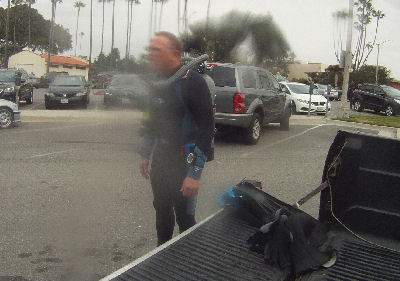 Joe was going to do an ultra-macho retro dive – no pressure gauge, no BC jacket and the double hose that I just tested that has no auxiliary second stage – this is how Mike Nelson from Sea Hunt did all his dives.
I was actually a little nervous, because I would have to deal with any issues that he had, but I had full confidence that he knew what he was doing.
As we were walking down, Joe said, "You are only going to hold the depth record for about an hour."
The dive plan was to go down the shelf, hit depth and then angle over to the "Crab Shack" before heading back in.
The "Crab Shack" is a bunch of stacked cinder blocks in about 65 feet.
We made an easy entry and swam out just a little ways before we descended.
Logged SCUBA Dive #488
Dove with Joe R.
Veterans Park, Redondo Beach, CA
In With: 2800 psi
Out With: 1400 psi, I think
Max depth: 85 feet
Waves: Flat
Visibility: 15 feet plus
Water Temperature: 59 degrees
Air Temperature: 64 degrees
Total Bottom Time: About 25 minutes
I followed Joe.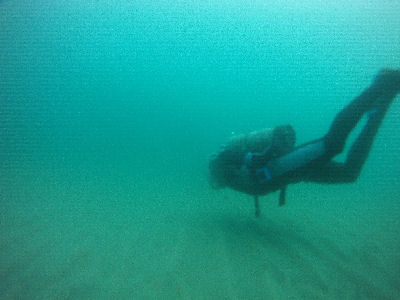 I was so glad I was in my own equipment.
Some divers complain that my gear is "old" and maybe it is, but it is not obsolete.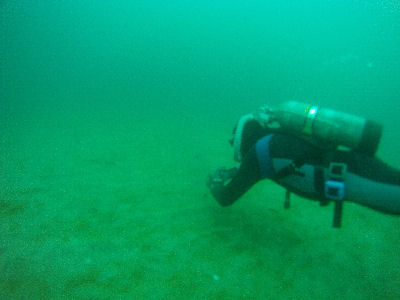 Joe was a little under weighted and had a hard time staying down, but he made it to the shelf and down to 85 feet.
Yeah, he was now the record holder for depth with that ancient regulator.
Fuck!
If we were having a contest, I may have pushed it a little deeper!
I had asked Joe if Lloyd Bridges of Sea Hunt may have breathed through that regulator.
He said, "It is quite possible, he filmed it in the area and it is contemporary with the period."
We did the dive plan successfully.
Unfortunately, no more underwater pictures came out.
Joe must have iron lungs; he went deeper and lasted longer on that regulator that I had described in my previous post as "It was like taking a drag off a hookah with a clogged bowl."
We made an easy exit after surfacing at 15 feet.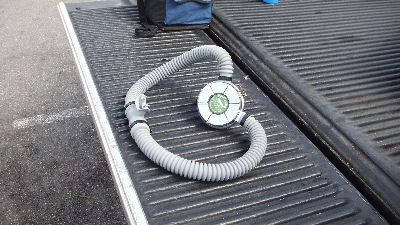 The regulator looks very simple…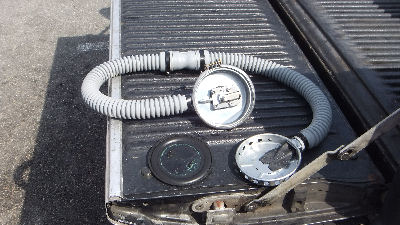 Upon Joe opening it, I realized how simple is really is… a big diaphragm with a little trigger mechanism the size of a match book that opened up an air valve the size of a pen top.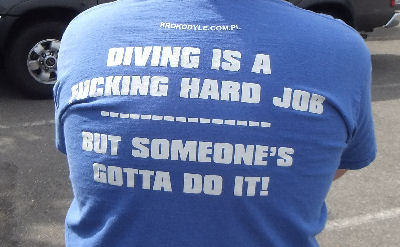 This shirt says it all!
Debriefing with the King Of beers ensued.
I may be doing a repeat of my trip to Albania presentation for Dive N Surf.
I also learned, contrary to what I have been told about "modern equipment," that when you turn your air on, always point your gauges to the ground.
Someone was almost blinded when the pressure gauge exploded and threw glass everywhere.
I have also been told that I need to post more.
Thank you Joe for the great diving experience!