January 24, 2015
The swells had been pounding the coast, so nobody wanted to dive the breakwater, and there was little enthusiasm to dive anywhere else.
We had an hour and a half of off gassing to figure out where our second dive would be.
I had to take the neck seal on my dry suit off – my red face was scaring the Dive Master.
We decided on a place that was not as deep as the first dive, but nobody had any realistic hopes.
I put my dry suit back on, geared up and went over.
Suddenly, I started feeling wet.
Fuck, I was leaking!
I checked my zipper, all was good.
Hmmm… well, I needed lobsters, and a little water was not going to stop me.
I descended down the anchor line.
Logged SCUBA Dive #484
SoCal Buddy Diving/Solo Diving
Secret Location: 54 68 65 72 65 20 69 73 20 61 20 66 61 72 6d 20 6f 66 66 20 74 68 65 20 72 65 64 20 62 65 61 63 68 20 74 68 61 74 20 67 72 6f 77 73 20 6e 6f 74 68 69 6e 67 20 62 75 74 20 70 69 70 65 73 2e, Redondo Beach, CA, USA
In With: 2900 psi
Out With: 800 psi
Max depth: 85 feet
Waves: Pretty flat
Visibility: 10 feet
Water Temperature: 57 degrees
Air Temperature: 69 degrees
Total Bottom Time: 20 minutes, or so
As I felt the squeeze of my dry suit, I gave it some air – and it leaked right out of my neck seal.
OK, I must have not put my neck seal on right.
The water leaking into my dry suit soon relieved the squeeze.
I saw a few shorts and one legal one that was wedged into a crevice, out of reach.
Basically, there just was not an abundance of lobsters down there.
I came across the anchor line, and decided to head back up – very slowly this time; I was only 15 minutes into the dive, and I at least wanted to do 20 minutes.
I came up the the anchor slowly and made it back on board the boat.
My dry suit was completely flooded.
I pried open my left arm seal and about a gallon of water emptied onto the deck.
Kathy the Divemaster asked, "Oh, my! What happened?"
I said, "I forgot I was wearing a dry suit and accidentally peed in it."
Well, nobody believed me, especially when I took the rest of my "dry" suit off and flooded the deck.
I think everyone got skunked on this dive.
However, once back at the dock, Mirek was nice enough to spread the wealth…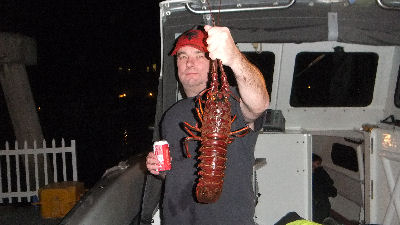 Thank you Mirek, for not letting me come back empty handed!
Maybe it was his communist upbringing in Poland, or the fact he was going immediately to another boat for morning dives on the oil rigs, but he did spread the lobster wealth around.
Thank you again, Mirek!
Super bowl Sunday, I am diving the oil rigs for scallops.
Unfortunately, I heard the pillars have been scraped down to 85 feet.
More to come, stay tuned!
Comments Off

on Second Lobster Dive Of The Night