September 27, 2014
The bugs were deep and all of us were super saturated with Nitrogen.
We had to try deeper places, so the Captain pulled anchor to find a similar spot.
After a 20 minute boat ride and a surface interval of over an hour, we anchored in a not so secret spot – there were several dive boats already in the area.
"It's 3:30 AM, hasn't this spot been picked clean already?," I thought.
Eric made a mad dash to be the first one off the boat.
I soon followed and noticed a fairly strong current.
I submerged down the anchor line and swam against the current.
Logged SCUBA Dive #476
Solo Diving
Secret Location: 41 20 52 65 65 66 20 63 6c 6f 73 65 20 74 6f 20 61 20 50 6f 69 6e 74 20 74 68 61 74 20 69 73 20 4c 6f 6e 67 2e – Catalina Island
In With: 3000 psi
Out With: 800 psi
Max depth: 65 feet
Waves: Pretty flat once we were there
Visibility: 10 to 15 feet
Water Temperature: 67 degrees
Air Temperature: 66 degrees
Total Bottom Time: 35 minutes
I hit a reef with an abundance of fish and other sea life.
I spotted a short lobster with half its legs gone, limping on the sand.
Yeah, this place has already been raided and I bet the lobsters are spooked.
I saw a bunch of bugs in the cracks of the reef – too far in to grab.
I know they were too far in, because I tried; I even looked for a back entrance.
This was a nice dive, with lots of structure and sea life, however we got there too late.
The fact that I always saw at least one other diver's light double confirmed my thought.
I began to accept the fact that I would not be limiting on this dive.
I toured around the reef, and when I lost hope for another bug, I slowly swam to the surface.
I hit the surface literally 15 feet away from the boat.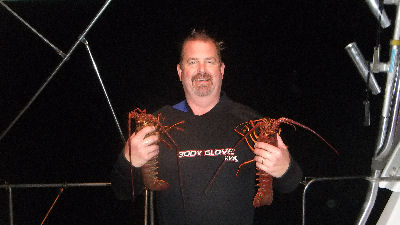 Eric amazingly caught two on this dive – he didn't have to go home skunked.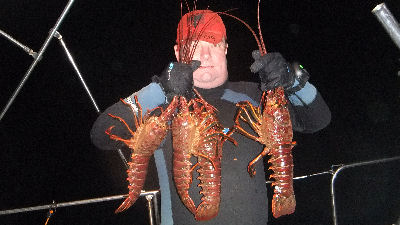 My entire catch for the trip.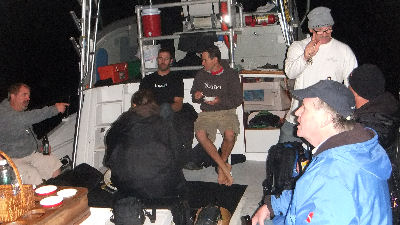 We debriefed after the dives, but I soon found myself sleeping in the galley on the way back.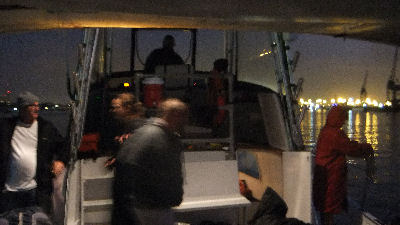 We made it home just as the Sun was coming up.
This trip was not as plentiful as last Opening Night; some experienced divers got skunked or only one or two.
Tim was the only one who limited and won the jackpot for the biggest dive (pictured last post).
I ended up with four lobsters and felt bad that I didn't have a couple to spread the wealth around.
All in all, another Opening Night with cool people on a cool boat.