The weather was overcast, but warm; diving reports from Wednesday from Veterans Park were of dismal conditions, including large rolling waves.
I was really thinking about staying home, but I had good feelings about today.
I got to Terranea Resort about 20 minutes late, but parking was no problem.
Reverend Al, Steve and Donna the Hot Biker Chick were walking back from a conditions check.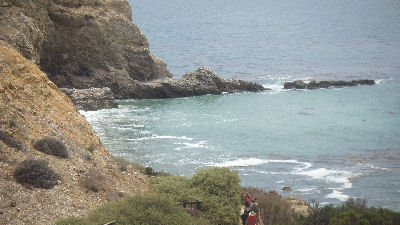 "It looks a little green, so we're going off the Point and deep," I was told.
We geared up and walked to The Point; we were the only divers there today.
Entering off The Point was a little tricky, and we got surprised by some pounding rouge swells.
I waited patiently for the swells to subside and made it out with no issues.
Donna was a little winded when she made it out – I think she had to fight against an incoming swell; Eric looked like he nearly missed playing pinball against some rocks.
We swam around and under the kelp before meeting again and doing our final descent.
Logged SCUBA Dive #468
Dove with: Reverend Al, Donna The Hot Biker Chick, Eric and Mike
Terranea Resort (a.k.a. Old Marineland)
Rancho Palos Verdes, CA, USA
In With: 2900 psi
Out With: 500 psi
Max depth: 62 feet
Waves: Generally calm with some big rolling waves on shore
Visibility: 8-10 feet, silty
Water Temperature: 68 degrees
Air Temperature: 81 degrees
Total Bottom Time: 46 minutes
In three words – visibility sucked ass.
I followed Reverend Al, the rest followed us.
Believe it or not, but Al found the statue at the pinnacle; it is heavily encrusted with sea growth, but still recognizable.
We started to head to The Cove after five minutes; there was a strong current going the other way.
It wasn't a bad dive, but the visibility just sort of sucked.
Mike apparently spotted a few lobsters.
I didn't see anything really cool – like a shark or something; it was a typical, low vis non-dramatic dive.
I broke away from the group at 500 psi and surface swam about 150 yards to a perfect exit.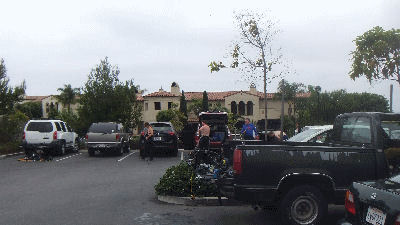 Light debriefing ensued.
The five of us talked about how we sometimes scare off some would-be divers wanting to join us here.
"I just want people to know, this is a rocky entrance and exit – do we really need to rescue someone who isn't ready for a dive like this?" I asked.
We then went over some scenarios if a diver did get injured while making an entrance off The Point.
Those scenarios were scary to think about.
Debriefing ended well before noon.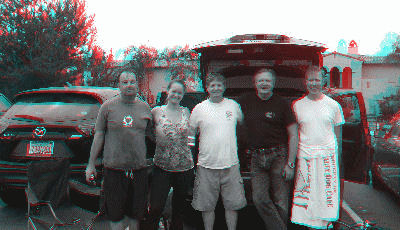 Today's diving crew – Me, Donna The Hot Biker Chick, Mike, Reverend Al and Eric