December 29, 2013
I arrived promptly at 8 AM, extremely tired from getting about three total hours of sleep.
I was hanging out with this hot chick the previous night; I wasn't drinking since she doesn't like drunks, so I had to endure the side affects of insomnia.
A good sized crowd showed up, along with some divers we had never seen and a few kayakers.
After changing the camera housing seals after my flood last dive, I took an empty housing on this dive to check for leaks.
We all had geared up by 9:10 – the Point looked a little rough, but the Cove was fine.
Reverend Al, Holly and I, made a perfect entrance into the nearly flat water that was disturbed only by a few rolling swells against the shore.
We waited for Ted and his buddy, submerged and went to the right, the opposite way of 120 reef.
Logged SCUBA Dive #459
Dove With Reverend Al and Holly
Terranea Resort
Rancho Palos Verdes, CA, USA
In With: 2800 psi
Out With: 1100 psi
Max depth: 40 feet
Waves: A few rollers at the shore, flat otherwise
Visibility: 10 feet, 15 feet some places
Water Temperature: 58 degrees
Air Temperature: 78 degrees
Total Bottom Time: 35 minutes
After about three minutes I checked my air – I was at 2,600 psi, but every time I took a breathe the needle would drop to 2,000.
Obviously, my air wasn't all the way on; I must have bumped or rubbed against something on the way out.
I swam up to Reverend Al, showed him the problem and he turned the air all the way on.
There was a mild surge that made it challenging not to run into my surroundings, whether it be a reef, another diver or kelp.
Visibility wasn't all that great, but there were some spots that reached 15 feet of visibility.
After 20 minutes, Holly signaled to me that she was getting cold.
I signaled to Reverend Al, that we were turning around, Holly seemed a little pissed.
I would rather turn around when someone is getting cold, than turn around when someone is cold.
We slowly made our way back to the cove; I helped Holly off with her hook, almost tearing her head off in the process.
My camera case was bone dry on the inside!
I want to test in at 120 feet before putting my camera inside for a dive.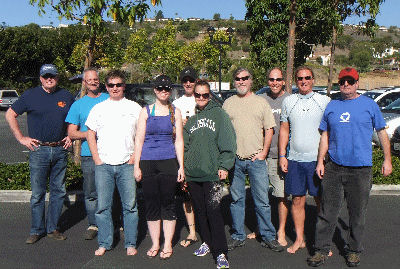 The Sunday Dive Crew
I brought Polska Kielbasa since Dash had mentioned that he was bringing his barbecue.
When no grill was fired up, I asked why.
It seems that nobody brought anything to grill, and when I told them I had, the barbecue was lit.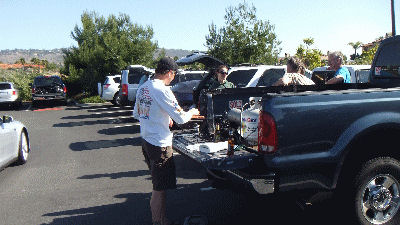 Dash tenders the debriefing barbecue.
I was really tired, and kept the debriefing at a minimum.
And so ends another year of diving – I have slacked this year with only 30 dives.