Thank you Divevets and Diver Wrinkles for bringing this to my attention.
You think you're safe from the watch of the Department of Fish and Game while underwater?
Here's a story of a man off of Catalina who got busted underwater…

From The California Department Of Fish And Wildlife News
California Department of Fish and Wildlife (CDFW) officers cited a 46-year-old Ventura County man for using rubbing alcohol to force fish out of rocks and capturing them to sell.
The diver was cited for two Fish and Game Code violations: use of chemical while collecting marine aquaria and unlawful take of marine aquaria at Catalina Island, which is prohibited by law.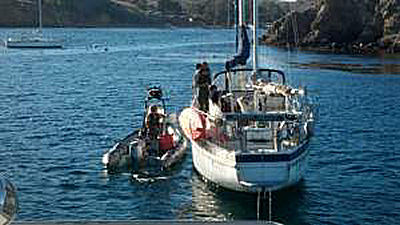 On the afternoon of Nov. 13, officers from the patrol boat Thresher observed a large recreational sailboat with commercial fishing license numbers painted on the stern anchored in Emerald Bay on the northeast coast of Catalina Island.
Officers boarded the boat and found a man sport fishing. The angler told the officers that his partner was SCUBA diving.
Officers entered the 62-degree water and observed a diver squirting a liquid (later determined to be rubbing alcohol) from a bottle into cracks of rocks.
The liquid was forcing small fish, Blue Banded Goby (Lythrypnus dalli), into the open water where the man then caught them with a small aquarium fish net and immediately put them in a small plastic receptacle attached to his SCUBA gear.
The warden used a mask and snorkel from just below the water's surface to watch the diver squirt the bottle twice.
The warden then dove down, showed the diver his warden identification, and directed the diver to come to the surface.
Before ascending, the diver left one of his squirt bottles on the rocks and attempted to drop a small, mesh bag containing another squirt bottle.
A warden retrieved both squirt bottles and the mesh bag.
The entire article can be found here: