September 28, 2013
Everyone agreed, this is a good spot!
I just need two more bugs to limit, and that's it!
I'd be done diving for the night, and could start enjoying the crisp clean and refreshing taste of American Budweiser.
I waited for over an hour, until my computer said I could go back under.
I had taken my socks, and shoved them in the heals of my booties to make my foot longer; my fins felt secure, they weren't going to slip off on this dive.
Off the boat and back down the anchor…
Logged SCUBA Dive #450
Solo Diving/SoCAl Buddy Diving
Secret Location: 41 73 6b 20 66 6f 72 20 54 6f 72 67 75 74 20 61 74 20 74 68 65 20 73 70 72 69 6e 67 20 73 74 6f 72 65 2e
Catalina Island, CA, USA
In With: 3000 psi
Out With: 150 psi
Max depth: 83 feet
Waves: Flat
Visibility: 20 feet
Water Temperature: 62 degrees
Air Temperature: 71 degrees
Total Bottom Time: 30 minutes or so
I caught my sixth bug within five minutes, at 60 feet, after missing another pin.
I was pissed at myself; how could I miss 40% of the bugs that I grab for?
I'm either getting old, or I'm out of practice.
I went a little deeper that I thought, and after my sixth bug – first bug on this dive – it was slim pickin's.
I think all the bugs must have been scared back home by now.
At 1000 psi, and at 80 feet, I decided to head back to the boat.
I knew what was going to happen.
It always happens when I have one bug left to limit and I'm low on air.
At 600 psi, I came across a fairly good sized bug at 55 feet, but I knew I couldn't spend much time fighting it.
I pinned it, dropped my light, gave it a couple of karate-style chops to the carapace, before putting it into a head lock and throwing it into my bag.
OK, I have less than 400 psi now, but I see lights on the anchor line.
I swam toward it, but lost sight of the anchor.
I surfaced slowly and emerged about 20 feet from the anchor line.
My computer was in the yellow, screaming at me, and I have 300 psi left.
I swam to the anchor line, and submerged to 15 feet – I needed to do a safety stop, even if it was half-assed.
Three minutes later, I came back up, practically out of air, but my computer was in the green and I had my lobster limit!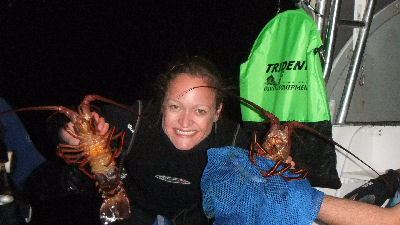 Donna shows off her two bugs.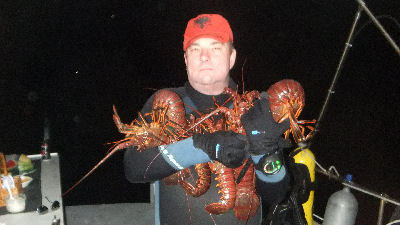 Me with my catch for the night.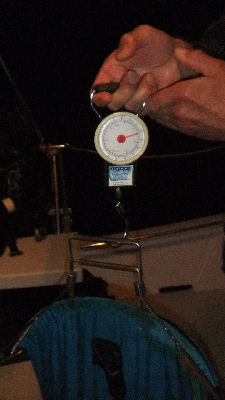 My weigh in – Twenty pounds of lobster!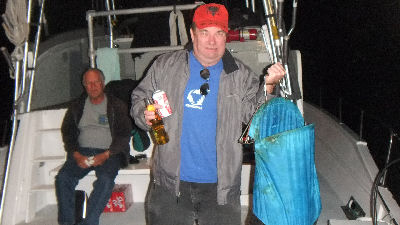 I pretend to strain, holding my bag up; in actuality, my cage fighting training has made it a simple task.
Rumor has it, in 2015, "Opening Night" is no longer going to start at midnight, but at 5 AM.
"A brilliant woman on the 'Lobster Committee' wants to move it to 5 AM, because there are too many problems with people getting hurt and killed when it starts at midnight," one of the divers said.
"So, everyone will simply start earlier that evening, and you'll have the same issues," I said.
Liberalism is just so wonderful.
I actually, for once, got some sleep on the way back to San Pedro.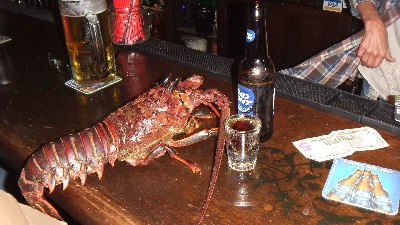 I took one of the lobsters out to drink, before heating up the boiling water at home.
Donna The Hot Biker Chick reveals one of her lobster catching secrets:
Advanced Lobster Hunting Techniques With Donna The Hot Biker Chick