Thank you, to my friend Jerry, who brought this article to my attention.
An Australian company has developed a wetsuit that either makes divers and surfers invisible or hard to detect.
I'm not exactly certain how well it would work night diving on a moonlit night, but if you're an attention whore, you will certainly stand out wearing this: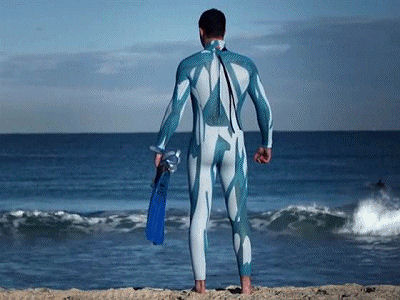 Both types of wetsuits cost about $460 – I hope those are Australian Dollars.
As the original article states, "Many animals are repelled by a striped pattern which indicates the potential prey is unsafe to eat," Shaun Collin, part of the team that designed the suit at UWA told BBC News.
At the very least, the suits might buy the swimmer some time to make a getaway.

The article can be found here:
Comments Off

on Shark Deterrent Wetsuit Has Been Developed In Australia