To finish Donna The Hot Biker Chick's DM class, she needs to draw a map of a dive site, so I volunteered to go along with her and assist.
Holly and Mike decided to tag along with us, even though they were warned, "We are going to go at an awfully slow pace."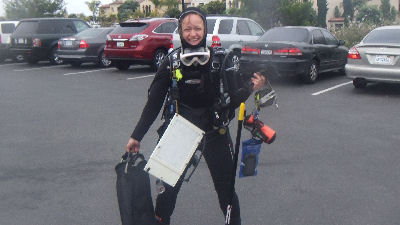 Donna is ready with her float, GPS, measuring stick and drawing board.
On entrance, I fell in about three feet of water and rode a receding wave out.
Logged SCUBA Dive #437
Dove With Donna The Hot Biker Chick, Holly and Mike
120 Reef, Terranea Resort, Rancho Palos Verdes, California, USA
In With: 3000 psi
Out With: 2000 psi
Max depth: 40 feet
Waves: Some rollers on shore, choppy
Visibility: Six feet
Water Temperature: 62 degrees
Air Temperature: 74 degrees
Total Bottom Time: 22 minutes or so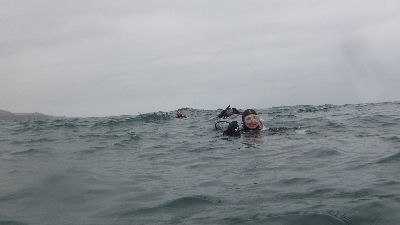 Conditions were a bit choppy.
We swam to the rocky finger just outside Pigeon Shit Cave where Donna inflated the surface bouy to hold her GPS.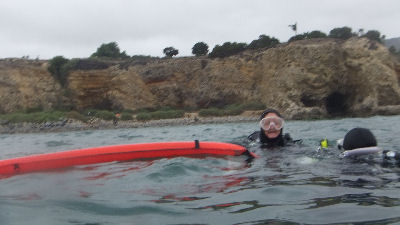 By the time she inflated it, the current had pushed us West, way off course.
We decided to descend and swim to 120 reef.
I lost Mike and Donna and wound up with Holly – we just started heading toward the direction of 120 reef.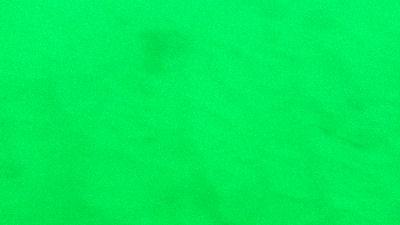 Visibility absolutely sucked ass.
After kicking for ten minutes and not knowing where we were, we surfaced to get a bearing.
We had not moved one inch and were still far away from 120 reef, and to make matters worse, Donna's surface marker indicated that she was even further off course, but was catching up to us.
We submerged and followed a heading that would hopefully intersect Donna's path.
After another ten minutes or so of underwater aerobics and still not reaching 120 reef, we surfaced to find that we still had not moved very far, but Donna's marker was floating away from 120 reef.
Apparently, Donna and Mike were able to make it to the edge of the reef before being pushed back again.
"This current sucks ass, let's head in," I said.
Holly agreed.
I slowly took my time to make the perfect exit, but still managed to get rolled on the rocks by an unexpected wave.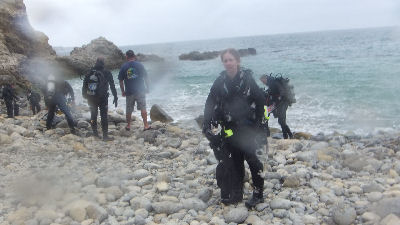 Everyone made it back, even the divers who went off the Point and fought the current the other way.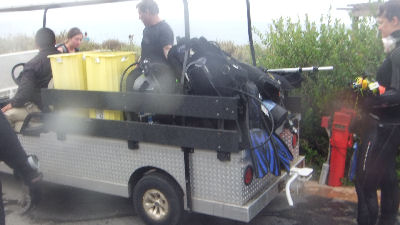 We hired a Terranea employee to transport or gear to the parking lot – well, he volunteered, but was tipped accordingly.

Let the debriefing begin!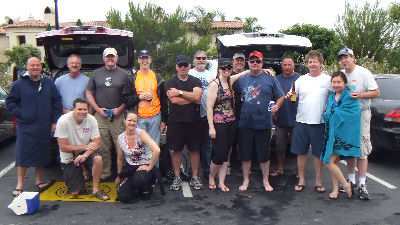 Today's Group of Divers.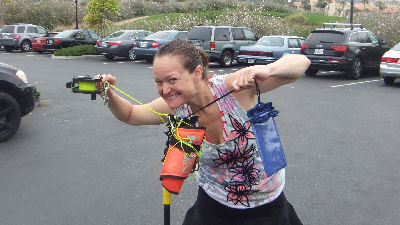 Donna The Hot Biker Chick displays one casualty of this dive – her tangled reel.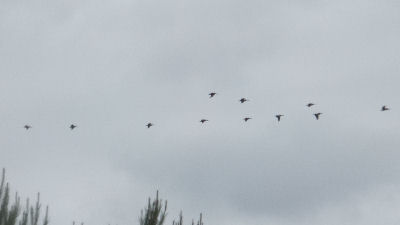 CIA drones, disguised as birds, patrol the airspace above Palos Verdes.
All agreed, that today was one of the worst dives here, ever!
At least nobody was injured and all are alive to make another dive.