To celebrate Paris Hilton's birthday, I invited her via email for a dive a post-dive celebration at Terranea Resort.
She never responded and didn't show up, but the dive went on anyways.
A total of six divers showed up, including the famous Reverend Al; a new diver, David, joined the group.
We dove from the Cove; entry was easy.
We surface swam to the rocky finger outside of Pigeon Shit Cave.
I buddied up with SCJoe.
Logged SCUBA Dive #432
Dove with SCJoe
The Cove At Terranea Resort, California, USA
In With: 3000 psi
Out With: 800 psi
Max depth: 42 feet
Waves: Some chop, but easy entry and exit
Visibility: 10 feet, some places maybe 15
Water Temperature: 52 degrees
Air Temperature: 67 degrees
Total Bottom Time: 46 minutes
The visibility could have been better, but it was better than zero visibility…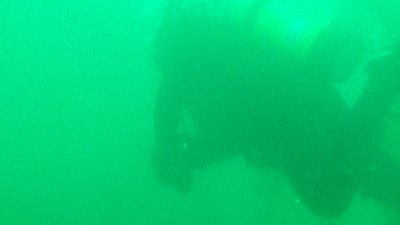 We followed Jordan most of the dive, and half way through I thought, "Where the hell is he taking us?"
We definitely toured some areas that I had not seen in many years, and as Jordan later said, "Why see the same old stuff every time?"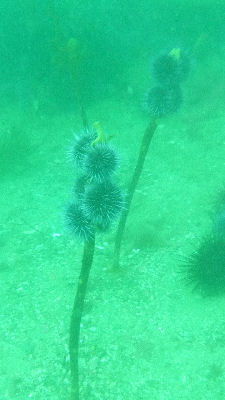 A Sea Urchin Mace.
Even though it wasn't a great day for photos, Jordan pointed something out that we couldn't identify and I was able to take a picture of it for later identification.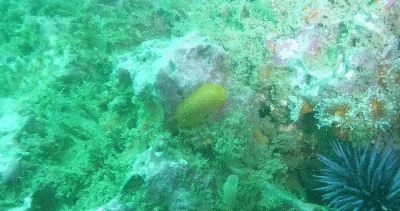 So what is this? It looks like a yellow booger of some sort.
During my attempts at photography, we lost Jordan.
I thought I lost SCJoe a few times, but he was always there, usually right behind or above me.
We surfaced to get a bearing, and discovered we were way on the other side of the Cave in about 25 feet of water.
We took new compass headings and headed in.
We all had easy exits.
The beach was crowded with tourists and other onlookers.
The first thing I said once we were ashore, in my best foreign accent, was "Did we reach America?"
There was a dive boat anchored nearby.
We were asked, again, if we were with the boat.
"Uhm, no, we are poor divers, the divers on the boat are rich divers."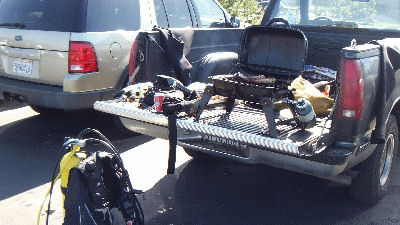 The Ghetto Grill cooked some Beer Brats.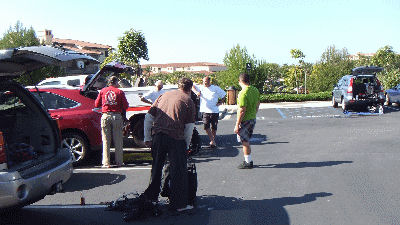 Traditional debriefing ensued.
New diver David said that he's not a beer person.
Someone jokingly said, "Well, I have a couple line of coke over here, if you want."
We explained to him, that you don't have to drink beer, just bring beer.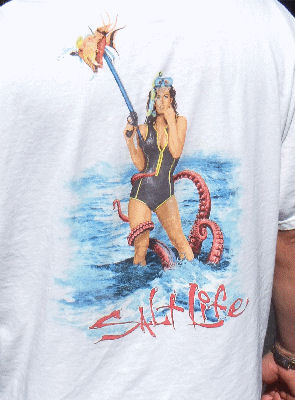 Jordan wore one of the best diving themed T-shirts I had ever seen.
All in all, even though Paris Hilton didn't show up for her birthday dive, it was a good day.
To view this video on YouTube, click here.
Comments Off

on Paris Hilton Birthday Dive