January 12, 2013
It's been pretty damn cold here and it's been raining on and off for the last couple of weeks, so I've been out of the water.
I also have to sell some blood so I can buy this year's fishing license and lobster report card.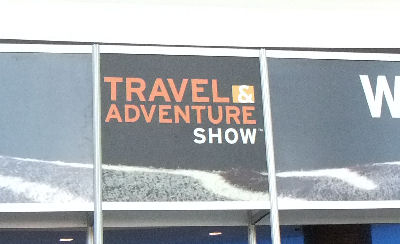 One of my old friends invited me to the "Travel and Adventure Show" at the Long Beach Convention Center; both of us like travel and I'm still looking for my next diving adventure.
Professional Debriefer Paul came along to stockpile free pens and other giveaways.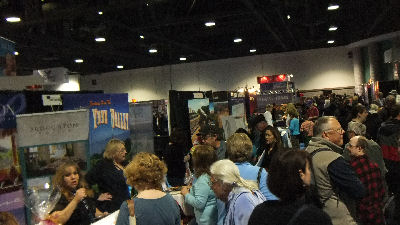 It was crowded, and there were a lot of California spots represented – Kern County, Napa Valley, San Diego and others.
There was a big diving section at the Malaysia booth…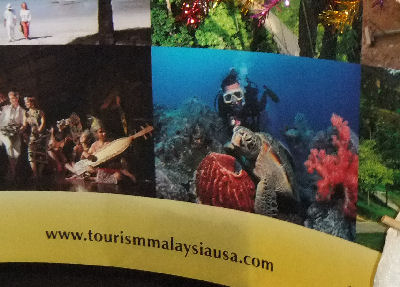 I ended up stopping at the American Association For Nude Recreation booth…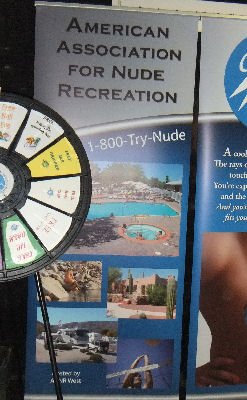 I asked the guy, "So if I go to your resort, is it going to be like the Bally Fitness commercials?"
"What do you mean," the guy asked.
"I see a lot of young women in their 20's in your ads, but if I go there, I'm assuming it'll be filled with fat women in their 40's and 50's?"
He laughed, "Well, all types of people show up, come and see."
I didn't inquire about diving there.
Jordan was represented, which is another country on my bucket list…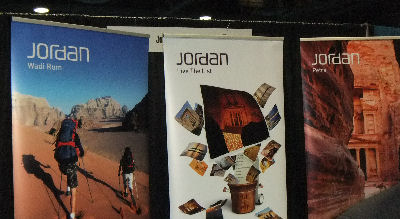 The King of Jordan in an avid SCUBA diver, who even sunk a few tanks as artificial reefs, and I was assured that this Muslim country does have beer.
The Philippines booth also showed many dive spots…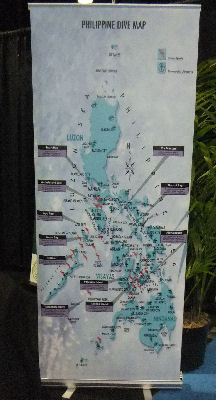 My Albanian friend Idit has recommended diving the Philippines because it is beautiful, and cheaper than Albania.
I was also told by a travel company, who asked to remain nameless, that they could "refer me to a third party" if I wished to dive in Cuba.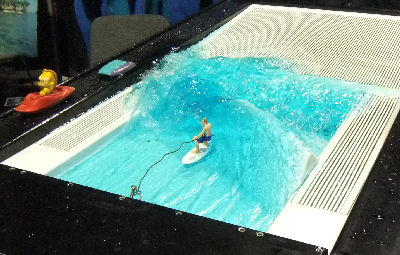 Tethered surfing on an artificial wave.
Lots of kiddie rides…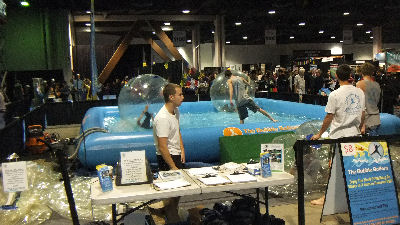 Floating hamster balls.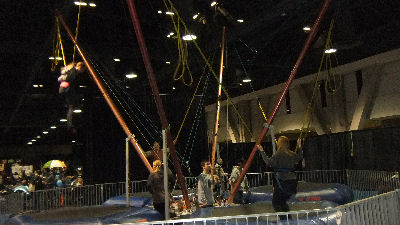 The bungee bounce.
There was also a zip line and rock climbing available.
The Malaysia booth put on a show…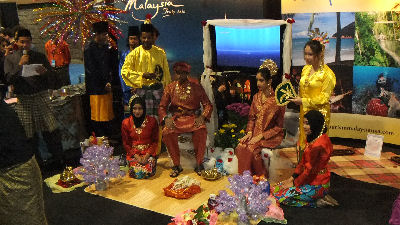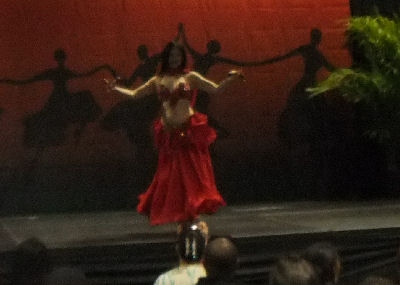 Young hot chicks in barely any clothes entertained the adults.
Many lectures were offered, too…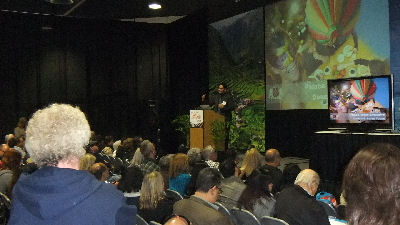 I was wearing my "Albania" baseball cap; a couple people asked me where the Albania booth was.
They were disappointed when I told them that Albania wasn't represented.
Also, stopping by the Ethiopia booth when I inquired about diving, I was told "Ethiopia no longer has a coast, so there's no diving in Ethiopia.
No longer has a coast?
Seems that the coast is now Eritrea – it is it's own country and as the guy in the Ethiopia booth told me, "Somaliland is safer, Eritrea is shit."
I was surprised to see Tijuana represented, and was told, "Many things have improved and it is very safe there."
It was an interesting exposition, but didn't have any great travel deals.
Diving in Poland is still my goal this year.