Since the regular divers at Veterans Park have exclusive rights to the name "Pagan Dive," we've had to rename this dive the "Christmas Dive."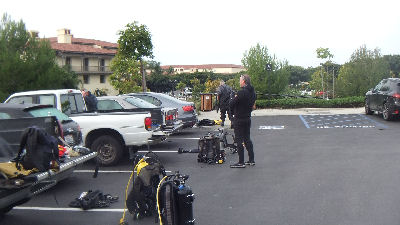 It was a really light turn out, probably due to the rain the previous day.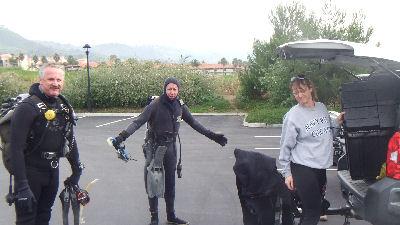 Dr. D., Nice Bob, Donna The Hot Biker Chick, TwinDuct, me and Lars (Yes, Lars is still alive and in town) were the only participants.
Nice Bob and Lars had to split early, so they geared up and headed down without delay.
Dr. D. and I waited for Donna The Hot Biker Chick; TwinDuct decided to stay dry and provide kitchen support.
Once Dr. D, Donna and I reached the shoreline, we had discovered that Lars had problems with his air.
Nice Bob and Lars decided to cut the dive short; just for fun, Lars spent a good five minutes playing around in the surf zone with one fin on and one fin off.
We entered at the sandy part of the beach, near Pigeon Shit Cave.
The sandy part made it an easy entrance; the big waves crashing against the rocks made it a macho entrance.
All made the entrance with no problem.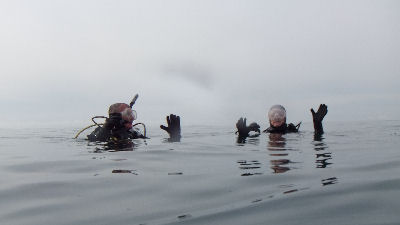 Logged SCUBA Dive #429
Dove with Dr. D (aka Dennis G.) and Donna The Hot Biker Chick, Ended dive solo
120 Reef
Terranea Resort, Rancho Palos Verdes, CA, USA
In With: 2900 psi
Out With: 1200 psi
Max depth: 42 feet
Waves: Waves going to shore with one big ass wave
Visibility: Eight to 10 feet
Water Temperature: 62 degrees
Air Temperature: 55 degrees
Total Bottom Time: 32 minutes
We swam out and submerged.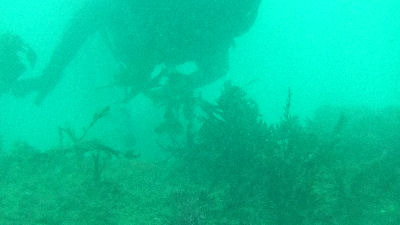 Visibility wasn't that great, but at least I have the satisfaction of yet another dive before year's end.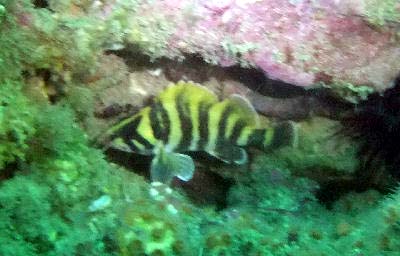 While taking a picture of this weird, tropical looking fish, I got separated from Dr. D and Donna.
I looked for them and even surfaced, just to see if they'd be waiting for me.
Of course they weren't, so I continued my dive without them.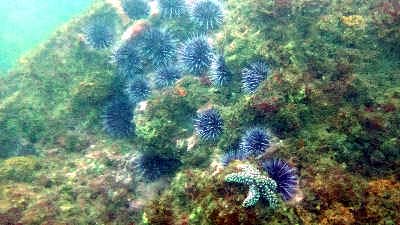 A bed of uni.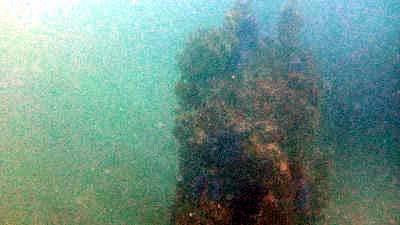 Visibility sucked enough to where I started heading in after 20 minutes; I sort of mis-navigated and accidentally ran in to the old pier pilings.
I surfaced to get a fresh heading and went straight to my entry point – the sandy part of the surf zone.
Again, the sandy part made it an easy exit, but if you didn't time it right or weren't quick enough, a wave could slam you into the rocks.
I made it out, Donna made it out, Dr. D. was not so lucky; he got smashed a couple times to the point that he was pretty winded by the time he made it to shore.
About five minutes after our exits, a huge 15 foot rouge wave pounded against the cove.
We were lucky – that could have been for us, and someone would have gotten hurt.
Thank you God!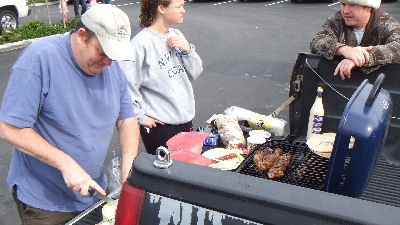 By the time we made the macho walk up to the parking lot, TwinDuct had the ghetto Grill fired up and Professional Debriefer Paul had joined us.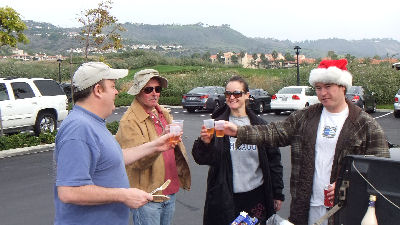 TwinDuct passed out shot glasses to toast Christmas with some Jameson Whiskey; I've sworn off the stuff since our Kern trip.
2012 has been wrapping up well for me.
It's been a good year, an adventurous year, and I think my psychological wounds from Psycho Bitch have almost healed.
Speaking of Psychos, one topic of conversation was that Donna The Hot Biker Chick and Wrinkles are the only normal (normal as far as being female, that is) women that semi-sort-of dive with the group.
They have professional jobs, and seem to be emotionally and mentally stable; the other regular women seem to be bipolar or schizophrenic.
That was someone else's observation, but I tend to agree.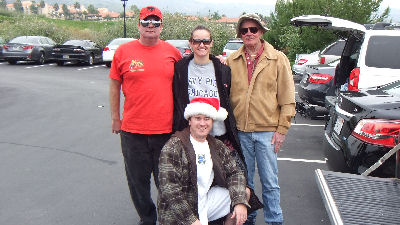 Me, Donna The Hot Biker Chick, Dr. D and TwinDuct