October 26, 2012
It's been almost a month since Opening Night of Lobster Season.
I was suppose to be on the Island Diver, but there were problems with crew and diver interest, so I was lucky enough to grab a spot on Instructor John's 14 foot zodiac.
Upon pulling up to park at King Harbor, the parking lot attendant gave me some good advise.
"You go diving? Lobster are shallow – 15 feet, I know…," he said.
If the parking attendant at the marina doesn't know where the lobsters are, then who does?
It was me, Crazy Ivan and Instructor John.
The ride out was fast, over the fairly calm ocean, to one of our secret spots off of Palos Verdes.
It was high tide, but due to the kelp getting caught in the prop, we had to anchor in 40 feet of water.
Logged SCUBA Dive #426
Solo Diving/SoCal Buddy Diving
Secret Location: 42 79 20 74 68 65 20 68 6f 75 73 65 2c 20 6e 65 61 72 20 74 68 65 20 67 61 74 65 73 20 6f 66 20 4d 61 72 2c 20 77 65 61 72 20 74 68 72 65 65 20 6c 6f 6c 6c 69 70 6f 70 20 74 72 65 65 73 2e, Palos Verdes, CA
In With: 2800 psi
Out With: 400 psi
Max depth: 42 feet
Waves: Very slight chop, magnifying towards shore
Visibility: Up to 15 feet
Water Temperature: 62 degrees
Air Temperature: 62 degrees
Total Bottom Time: About 40 minutes
I took a heading towards shore and descended.
I headed towards shore, positive that the lobsters were very shallow; but for the first 10 minutes of my dive, I didn't see any lobsters at all.
I have to say, if I was going to get skunked, the reef structure in this area was quite entertaining.
The water started to get fairly choppy; I was washing back and forth, getting caught on kelp.
I checked my depth gauge – I was at 15 feet.
I put my gauge down, looked down, and there was lobster!
Shit! This my be the difference between me getting skunked and coming home with something.
I moved the light away, so it wouldn't get spooked, and grabbed for it.
It moved back and I ended up grabbing an antenna, I let go and it flew into my chest.
I grabbed it like a football; it felt like grabbing a beer can – no need the measure this one.
I stuffed it in my bag and went looking for more.
The surge was just too much in 15 feet, I had to go back deeper.
Unfortunately, that one lobster is all I caught.
I almost headed for the wrong boat – the zodiac has such a low profile, you have to look in one direction for a few minutes sometimes just to find it.
All three of us made it back, as usual.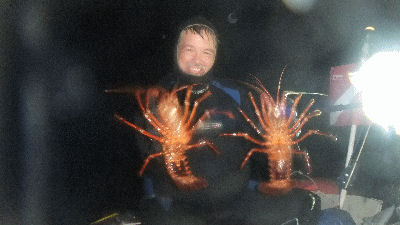 Instructor John caught two – he tried deep, but they are shallow.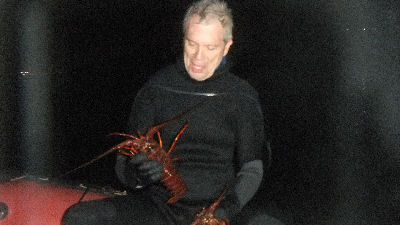 Crazy Ivan with his bugs.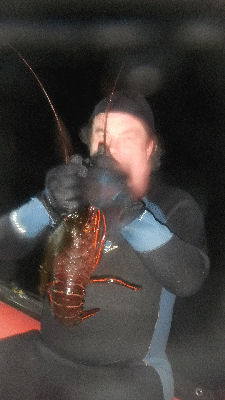 Here is me with my monster bug.
I got back too late to get enough sleep to attend the Divevets' Underwater Pumpkin Carving Contest.
I guess it doesn't matter, my pumpkins have always sucked – I never won anything, except a beach towel for being the worst.
Comments Off

on Friday Night Lobster Liberation!