After about a 20 minute boat ride, we anchored at our next destination… "Lula."
According to Captain Mike, the Cee Ray is the only dive boat that anchors here.
I was pointed in the direction of a nice reef, "North-West of the boat" and then "just follow the reef North."
Logged SCUBA Dive #411
Solo Diving
"Lula," Catalina, CA
In With: 2900 psi
Out With: 600 psi
Max depth: 64 feet
Waves: Slight chop
Visibility: Up to 20 feet, but more like 15 feet
Water Temperature: 65 degrees, colder at depth
Air Temperature: 84 degrees
Total Bottom Time: 45 minutes or so
I submerged and went North-West.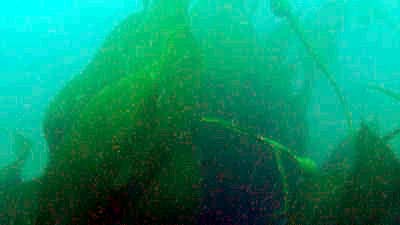 I entered the "Land of the Giant Kelp."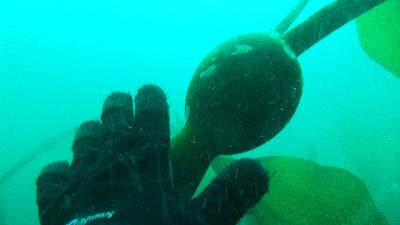 I know that water magnifies things by 25%, but this kelp was the largest I've ever seen – strands as wide as a sheet of dry wall and bulbs as big as my fist.
However, I came to the realization, that I had missed the reef completely.
I swam back in the direction of the boat, missing it completely, and running into a very shallow, but colorful reef, and a couple other divers.
After surfacing to get my bearings, I made a short underwater swim back to the Cee Ray.