After waiting out some crappy conditions over the last few weeks, all looked good for our traditional Sunday Services dive.
There was one problem – the trail to The Cove was closed for "routine maintenance."
Reverend Al asked an anonymous Terranea worker if we could at least come up the trail; apparently his response was that we couldn't "use the trail to go to the beach."
We looked, it was Sunday and we didn't see anyone working on the trail.
We all geared up to make a Point entry and exit at the Cove.
I believe we were 12 divers total, and all made it out from the rocky Point – some with more pain than others.
I wasted 400 psi going underneath the kelp to our meeting spot – I hate bitch crawling over the kelp.
Logged SCUBA Dive #406
Dove with Airforce Chris, New Guy With a Nice Camera, Reverend Al and a lot of others.
The Point, Terranea Resort, Rancho Palos Verdes, CA
In With: 2800 psi
Out With: 400 psi
Max depth: 60 feet
Waves: Pretty flat with a few rolling swells
Visibility: Eight to 15 feet
Water Temperature: 52 degrees, 60 degrees towards the Cove
Air Temperature: 72 degrees
Total Bottom Time: 35 minutes
We dropped down a boat's anchor line and found the statue.
We stayed together pretty well in what turned out to be a routine and uneventful dive.
Uneventful until all 12 of us exited.
We all walked to the bridge at the Cove that was taped off with yellow "Caution" tape; some guy was standing there and told us the trail was closed and we would have to either walk along the rocky shore or get back in the water and swim to where we came from.
Nice Bob asked, "So you aren't familiar with this coast line, are you?"
"I'm the one who built this beach," he replied.
"You mean the beach that keeps washing away every time we have a big rain?"
"Well, yeah."
"How about we just walk on the side of the trail, that way we don't interfere with your work?" Nice Bob asked.
He agreed, but was visibly really pissed – so pissed I think he called one of the Terranea suit people, but nobody else said anything to us.
I'm not sure if blocking the trail breaks the California beach access laws, but at least we got our dive in; but that guy was a real asshole if he really thought we were going to walk on the rocks or swim back to the Point.
My long time friend and dive buddy Nick – when he used to dive – showed up with his son Ben and girlfriend Jill for the debrief.
Reverend Al gave Ben a sea urchin shell, which he promptly smashed on the ground.
The group…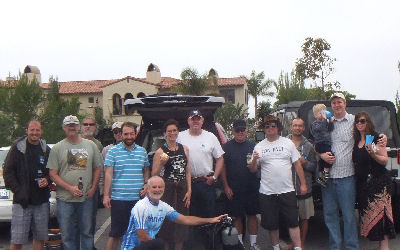 An exciting, but short video of today's events…