The wonderful people at CalTrans decided to close the bridge to repaint the highway lines, in addition to closing the transition link between the 405 North and 110 South.
After taking a 35 minute detour from the Long Beach ghetto, Instructor Ed and I arrived at Terranea resort a little after 8 o'clock.
I sensed a bad Omen already.
About nine divers initially showed, including a female who is a fairly new diver, with a little more than 40 dives.
There was a lot of wind chop and the beach looked like mud, with some pretty large swells coming ashore.
The Point was not doable at all, but the Cove seemed like it could be OK, if you timed it right – but what's the point?
Visibility was going to suck, and even though I may have attempted such a dive in my earlier – and dumber – days, I have a zero pain policy now.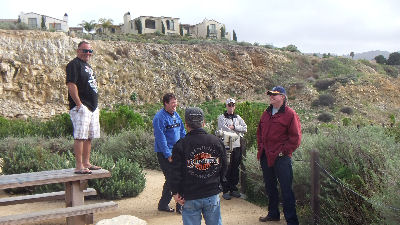 From nine divers, with decades of experience and thousands of dives, the consensus was to call the dive.
Three other divers, who have a reputation for basically diving in any condition, decided to do a dive from the Cove.
The female decided to tag along with that group.
By the time we reached the parking lot, three other divers were gearing up.
It was the "follow the sheep" mentality – they see other divers gearing up, so conditions must be good?
Well, we explained why we weren't diving, and they ended up calling the dive, too.
With beers in hand, we followed the four divers down to the Cove.
The three veteran divers made it through the swells with little problem.
The female asked me, "When should I go?"
"Fuck, I don't know, I'm not the one going, you just have to time it – but you can still call the dive," I said.
She went out, got knocked down by a wave; I thought she lost her fins, so I tried to catch them as they washed ashore.
Fortunately, they were still attached to her, but I ended up getting my shoes and pants soaked.
All made it out, and did a long surface swim to the barge that's marked with an orange buoy.
The rest of us stood on the beach, watching the surf pick up.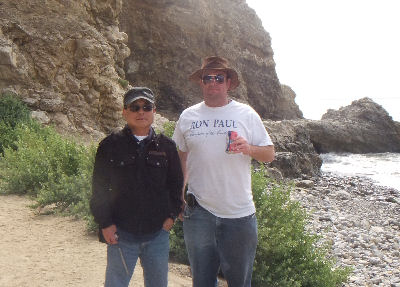 Instructor Ed and I – In June of this year, it will have been 10 years since he taught me how to SCUBA dive.
One of the Dive Masters from Dive N Surf stopped by; he was utterly amazed that there were divers in the water.
It must have been an hour after they left when we heard a scream from the ocean.
We looked – we saw nothing except a few heads bobbing in the water off in the distance; no arm waves of distress.
We found out later, that they had a whale encounter – a whale breached a few yards away from them.
The three veteran divers made it back to shore, one falling due to a receding wave.
The female fell down due to a receding wave and then got slammed against a boulder with an incoming wave, and then slammed again.
I could not do anything, except stand there and video what was happening.
She crawled up an yelled, "Stop fucking video taping!"
The other divers helped her up.
I put the camera in my pocket and carried her tank up to the beach.
"Don't put that video on YouTube," she said.
"Well, if you insist, it is entertaining and people will learn from it," I said.
"Put my tank down! I don't need your help!" she said.
She then had some kind of emotional breakdown – something that I hadn't witnessed since the days of my psychopathic-schizophrenic ex-girlfriend.
I wonder if Abraham Zapruder got that much shit for filming the JFK assassination?
I promised her I wouldn't use it, but the footage wasn't that great – not even close to viral material; just one of many episodes of people getting thrown around in the surf zone at Terranea Resort.
As one of the spectators said, "Not only could I not tell who it was, I couldn't even tell it was a woman."
Anyway, most said that the whale encounter made the dive worth it, even though visibility was only five to 10 feet.
Not only do I have a "No Pain" Policy, I also have a "No Psychopathic Women" Policy.
When Ed and I got back to the parking lot we left, avoiding any more irrational and psychotic female encounters.
Here's the video that I made:
Click here to view on YouTube.
Since I said that I would leave out the female's wipe out on exit, I will have to dig in to the Max Bottomtime archives and present the following, from November 29, 2009.