The weather and diving conditions have been crappy lately, so sorry for no recent personal updates.
However, one of my heros in the diving world has set a record for the deepest solo submarine dive in history.
However, he had to cut it short after his submarine sprung a leak seven miles under the ocean…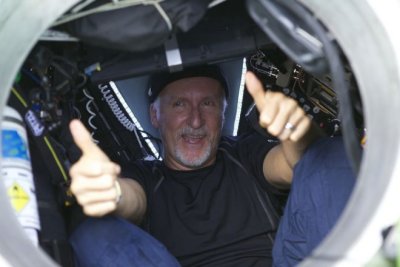 HONOLULU — Filmmaker James Cameron's trip to the darkest depths of the ocean could have turned into a horror movie.
Cameron surfaced three hours earlier than planned Monday after hydraulic fluid started leaking in his sub.
The descent took 156 minutes, but after he noticed the fluid leak, Cameron decided to end the mission early and his ascent took just 70 minutes.
"I saw a lot of hydraulic oil come up in front of the port. The port got coated with it. I couldn't pick anything up, so I began to feel like it was a moment of diminishing returns to go on," he said. "I lost a lot of thrusters. I lost the whole starboard side. That's when I decided to come up. I couldn't go any further — I was just spinning in a circle."
Cameron had told The Associated Press in an interview after a 5.1 mile-deep practice run near Papua New Guinea earlier this month that the water pressure at these massive depths "is in the back of your mind." The submarine would implode in an instant if it leaked, he said.
The entire article can be found here: James Cameron cuts short historic Mariana Trench dive after sub springs leak