REMINDER: You have until Tuesday January 31, 2012 to send in your 2011 lobster report card to the California DFG or face a $100 fine – and unlike previous years, they know who you are.
Reports from yesterday didn't leave me to believe conditions would be very good today, but unlike yesterday, we didn't have a high surf or wind advisory.
The waves were nonexistent and it was fairly high tide – all the divers went off The Point.
The entry was probably as easy as entering a lake.
Air Force Chris and I swam under the kelp to our final submerge point.
Logged SCUBA Dive #402
Dove with Air Force Chris
"The Point" Terranea Resort, Rancho Palos Verdes, CA USA
In With: 2800 psi
Out With: 500 psi
Max depth: 54 feet
Waves: Flat – REALLY flat!
Visibility: 20+ feet, maybe as high as 30 feet!
Water Temperature: 55 degrees
Air Temperature: 69 degrees
Total Bottom Time: 50 minutes
Chris had a short fill, and I sucked 500 psi swimming under the kelp, so we decided to stay fairly shallow, reaching a maximum of 54 feet during the dive.
Visibility was spectacular – I had no idea conditions could change as quickly as they did.
I took a series of videos and stills with my camera.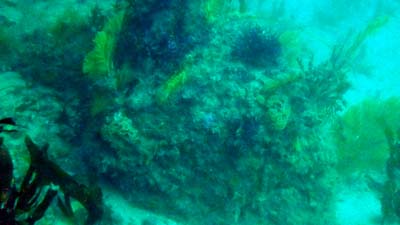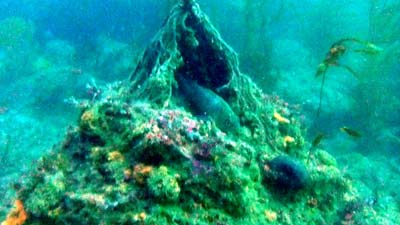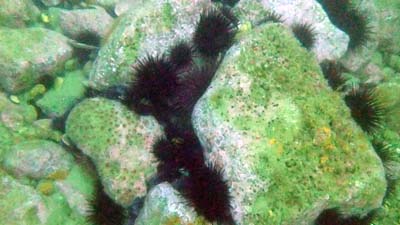 We spotted a lobster – probably a shorty – hiding in a reef, but I could tell he knew he was now in a protected area.
We came across an abandoned lobster trap – others in our group turned it upside down so nothing could get caught in it.
I surfaced when I got down to 500 psi and made a 100 yard surface swim to an easy exit.
The Great Escape diving boat was anchored half way between 120 reef and the sunken barge.
Some beach goers asked if "that boat" dropped us off?
"If we could afford to go on a boat, I would expect them to pick us up," I replied.
Again, another spectacular video is to be seen.
Yes, it really is in 3D – if you don't have glasses, turn the 3D off.
A diver told me today, "I thought you were being funny when you said your videos were in 3D, but then I wondered why they looked so strange – then I realized they really were in 3D."
I'm going to have to start passing out 3D glasses at debriefings.
To watch this video on YouTube, click here.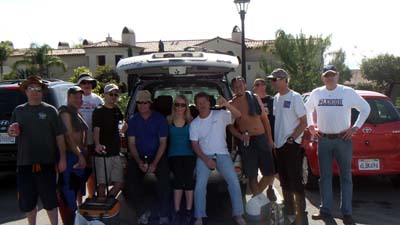 From left to right – Me, Tim, Jeff S., Air Force Chris, SCJoe, A Blonde Celebrity, Mike, Jordan, Dry Suit Greg, Ted and Reverend Al.