This is my first Pagan dive in many years.
So, what is a Pagan Dive?
It is an excuse for anyone who dives, but doesn't have anything to do on Christmas morning.
In this case, it's our regularly scheduled Sunday Services dive, just disguised as the Pagan Dive.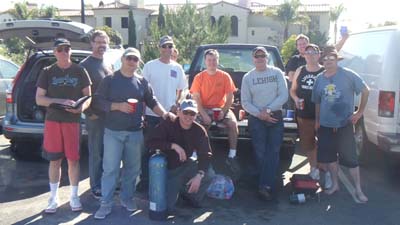 I got to the dive site a little early and Mirek and I scoped the conditions out.
They looked fine, except for a few breaking waves at shore.
At 9 AM, the rest of the group showed up, minus Donna the Hot Biker Chick, who had a scheduled appearance this morning.
After Reverend Al checked The Point, he decided to be safe and enter off The Cove – the waves were picking up.
Our group made an uneventful entrance.
Logged SCUBA Dive #398
Sort of Dove with TwinDuct, Dennis G., Richard The Brit, Reverend Al and Son
Terranea Resort, Rancho Palos Verdes, CA USA
In With: 3000 psi
Out With: 1500 psi
Max depth: 42 feet
Waves: Choppy and the shore line with a few surprises
Visibility: 8 feet of shit
Water Temperature: 57 degrees
Air Temperature: 74 degrees
Total Bottom Time: 23 minutes
This is my first beach dive with my new camera – I was a little nervous that it would get lost or smashed on entry or exit, even though I had it on a leash.
We kicked out through the silt in The Cove, and it looked like it would clear a little.
We all dropped at the tip of the finger, outside Pigeon Shit cave.
Visibility sucked!
I tried following the group, but was messing around with my camera and lost them in the silt soup fairly early in the dive.
I trolled around, but decided to head back in after 20 minutes.
TwinDuct and Richard The Brit were already on shore.
The waves were picking up, but I thought I waited long enough.
I took my fins off – a wave pushed me towards shore – I stood up and began walking – then another wave hit.
No problems, until the wave started to recede and I lost my footing.
I fell, and another wave came in and I got tossed, losing a fin in the process as I reached for my camera that had gotten scraped against the rocks, along with everything else.
I also had an audience watching me from shore – luckily PDP with his video camera was not there, nor any other diver.
I regained my footing and made it to the dry rocks.
I looked back and thought, "Well, this is the first time I ever lost a fin in almost 400 dives, 280 of them beach dives."
The tips are starting to crack, so I guess this is God telling me to get a newer pair of fins.
I looked back at the surf zone – a big wave crashed against the shore, and as it receded, there was my lost fin, stranded in a formation of rocks!
I quickly launched a successful rescue operation before the next wave came in.
Now on to the debrief…
Richard the Brit brought some kind of flaming cake – flam-bay (something like that) that was a bitch to light.
Mirek brought some Tequila; I asked him, "I thought Poles drank Vodka, not Tequila?"
"We are closer to Mexico here," Mirek said.
I broke out the ghetto grill for barbecued hot dogs and pineapple.
This is the last time we're using the ghetto grill, before replacing it – the rusted grill has one huge flame in the middle, with no heat around it.
Yet another fun day of diving and debriefing has all been captured again with the following video.
It is in 3D – if you don't have the glasses or hate 3D, you can turn the 3D off using the controls at the lower right.
If you have anaglyphic glasses, you can chose the color settings using the 3D icon, also.
To view this video on YouTube, click here.