The sun was out, the weather was hot and there was no wind when I left the Long Beach ghetto to dive Terranea resort; once I got to the Palos Verdes landslide area, the sky became cold and overcast.
That didn't deter me, but as soon as I saw Chipper, I knew dive conditions were going to suck – there's a correlation between both of us showing up to dive and crappy dive conditions.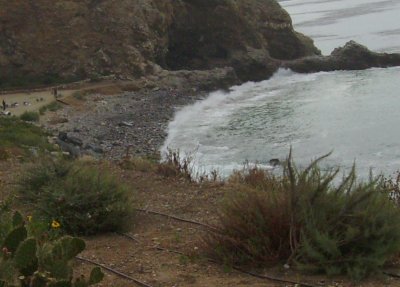 The Point looked too hairy to enter from there, but the Cove looked manageable if you timed it right.
Not New Chris and Chipper decided to try a dive; I was skeptical.
Reverend Al and Nice Bob were undecided.
I cracked a beer with Real Estate Mike, who started to tell me how the years have mellowed him out as he no longer stabs or smashes into people with his truck when he's upset; that is good to know.
Nice Bob decided to gear up, and then Reverend Al decided to join in the diving.
Great, I'm suppose to be the psycho diver here, and I've opted to stay dry – maybe age is mellowing me out too?
It just didn't look like the water would be that great once I got out, but I decided to stick around and get their report.
Everyone made a perfectly timed and flawless entrance, even three new divers that were there; apparently they dive out of ECO Dive Center.
Their equipment seemed to be brand new, so I'm not sure if they're new divers, or just new to diving this area.
I was pleasantly surprised that Terranea actually has put stairs down to the rocks.
About an hour later, everyone returned, making a perfectly timed expert exit.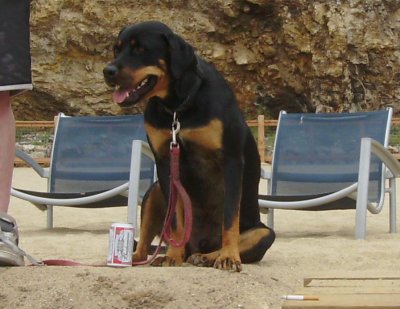 Kilani Dive Mastered their exit.
The dive report went as follows – "62 degrees, with clear water on the top until you reach 10 feet, then the vis goes down from zero to eight feet."
One diver commented, "I just looked at the diver's ass in front of me the whole time."
I probably needed the exercise, and in that respect, I regret not going.
But as Dive Bum Don says, "Stay in shape to go diving, don't dive to stay in shape."
That's good advise.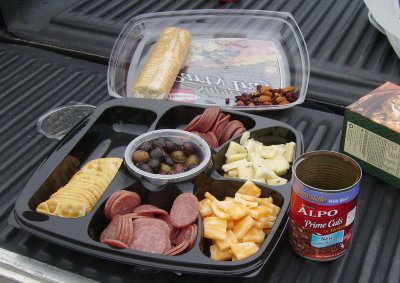 The Budweiser was complimented with a gourmet plate of Hor'se Divers.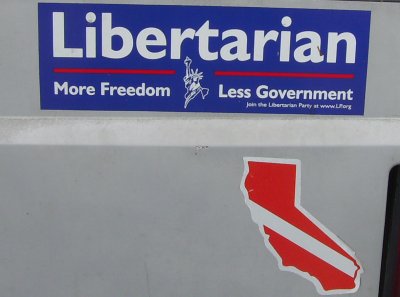 One diver was showing his intelligence publicly – I'm glad this group isn't a bunch of communists.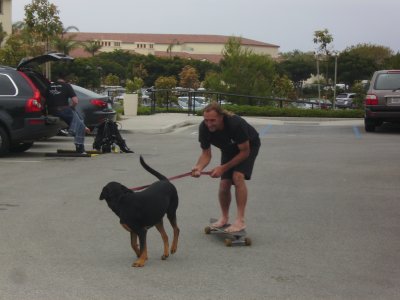 Mush Kilani, Mush!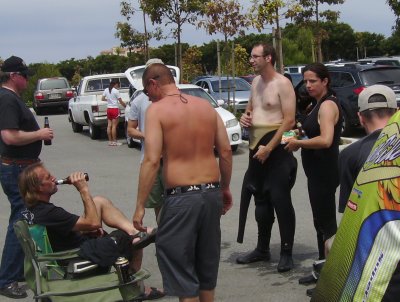 We invited the ECO Divers to hang out with "the cool crowd."
Reverend Al had mentioned that his wife told one of her friends that he dives Terranea Resort on a regular basis.
Her friend asked, "Is he one of the guys that drinks beer in the parking lot?"
I think we may be getting a reputation.
Professional Debriefer Paul captured the spirit of the day in another potentially award winning YouTube video:
To watch this video on YouTube, click here.