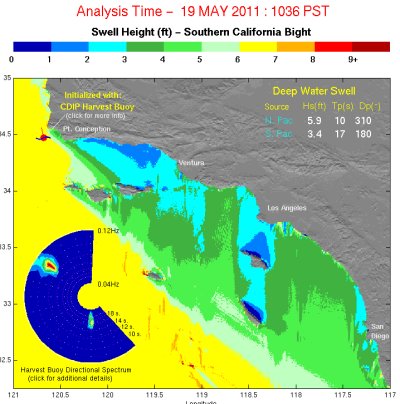 From Yahoo Weather…
…HIGH SURF ADVISORY REMAINS IN EFFECT UNTIL 6 PM PDT FRIDAY…
A HIGH SURF ADVISORY REMAINS IN EFFECT UNTIL 6 PM PDT FRIDAY.
* SURF AND TIMING: A SOUTHERLY SWELL WILL PRODUCE BREAKERS OF 5
TO 7 FEET WITH MAXIMUM SETS TO 9 FEET TODAY THROUGH FRIDAY ON
SOUTH FACING BEACHES .THE SOUTHERLY SWELL IS NOT EXPECTED TO
SUBSIDE UNTIL AT LEAST FRIDAY EVENING.
* TIDES: A HIGH TIDE NEAR 6.0 FEET WILL OCCUR AROUND 1100 PM
TONIGHT.
* IMPACTS: HIGH ASTRONOMICAL TIDES COULD COMBINE WITH THE
SOUTHERLY SWELL TO PRODUCE MINOR COASTAL FLOODING OF LOW LYING
BEACH AREAS DUE TO TIDAL OVERFLOWS IN SOME LOCATIONS…SUCH AS
MALIBU AND PACIFIC PALISADES. PEOPLE SHOULD STAY OFF JETTIES
AS HIGH WAVES CAN BE UNPREDICTABLE AND SWEEP YOU OFF INTO THE
OCEAN. ALSO…DO NOT TURN YOUR BACK TO THE HIGH SURF AS LARGE
SURF CAN SWEEP YOU OFF YOUR FEET. BEACH EROSION MAY ALSO OCCUR.
THERE WILL BE A PARTICULARLY HIGH RISK OF DANGEROUS RIP
CURRENTS ON AREA BEACHES THROUGH FRIDAY.
PRECAUTIONARY/PREPAREDNESS ACTIONS…
A HIGH SURF ADVISORY MEANS THAT HIGH SURF WILL AFFECT BEACHES IN
THE ADVISORY AREA…PRODUCING RIP CURRENTS AND LOCALIZED BEACH
EROSION.
IF YOU GET CAUGHT IN A RIP CURRENT…DO NOT FIGHT AGAINST THE
CURRENT. SWIM PARALLEL TO THE SHORE UNTIL YOU BREAK FREE FROM THE
CURRENT.
Comments Off

on Good Day For Surfing, Not For Diving