It has been raining for days and it's suppose to continue for the next six, with another storm hitting us next weekend.
Not to disappoint any poor child that might get gypped out of a present due to the rain, the toy drive was not cancelled.
As far as the diving part, it looked grim from Thursday.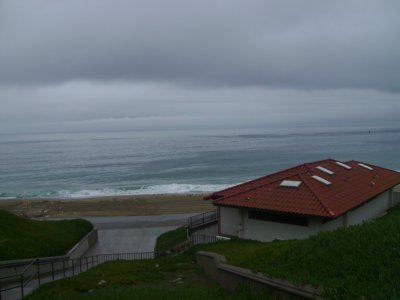 I don't mind diving a day after a light rain, but assuming conditions were pristine, everyone would literally be diving in shit.
Three days of having everything that's on the roads and in the storm drains wash out into the ocean does not make for a healthy dive.
Never the less, apparently two divers braved the poopy water.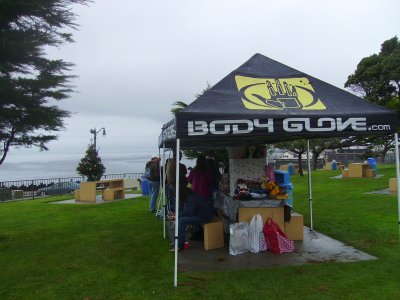 So, my diving compatriots huddled under two awnings, collecting toys, drinking coffee, mimosa's and hot cider, while talking about a variety of subjects.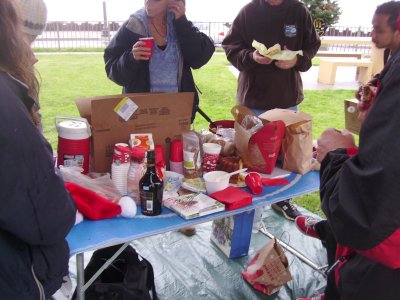 I hadn't seen a few divers for a while, and met a couple new ones.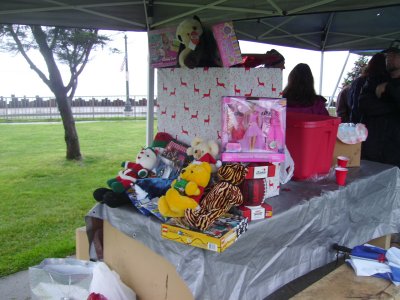 With no kids around, and not wanting to wait for the Firemen (who were never called anyway), it was decided that Dive N Surf would deliver the countless thousands of dollars worth of toys to the Fire Station.
Everything was wrapped up with little fanfare.
For those who want to know what we missed out on, you can read about a previous year's Christmas Tree Dive here.
So, how has lobster season been treating everyone?
Not very many divers seem to be enthusiastic about the current lobster season.
With little exception, divers around here just haven't been catching many – one or two per trip, if that; and there haven't been many trips.
Crazy Ivan told me he paid $300 for a two night, three day lobster dive off the upper channel islands only to get completely skunked.
After the storms clear, weather wise and domestically speaking, I'll try lobster hunting again.