Trying to keep a personal promise of diving at least once a week while psycho bitch packs her stuff – at least I'm waiting for her to start packing – I made it down to the beautiful Terranea Resort for a Sunday Services dive.
Small turnout for such a great day – it was just me, Reverend Al and Nice Bob; a few other divers were there, but we didn't know them.
Logged SCUBA Dive #375
Off The Point At Terranea Resort
Rancho Palos Verdes, CA
Dove with Reverend Al and Nice Bob
In With: 2800 psi
Out With: 400 psi
Max depth: 60 feet
Waves: Pretty mellow with a few surprises
Visibility: 10-15 feet
Water Temperature: 55 degrees
Total Bottom Time: About 50 minutes
My reserve second stage free flowed; I was sure it just needed to get wet, so I kept the air off until I entered the water.
The tide was low, so we entered in a different spot than usual.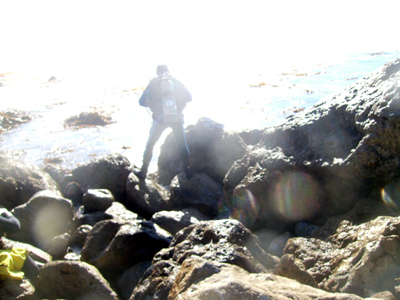 The spot had a big rock that kept us sheltered from the big waves – fins on, wait for a wave, and ride it out.
The thought of making an entrance at The Point usually scares the shit out of me, because I have seen divers get hurt here – some divers call The Point "wounded knee."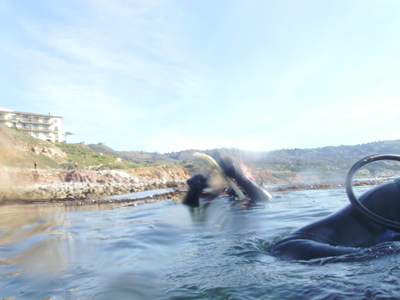 It worked great and none of us had issues getting out.
Nice Bob turned my air on and my regulator didn't leak.
Nice Bob was going to lead the way, Reverend Al and I would follow.
Since all three of us were experienced divers here, it was decided that if we separated, it would be "every man for himself" – meaning, there would be no attempt to find one another.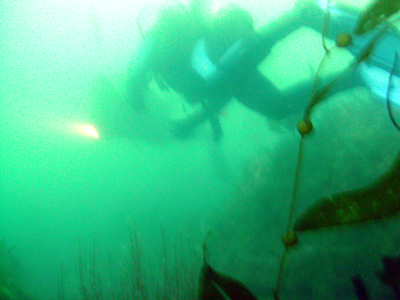 We looked for lobsters – not even seeing any under the rocks.
I sort of followed blindly, hoping Bob knew where he was going.
Visibility was sort of silty; on a great day like this I would have expected better.
Lots of fish and the colorful reefs always make this an enjoyable dive…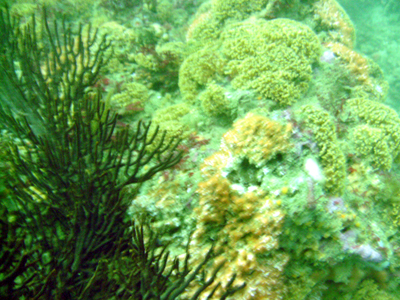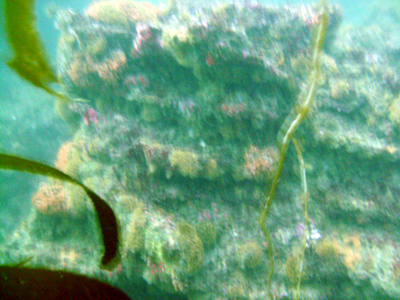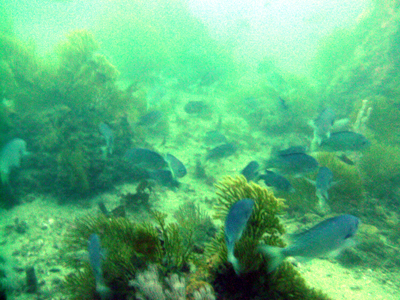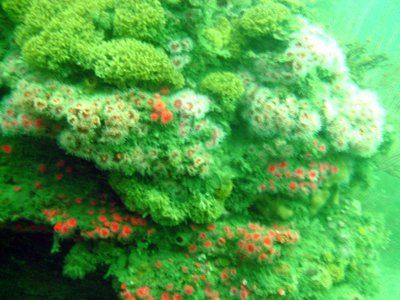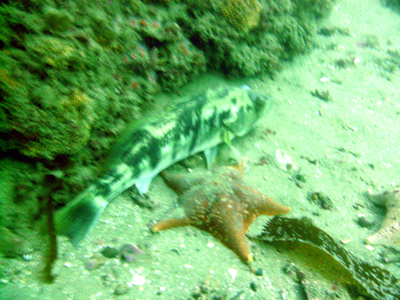 A lingcod pets a starfish.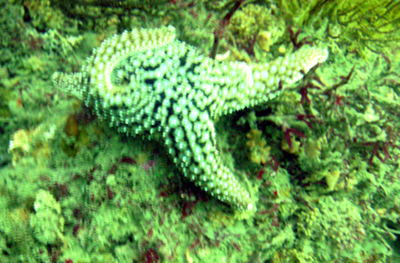 A starfish practices yoga.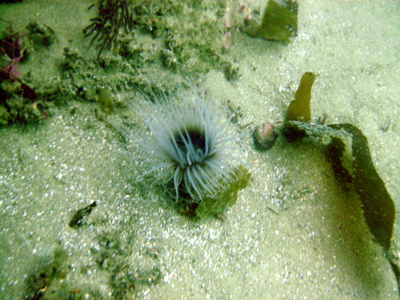 I forgot what these are called, but they look cool.
I dive with a smaller tank than the other two, plus I'm an air hog, so I surfaced about 50 minutes into the dive with 400 psi left in my tank; Reverend Al and Nice Bob continued on.
I made a surface swim of about 100 yards to the rocky cove.
I took my fins off too soon, but was patient enough to get pushed ashore to a perfect exit.
However, I tripped over my game bag and I fell in full gear on the rocky beach; luckily, my shin cushioned the landing by getting smashed against a rock.
It really didn't hurt – probably because my years of training to become a cage fighter has rendered me immune to pain – but when I got to the parking lot, I noticed it was sort of swelling up.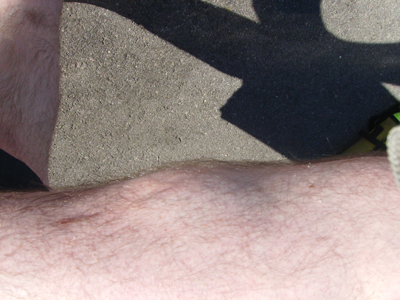 That is my shin, not my knee cap.
Small scale debriefing took place with the King Of Beers and the Rev's beverage assortment, all flavored with home grown lemon.
Later on, my shin really started to swell up; I'll try ice and DMSO to bring it down.