Logged SCUBA Dive #370
Diving with Not So New Chris (Yes, he made it back from Afghanistan!)
In With: 3100 psi
Out With: 800 psi
Max depth: 40 feet
Waves: Pretty flat, with some swells in the surf zone
Visibility: 10-15 feet
Water Temperature: About 58 degrees
Total Bottom Time: About 42 minutes
With lobster season fast approaching and with me being dry for several months, I had to get back into my old routine, regardless of the fact that psycho bitch is still squatting on my couch.
My spare air still leaked, despite my lame attempt to repair it.
I broke out my spare regulator, as my primary one still leaked.
My tank was bone dry – I swore I filled both tanks, but maybe my blue tank leaks?
It's been sitting for a few weeks.
Not getting out of diving that easily, Reverend Al loaned my his steel 100; I took five pounds off my weight belt to compensate, hoping I wasn't overweight.
I also forgot to switch my compass out from my old regulator, so my plan was to just follow Not So New Chris.
Everyone else in our group went off The Point; Chris and I headed off the cove to do 120 reef.
We made and easy entry and were soon met by a teenage female that was out for a swim; she was wearing what looked like a painted on bikini.
"Aren't you cold?" I asked.
"I surf a lot, so I'm used to the cold," she answered.
Chris and I continued our surface swim before submerging in 20 feet of water to head for the reef.
This dive was several firsts for me – first dive with a steel tank, first dive with my "emergency" regulator, first dive this month and the first dive in a long time without my spare air.
I figured I could do an emergency swimming ascent from 40 feet without my spare air, and that was the main reason I chose to dive 120 reef.
I pretty much just followed Chris around, since he was the man with the compass.
I decided to leave my camera on shore, since I already had a lot to be concerned with on this dive.
We went and hung out around the small arch that is in 35 feet of water.
I kept starting to float up – my inflator hose was sticking on, so my BCD jacket was slowly, but continuously, inflating.
I detached the hose, and decided to inflate my BCD manually once I broke the surface.
Other than the minor things that I just mentioned, it was an enjoyable and non-dramatic dive.
Chris brought us back to the cove, and after a short surface swim and a slight wait for some waves, we made an uneventful exit.
The Island Diver was anchored off The Cove – some guys were diving doubles off the boat.
The walk back was less torturous than I thought it would be.
Two really hot girls in bikinis commented to Chris and I that, "This is a long walk on such a hot day to carry all that gear up to the parking lot."
"We are macho, and we can handle it," I said.
Reverend Al and his group made it back shortly after us.
They had a nice dive, but had to fight one hell of a current on the way back.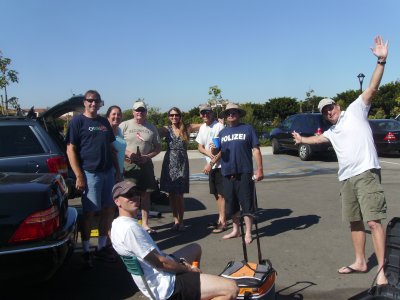 It's good to be back!
We debriefed as tradition has always warranted, and talked about wreck diving and lobster hunting.
We were honored to have the Mayor Of Old Marineland – Max Bottomtime – pay us a visit – he and Mary apparently found an old German U-boat from World War I that was sunk by the US Navy off of San Pedro in 1921.
Now, as far as Lobster season goes, Reverend Al has told me that Dive N Surf will not be open all night for their Lobster Mobster event, like they have been for the last 30 something years.
They open at 7 AM, opening morning, and hand out free T-shirts for $5 to those who previously registered and brought in a legal lobster.
I will be skipping this event this year.
Marineland Employee Reunion
Having worked at Marineland in our youth, Professional Debriefer Paul and I went to the Marineland Employee Reunion yesterday at Terranea Resort.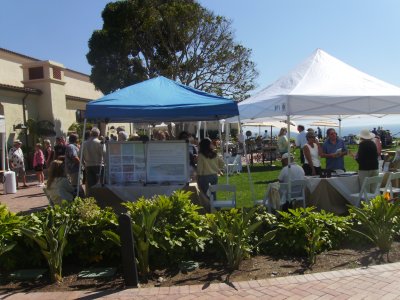 We didn't meet anyone that we worked with – they were all extremely old ex-employees from the 1950s and 1960s; we sort of didn't fit in, but we did have fun walking through Marineland Memory Lane: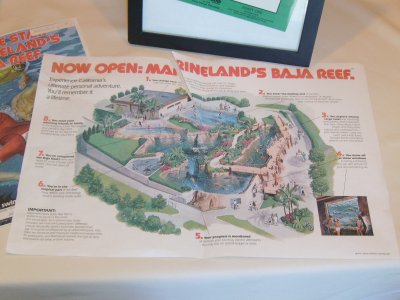 Baja Reef Literature.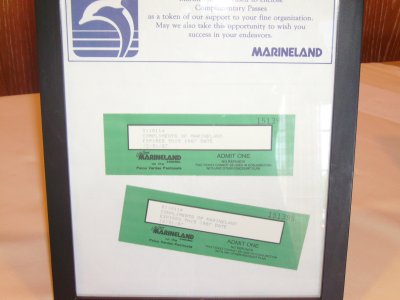 Marineland Tickets.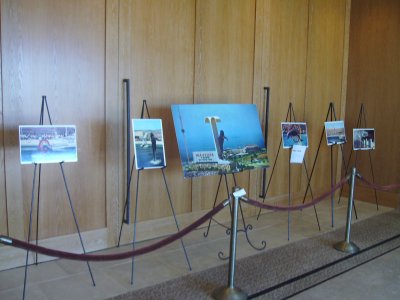 Display pictures.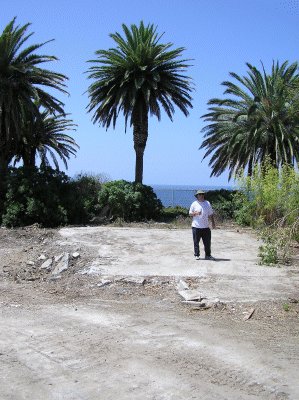 This was me, on August 13, 2006, standing on top of what was left of the foundation of the Dime Toss; that is where I worked as a teenager.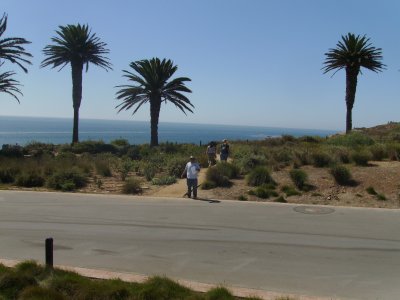 Here's the same spot, as best as we can figure, today.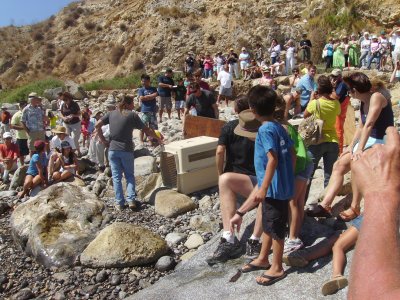 At 1 PM, The Marine Mammal Care Center released two injured seals that were nursed back to health.
To view this video on YouTube click here.
They had an over lay of where certain things were on the property in relation to what is there today; maybe I will scan this in and post it?
I'm glad Terranea is preserving the history of the property, and to do our part in keeping the resort open and prosperous, we drank six of their six dollar beers.