Holy crap!
I haven't been SCUBA diving since mid-April!
I was certain that I got in one dive a month, but personal shit just keeps interfering with my diving.
Determined to get a July SCUBA dive in, I headed down to Veteran's Park in Redondo Beach.
I was hoping I'm still in shape for beach diving, but as it turned out, my equipment was what was in disrepair.
My spare air leaked through the pressure gauge, my backup second stage free flowed and I discovered a lot more problems during the dive.
I wasted about 500 psi just attempting to fix my problems.
The entrance was easy.
Logged Dive #369
Veteran's Park
Redondo Beach, CA
Solo Diving
In With: 2500 psi
Out With: 500 psi
Max depth: 70 feet
Waves: Calm – one foot at most
Visibility: 15 to 20 feet
Water Temperature: About 55 degrees
Total Bottom Time: About 30 minutes
The water was very clear – probably even more than 20 feet in some places, but the 55 degree water made me cold; I'm sure all the holes in my wetsuit didn't help either.
I swam down the canyon to about 70 feet; I got one of the cold headaches, like the kind you get when you eat ice cream too quickly.
I had to use my machismo to ignore the pain and push forward with the dive.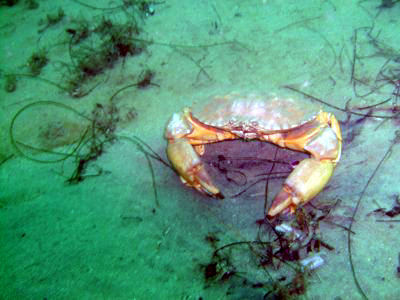 A yellow crab – I get so exicited when I see sea life here!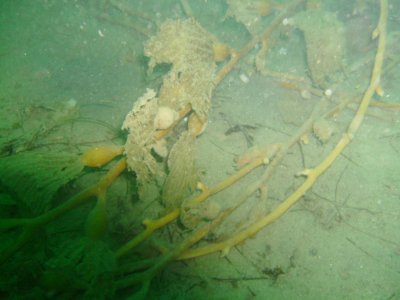 Don't let anyone tell you there is no kelp off of Veteran's Park.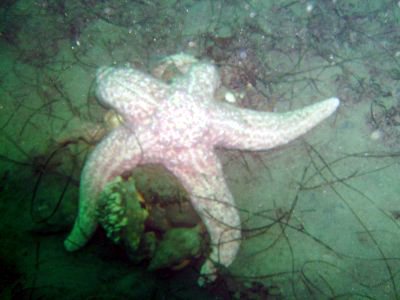 A starfish tries to make a meal out of a conch pile.
I trolled around the bottom of the shelf for a while before heading back up to 35 feet, just a little South of where I remember the "blocks" or "monument" to be – I haven't found that thing in over a year.
I had a buoyancy problem when I was in 35 feet and soon discovered that my inflator hose was stuck on; I had to keep dumping air to stay down.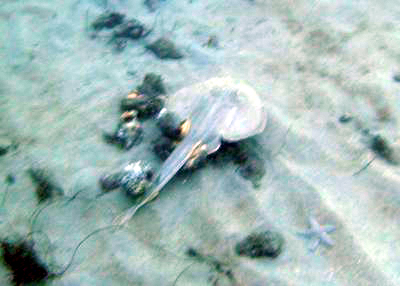 A baby Pacific Electric Ray.
I came across a submerged hoola hoop, that was anchored in 35 feet of water…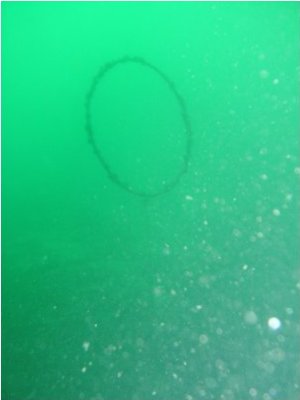 Maybe divers are suppose to swim through it?
When the dive was over, I was able to walk ashore with no problems – I guess my muscles haven't atrophied as much as I thought.
I am so glad that I am still in decent shape to dive, however I need big time service on my equipment.
I also saw a lot of friends that I haven't seen in a while.
July Recap:
Sorry for being such a posting slacker; my internet access is spotty at times.
I'm still trying to get an unwanted house guest out – this shit has been going on for a year right now and I'm tempted to just move out of my own condo and turn off all the utilities.
I've been warned that I could get in trouble for that, but I understand it would be more of a civil matter, not criminal.
Since I have nothing to sue for, it is very tempting.
Imagine living with a paranoid nut-job, that is unemployed and has no friends, (which wasn't always the case) and then serving eviction papers to her.
Yeah, you can imagine that going home is just going to be wonderful, especially since it could take months to get her out.
It was a long time in coming, but I finally put together the 4th of July video that answers the question, "If you work as a pyro on the 4th of July, why are you gone for 16 hours?"
There's a lot that goes on to prepare for that 20 minute show…
To view this video on YouTube.com, click here.
Lots of macho activities planned for August, so stay tuned.