Getting older and more out of shape, I was determined to get in the water today.
The regular Sunday morning group had already called the dive off by the time I arrived.
"The Cove and The Point look like washing machines," someone said.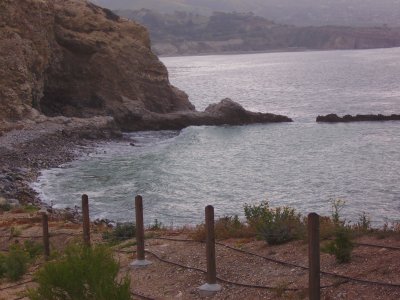 I walked down and verified – green water and heavy surf.
The group went to check out Honeymoon Cove.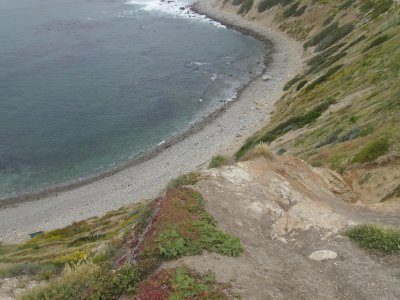 Honeymoon Cove looked spectacular – you could see the bottom of the ocean from the cliffs and there were barely any waves.
We started to gear up, then someone went to go take another look.
Someone suggested, after looking at the steep goat trail down, that we check out Malaga Cove.
I took another look.
"OK, let's check out Malaga Cove, and if it sucks, we'll come back," I said.
Malaga was diveable – short waves crashing on shore with water that didn't look too muddy.
Professional Debriefer Paul was there for shore support; he drafted me to take "Mr. Kim" for a swim.
To make a long story as short as possible, Paul won a YouTube contest and part of his prize was some kind of a stuffed toy bear from Korea – "Mr. Kim."
With too much time on his hands, Paul has decided to send "Mr. Kim" around the world on various adventures.
Logged SCUBA Dive #368
SoCal Buddy Diving With Reverend Al, SCJoe, Eric and Jordan – oh yeah, and "Mr. Kim"
In With: 2800 psi
Out With: 1700 psi
Max depth: 20 feet
Waves: one to two foot manageable swells, with a few surprises
Visibility: 5 to 10 feet
Water Temperature: 56 degrees
Total Bottom Time: About 35 minutes
After waiting patiently for some rouge waves to subside, I made an easy rock entrance into the shallow Malaga Cove waters and joined the rest of the divers.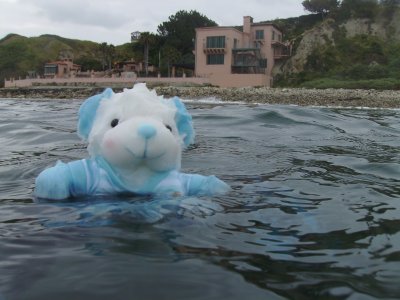 Mr. Kim showed no signs of panic.
After the above picture was taken, my camera froze in the "On" position, with no response from any of the controls.
Why the hell doesn't it do that on land?
Crap!
I don't know how well the pictures would have turned out anyway, the water was sort of silty.
But, lobsters, horn sharks and various fish were in abundance.
I mean, the ocean floor was covered with horn sharks.
Trying to fix my camera, I lost sight of the group – it was just me and "Mr. Kim."
A little pissed that my camera wasn't working, I slowly headed for a sandy beach exit.
Twenty five minutes later I was approaching the shore in waist high waters.
I took my fins off and turned back towards the ocean to find a set of large waves heading my way.
Easily diving underneath them, I was pushed above some kind of a hole where I couldn't feel the ground.
I thought I would have to put my fins on again, but I regained traction soon after.
Traditional debriefing soon followed…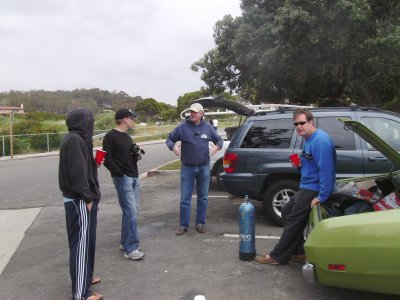 Professional Debriefer Paul drafted our help in making an AFLAC commercial for a video contest – 10 seconds long, and first prize is $25,000…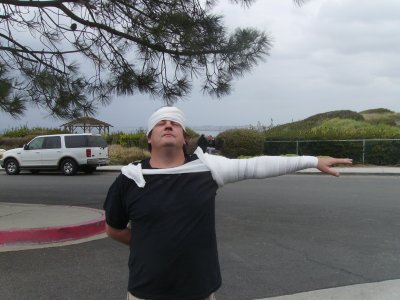 I don't believe the video is done as of this writing, but we had a lot of fun helping him make it – you will fully understand when you see the commercial.
If he wins the $25,000, he has promised to throw a huge party for us.
We met two hot free divers – Valerie and Tao, who decided to split a beer during our debriefing.
Split a beer?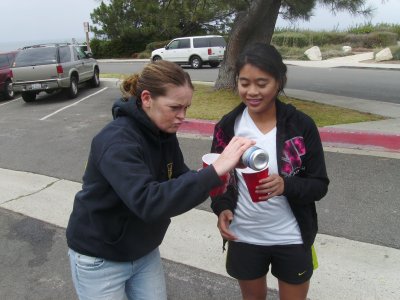 Yes, Valerie was driving, so she didn't want to have a full beer.
How responsible!
It was nice to finally get in the water again!
I'm thinking about starting cage fighting again, just so I can stay in shape for diving.