With high surf advisories and the forecast for more rain later in the week, turnout for Sunday Services was low.
Amazingly, I arrived right at 8 AM with a few other divers in the lot.
I was greeted with, "Don't even bother, break the beer out."
Malaga Cove, Honeymoon Cove, Christmas Tree Cove and apparently Terranea was completely blown out.
Conditions at Vet's Park were reported as, "Surf at the shoreline with five to 10 feet silty visibility."
Not New Chris apparently has shipped off to Afghanistan – we were going to throw him a going away party, but I guess we'll have to double our efforts on the welcome home bash.
We made our way down to the Cove, carrying our breakfast.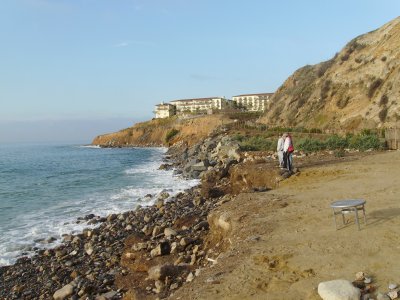 It was high tide, but it was obvious that the strong rains had rearranged our familiar rocks.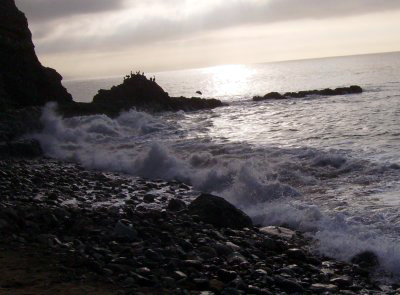 There were strong waves crashing against the beach; the water looked pretty muddy.
We made our way to the Point.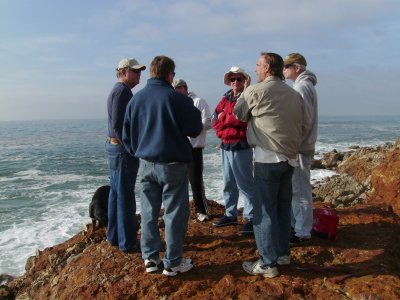 The regular crew stood around, trying to get someone to gear up so we would have something to watch.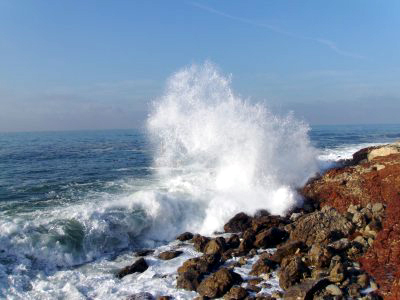 Not even the most dim-witted diver would dare an entry at the Point; we were satisfied with just watching the surf pound the boulders.
And yes, the storms did quite a job rearraging the boulders here, too.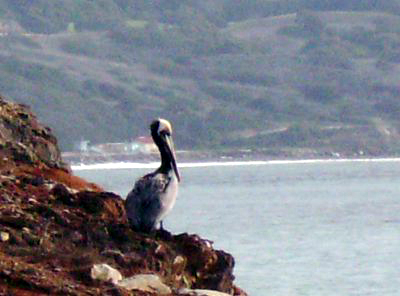 Even the pelicans stayed out of the water.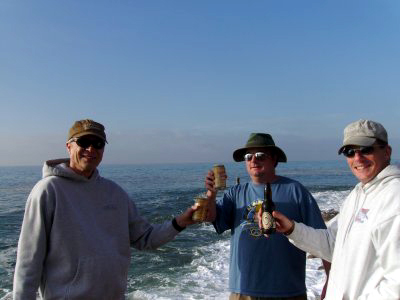 Crazy Ivan, Me and Military Bob toasted to better diving times.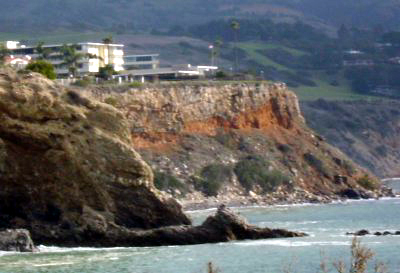 In the distance, it looks as if the cliff was shortened by the rain.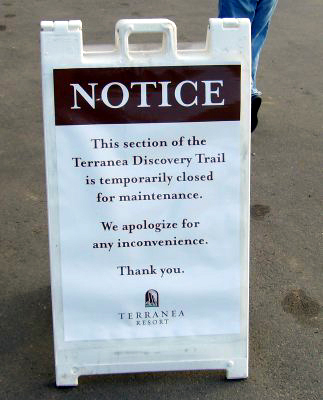 Some portions of the trail are still closed – we couldn't figure out which parts.
We debriefed in the parking lot for a bit with a new Divevets member, Chipper.
Chipper drove all the way from Hesperia to do a short dive at Vets and then debrief with us – now that's dedication!
When we drank all of his beer in 15 minutes, and when he didn't complain, we knew he had passed initiation.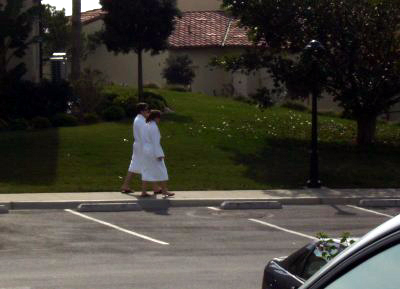 They must offer some sort of martial arts class here at Terranea?
We will have to see what this week brings – I can't lobster dive again until I get a new license; something that's impossible for me to do until this Friday.
Professional Debriefer Paul documents the conditions here:
To view this video on YouTube, click here.