Thank you, Secret Agent James for sending me this photo.
And no, that is NOT me in the picture!
For those that are new to boating, here is how not to launch a boat…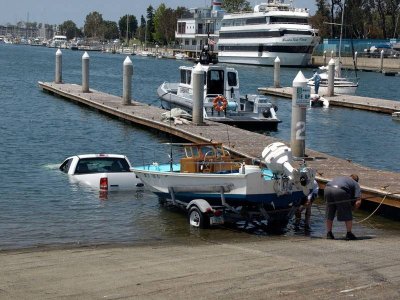 Truck first, boat last!
Do not attempt this at home!
Yes, this is a big time FAIL!
For those with no common sense, people tend to back their boat in, or have it hoisted from a crane.
For a higher resolution of the above photo, click here.
We've had high surf advisories for the last few days; I haven't heard of anyone getting in the water over the weekend.
That may be fine by me, as my hearing is just now recovering from diving while slightly congested at the Christmas Scavenger hunt last weekend.
Looking at the swell maps, all of Palos Verdes looked blown out over the weekend.
…HIGH SURF ADVISORY REMAINS IN EFFECT UNTIL 3 PM PST THIS
AFTERNOON…
A HIGH SURF ADVISORY MEANS THAT HIGH SURF WILL AFFECT BEACHES IN
THE ADVISORY AREA…PRODUCING RIP CURRENTS AND LOCALIZED BEACH
EROSION.
I'm hoping to make a New Year's day dive on January 1st, or maybe one last 2009 lobster dive before.
However, the uncannily accurate Weather Service is predicting rain this Wednesday.