Another relaxing Sunday of diving and debriefing.
I have gotten some emails asking if I dive anywhere else other than Terranea Resort and Veteran's Park – yes, I have plans to dive elsewhere and do other activities, but the time has not quite come yet.
Apparently, Terranea Resort opened at the worst possible time for the Hotel and Resort industry as an article in the Daily Breeze states, the lenders are taking steps on foreclosing on the property.
I hope things work out for the resort as management has been nothing but hospitable towards us divers.
Sort of a thin crowd today; a lot of the divers had hangovers from Saturday night, so we all decided to go to 120 reef and not risk fighting a current from the Point.
Logged SCUBA Dive #347
Terranea Resort, Rancho Palos Verdes, CA
Solo Diving/SoCal Buddy Diving
In With: 2900 psi
Out With: 500 psi
Max depth: 42 feet
Waves: Ocean was flat, but challenging waves on the shoreline
Visibility: 5-7 feet
Water Temperature: In the 60s
Total Bottom Time: 45 minutes
It was approaching high tide and the swells that rolled into the rocks were deep – ankle high, then waist high; I made it out with little problem.
Everyone seemed to have their buddy situation taken care of; I decided to go it alone.
The ocean off of Terranea is getting more crowded…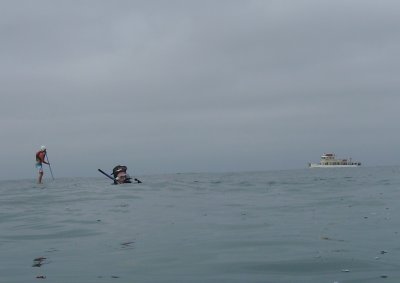 From left to right – a paddle boarder (or god-like figure walking on water?), two divers and a fishing boat.
I submerged and went 120 degrees on my compass.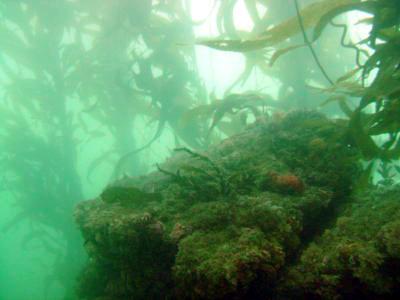 I approached a dark blob in the water; as I got closer it was the beginning of the reef.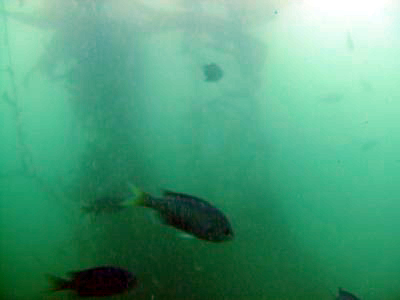 Vis was five to seven feet – good maybe for some macro photography.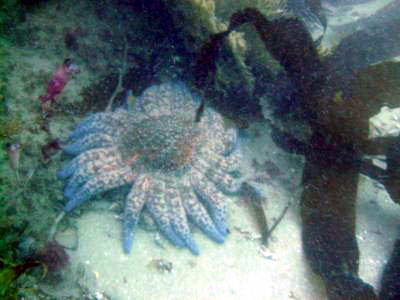 A Sunstar.
Other pictures of 120 reef: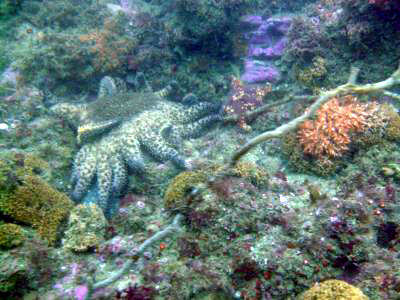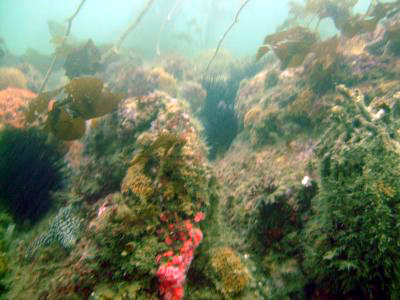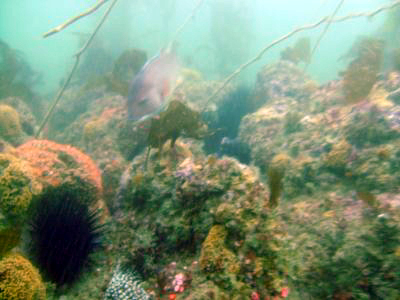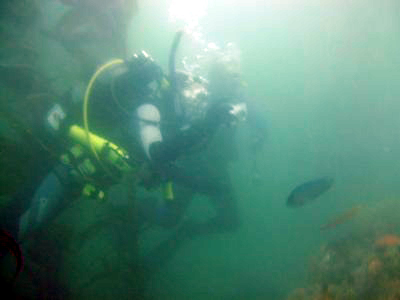 I ran across Not New Chris and his buddy.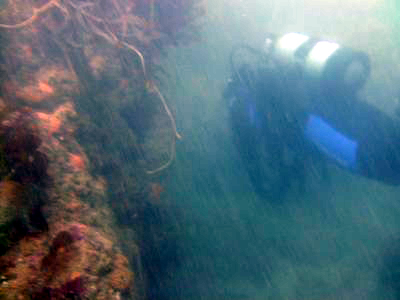 A diver scouts for lobsters before the season begins – I didn't see any this dive.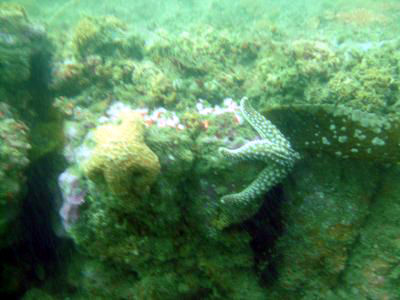 Starfish cling to a reef.
At 1,000 psi I started heading in; I could hear the swells crashing against the rocks and moving all the pebbles around at the shoreline.
High tide was coming in fairly quickly; I stood up in waist high water when a few large swells pushed me up against a rock, then swept me back out.
I struggled for a few minutes, being patient to make a final exit when I got a leg cramp; thanks to my machismo, I ignored the pain.
I finally rode a swell in and was able to crawl behind a large rock, take my fins off and walk ashore – this was not a very graceful exit.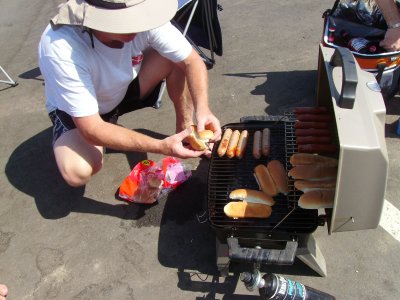 Let the debriefing begin!
Today's menu was beer, bratwursts and hotdogs, in addition to the usual strange looks from first time guests, not used to our bumper parties.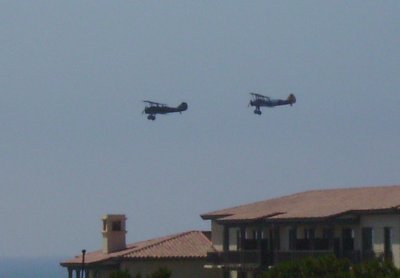 Biplanes patrolled the shoreline looking for illegal aliens and terrorists.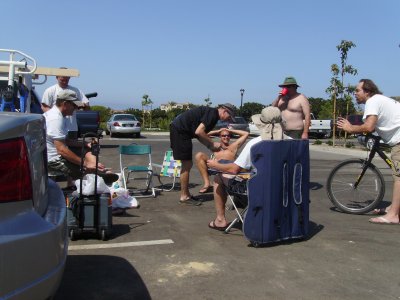 Traditional debriefing continued until noon.
Comments Off

on Sunday Services At Terranea Resort