This morning was gloomy and it sprinkled on and off; but, once at Terranea Resort, it was apparent that conditions were going to be spectacular.
It was low tide, the ocean was as flat as a lake and we could see submerged rocks from the cliff.
Since I hate crawling over slimmy and barnacle encrusted boulders at low tide, I was planning an entrance at the cove, but when I heard a woman was going to enter the Point on her first dive here, I decided to follow the group.
Logged SCUBA Dive #342
Terranea Resort, Rancho Palos Verdes, CA
SoCal Buddy Diving With The Sunday Morning Divevets Crew
In With: 3200 psi
Out With: 1000 psi
Max depth: 53 feet
Waves: As flat as a lake
Visibility: 15 to 20 feet
Temperature: 58 degrees, colder at depth
Total Bottom Time: About 45 minutes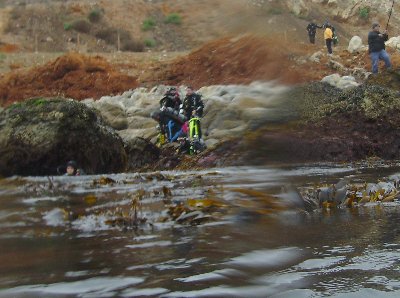 We all made a very careful and uneventful entry over the slimmy boulders.
We swam out to try and find the statue; I told Reverend Al that I would try and follow him, but I was technically going solo, so "Don't worry about me."
Al had two other divers that he was escorting.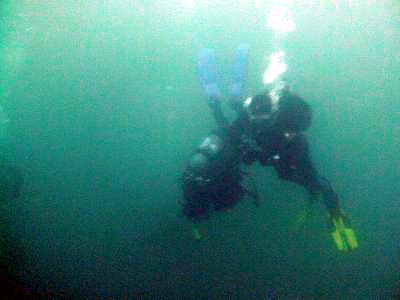 Vis was pretty damn good!
Ten divers were in the water, so it wasn't too long before I became seperated from Al; I went off on my own.
I could not find the statue on this dive.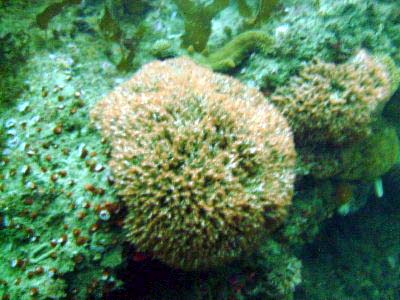 An orange sea blob.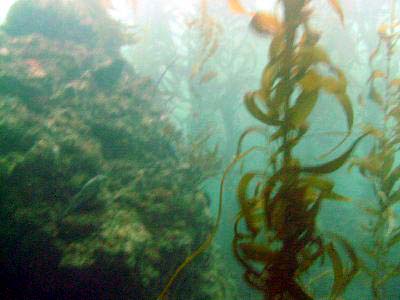 I really need to buy an external flash; I've been going flashless lately to avoid the "scatter back" from internal flash photography that occurs underwater.
Unfortunately, under the massive kelp beds, the light was pretty dim; my camera had to take longer to expose and by that time a surge or current had moved me and the camera.
Visibility was good enough to practice some macro shots of the reef.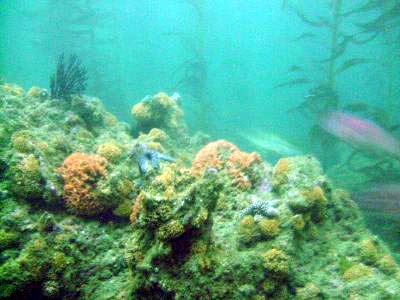 This area is what makes Southern California beach diving so great!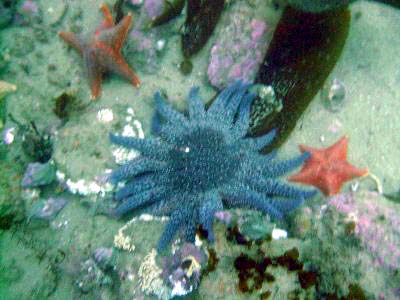 I spotted another sunstar on the way back to the cove.
After 45 minutes, I made an uneventful exit at the rocky cove.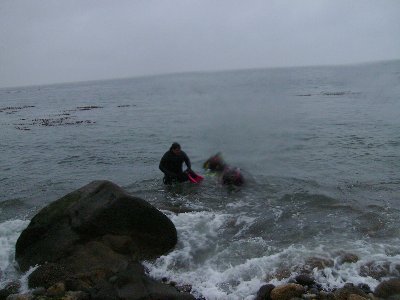 Mean Bob was nice enough to DM the exit.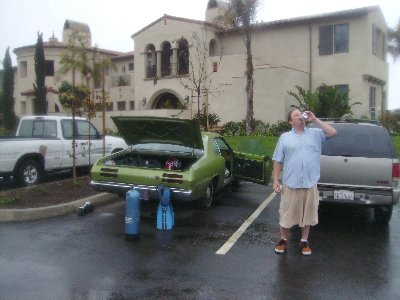 Professional Debriefer Paul showed up to test our new "Debriefing Limits" with Terranea Resort.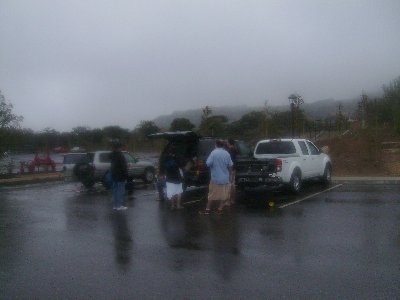 With a slight rain and a few "Soft Opening" guests at the resort, we drank beer and even barbecued with no hassle.
This may be Diver Todd's last dive here before moving to Florida – he's another victim of California's shitty economy.
Comments Off

on Another Pre-Opening Dive At Terranea Resort