Logged SCUBA Dive #333
Secret Location: 4a 75 73 74 20 74 6f 20 74 68 65 20 53 6f 75 74 68 20 6f 66 20 74 68 65 20 67 61 74 65 0d 0a 20 6f 66 20 4d 61 72 2e, Palos Verdes, CA
Solo Diving/SoCal Buddy Diving
In With: 3000 psi
Out With: 1500 psi
Max depth: 50 feet
Waves: Flat on the water, but choppy towards shore
Visibility: 10 to 20 feet
Temperature: 56 degrees
Total Bottom Time: About 40 minutes
Instructor John and I took the mighty Zodiac to one of our secret lobster spots.
Weaving through the dozen or so hoop nets that we came across, we anchored in 50 feet of water off of Palos Verdes.
We only had time for one dive, and I was determined to take my seven lobsters for the night.
I submerged and checked the anchor – yeah, it was there, but no bugs.
I had a good feeling about this dive.
Ten minutes in, I pinned a lobster in 40 feet of water, measured it, remeasured it and measured it again; it was legal!
I knew that I wasn't going to get skunked tonight!
When I got to 35 feet, a lot of shorts were out foraging for food; these poor bugs had obviously had their share of being assaulted by divers – some only had one antenna, others were missing legs.
I didn't even bother grabbing for them.
I came across my second bug, pinned and bagged it!
The good news is, all the ones that I did try and pin, I caught; the bad news is, all the rest were short.
Even the "monster bugs" fell short of my gauge; it's amazing how big small lobsters look when you haven't seen many legal ones.
I managed to surface, with two surface peaks, pretty close to the boat.
Instructor John was coming back, but overshot the boat and had to bitch crawl over the kelp on the way in.
John caught one, I had two – neither of us got skunked.
OK, now it's time to start the engine and go home…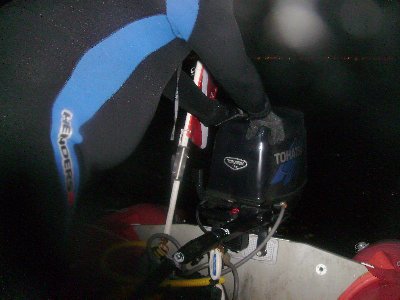 But the engine won't start… it cranks, it's getting gas… but the F'ing thing won't start and the battery was growing weak.
We took the oars out and paddled out of the kelp, hoping that if the engine started, at least it wouldn't seize on seaweed.
John has "Sea Tow," but they come from Marina Del Rey and waiting for them would take several hours.
It was time to make a sacrifice, and hope the lobster gods would help us.
I grabbed the bigger of my two bugs out of my game bag, held it above the water and said out loud, "Lobster gods, I give back to the ocean this bug before I fart… so please let our engine start…"
I released the lobster unharmed, back into the ocean.
John tried to start the engine again… and it started!
Man, that was close!
It cost me a tasty tail, but it was better than waiting several hours for a tow, assuming they could find us to begin with.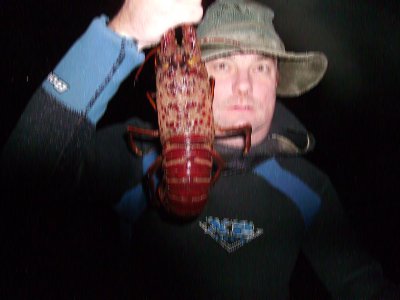 My catch for the night.
We traveled back to King Harbor and tried restarting the engine once docked.
It started and restarted with no problem!