REMINDER – If you haven't sent in your 2008 lobster report cards to the DFG, DO IT NOW!
Logged SCUBA Dive #330
Secret Location: 4e 6f 72 74 68 20 6f 66 20 74 68 65 20 67 61 74 65 73 20 6f 66 20 4d 61 72 2e, Palos Verdes
Solo Diving/SoCal Buddy Diving
In With: 2600 psi
Out With: 300 psi
Max depth: 50 feet
Waves: Minor swells, but pretty darn flat
Visibility: 15 feet+
Temperature: 57 degrees
Total Bottom Time: About 35 minutes
Basically, this dive went the same as the last dive.
I trolled around 40 feet most of the dive and pinned a couple of short lobsters.
I wasn't having very good luck at all; I saw one definitely legal bug, but it was too far in a reef to grab.
Running low on air, I surfaced and had to bitch-crawl over massive clumps of kelp.
John and Ron were already aboard the boat; John caught two more, Ron caught another one.
So, out of three divers with two dives each, we caught a total of five bugs; all the bugs were caught in 40 to 50 feet of water.
I tried to convince Ron and John that we should divide the bugs up evenly, so we could get used to Socialism.
Ron said, "Well, three doesn't go into five evenly so you're out of luck.
"But, look at the bright side, the world is safer now that five lobsters are no longer a threat to society."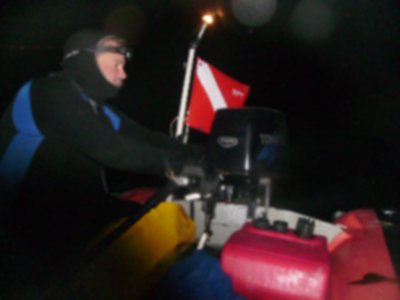 After a couple of minutes trying to start the engine, we were on our way back to the harbor.
It was frustrating and disappointing night, but luckily I still have seven lobsters on ice in my freezer.
We are planning to check out our deep spots Tuesday night.
Comments Off

on Operation: Lobster Liberation Part 2