I met John and three other rafters at 6:30 AM in Torrance for the three-hour ride up to the Kern.
We noticed the Kern River death count is now at 242 – two more added in the last two weeks.
John had talked to some Rangers who said that a very small percentage of those who died on the river were rafters who wore life jackets.
Something that I did not know… the Rangers only have jurisdiction over boaters and kayakers, not over people on inner tubes or swimmers.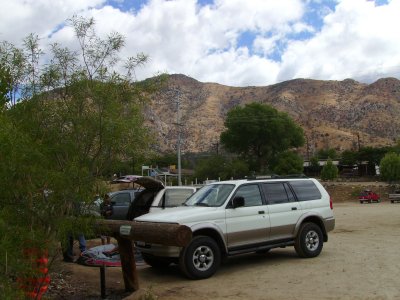 The Kern was sort of cold, overcast and sprinkling in the morning in some places; the river was reported to be running at (I think) 1400 gallons per minute – or is it a second?
The water was chilly, at about 52 degrees Fahrenheit, so we all wore wetsuits.
John, Me, John's son Ryan, Jeff W, Darnell and two rafting first timers – Rico and daughter – were today's rafters.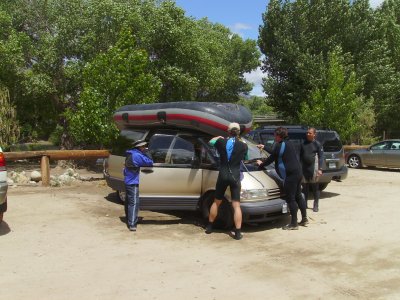 After inflating the raft and John's safety speech, we loaded the raft up on the van and went up river for the first run.
One would rotate out and drive the van back down river.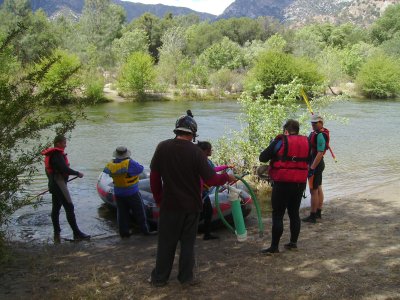 After final inflation, we set off.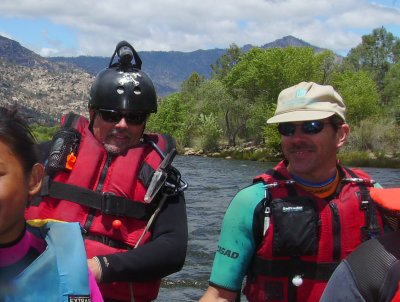 John with his helmet cam and Jeff W.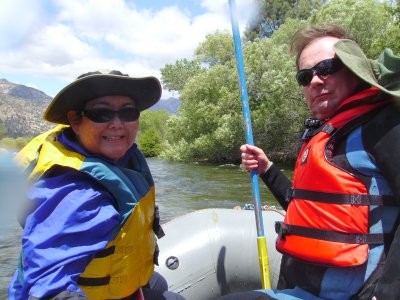 Darnell and macho man me.
From what I was told, last week the water was twice as high and a few rafts got flipped and wrecked… I wish that the water was that high today.
No problems going through the first few sets of rapids; as we were leaving a rapid about half way through the first run, we looked over on the riverbank and saw two young Mexican guys kissing and dry humping each other while a third looked on rubbing his crotch.
Jeez!
Yuk!
John yelled, "Hey guys, get a room!"
They looked over and, seemingly embarrassed, got up and ran into some bushes.
I couldn't get my camera out in time to capture the bizarre spectacle and just as I tied down and secured the camera for the next rapid, we turned a bend and — right there, 15 yards from the beginning of some white water — was a young girl, laying on a rock, sunbathing topless.
Oh, man!
I really missed out on capturing the show today!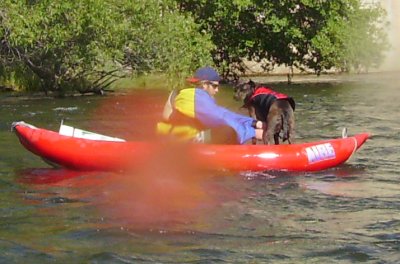 However, we did meet someone who's kayak partner is a dog.
The kayaker said, "This is my best friend and the best dog in the world; she loves this water."
On the second run, we hit a shallow rock, the boat started to capsize – "High side! High side!" John yelled.
We all leaped to the high side of the boat – and got stuck on the rock.
We rocked it, moved from side to side, tried to push off on the rock, but we were stuck."
I was leaning all the way forward when John yelled, "Brace yourselves!"
The boat violently was thrown forward, some chicks screamed, I almost fell out, but we were moving.
I looked back; a commercial raft had hit us and knocked us free.
We are still debating whether it was done intentionally or not – hitting another raft like that could have had dire consequences for both boats.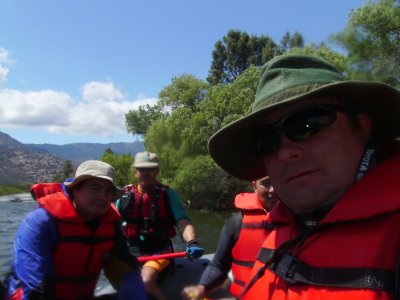 Jeff W. guided the third run.
We made a total of four runs with a break for lunch after the second – each run, barring any problems, took 45 minutes.
Amazingly enough, I think for the first time this season, nobody fell out on this trip!
As for the new rafters?
The young girl called it quits after the second run, but seemed to like the runs she was on.
Rico volunteered to drive shuttle on the fourth, but last, run.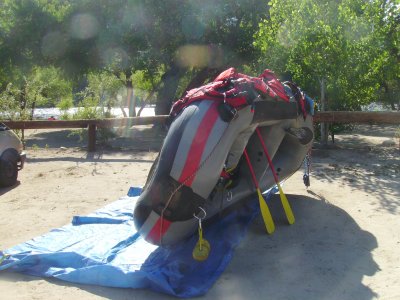 It was cold, and some people were freezing, so sometimes it's hard to tell if a newbie actually likes rafting or just quits because of the cold.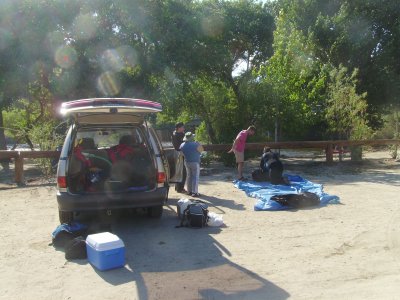 While we packed up, I slammed as many beers as I possibly could in the allotted time; we had to stop in Bakersfield an hour later.
Seven people rafted – no deaths and no injuries today!