Secret Location: 4f 66 66 20 74 68 65 20 53 70 61 6e 69 73 68 20 52 65 64 20 42 65 61 63 68 20 62 72 65 61 6b 20 77 61 74 65 72 20 74 68 65 72 65 20 69 73 20 61 20 73 68 61 6c 6c 6f 77 20 77 68 65 72 65 20 61 20 77 61 72 6d 20 72 65 73 74 61 75 72 61 6e 74 20 65 78 68 61 75 73 74 20 70 69 70 65 20 73 75 70 70 6f 73 65 64 6c 79 20 65 6d 69 74 73 2e
Off the Island Diver Boat
In With: 3000 psi
Out With: 1200 psi
Max depth: About 35 feet
Waves: Very choppy, boat was dragging anchor
Visibility: 15 feet or worse
Water Temperature: Cold!
Total Bottom Time: 40 minutes
Solo Diving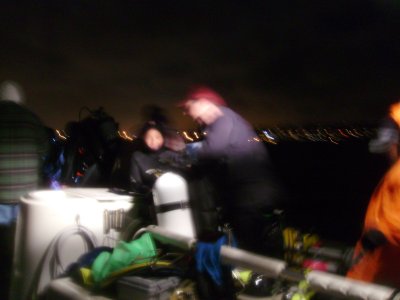 We anchored about 200 yards off a rocky shoreline in about 35 feet of water.
The idea was, since the depths have been crappy lately for lobsters, that they must be moving shallower.
There's suppose to be some sort of pipe in this site.
I was the first one over board; Dan commented to the other divers, "He's jumping off first to get all the lobsters – what a fag."
I went down the anchor and attached the strobe for the other divers.
I trolled over endless stretches of pure, white sand.
I mean, except for a few guitar fish and a Pacific Electric Ray, that's all I saw – sand!
I got as shallow as 15 feet, then went back out and ran across some sort of concrete flat.
I swam back towards the boat over the barren landscape and was going to head back in after twenty minutes until I spotted a short lobster.
I had hope, so I followed a sparse trail of small fish, a few crabs and two more shorts.
Then… still nothing.
After 40 minutes, I thought a beer sounded better so I headed in…
But where the hell was the boat?
I had peaked a few times during my dive, and with the swells, it was really hard to go anywhere.
The boat kept getting farther and farther away; it was dragging anchor and had moved about 200 feet towards the rocky shore.
I swam under water back to the boat; the others who did a second dive soon followed.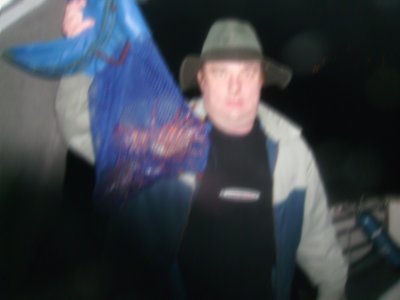 I pose with my catch for the night – two lobsters from the last dive.
No lobsters here and we all agreed – this place sucks!
Debriefing took place in the parking lot as usual but only lasted until midnight.
Comments Off

on Logged Dive #273 – We tried the shallows for Lobster off the Island Diver