Secret Location:
4f 66 66 20 6f 66 20 4d 61 72 67 61 74 65 2c 20 6e 65 61 72 20 74 68 65 20 44 6f 6d 69 6e 61 74 6f 72 20 77 72 65 63 6b 2c 20 50 61 6c 6f 73 20 56 65 72 64 65 73
Solo Diving, So Cal Buddy Diving, night diving, off of John's Zodiac
In With: 3000 psi
Out With: 500 psi
Max depth: 30 feet
Waves: 1-2 foot swells
Visibility: 5-10 feet, very silty
Water Temperature: Warm, felt like it was in the 60's.
Total Bottom Time: About 45 minutes
John, Jim and myself took the "Barf Bucket" to our secret location around 8:00 PM.
The Island Diver anchored by the Avalon while we were en route.
We submerged.
I was just going to go towards shore and cover as much ground as possible.
Visibility really was crappy.
For a split second I thought about calling the dive, until I started seeing lobsters.
I ran across a sand shark sleeping on the bottom, a resting guitarfish, a swimming Pacific Electric Ray and pieces of kelp and seaweed that formed the shape of various threats in my mind.
I was getting discouraged, but finally caught my first lobster half way through the dive, followed shortly thereafter by a second one.
The boat was never too far away, but two of the four lights had burned out while we were under, so the boat appeared very different when I broke the surface.
We were the only boat in that area.
Everyone reached the boat at the same time.
Jim caught four, I caught two and John two.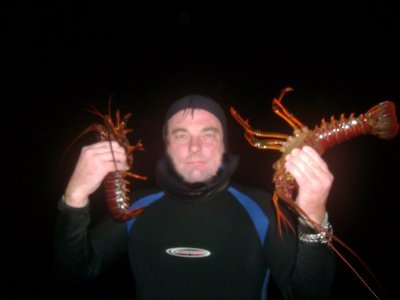 Me and tonight's lobsters.
Still being tired from this morning and with conditions sort of crappy, we decided to skip the second dive.
This morning we saw a group of shore divers and many dozen boats around this area.
Tonight, there were many groups of beach divers (you can spot their colored marker lights on shore) and only one other boat.
Comments Off

on Logged Dive #253 – Opening Night Of Lobster Season