Solo Diving
In With: 3000 psi
Out With: 1000 psi
Max depth: 85 feet
Waves: Hefty three to five foot swells in the surf zone
Visibility: 10 feet plus
Water Temperature: Cold over the shelf (54 degrees)
Total Bottom Time: 35 minutes
Notable Event: Diver slammed in the surf zone; lifeguards and paramedics respond
I finally have decided to take Wednesday night and dive Veteran's park.
Wednesday is the Divevets' traditional night dive.
On their message board they said that the first dive would be at 5:30 PM.
I was geared up and ready to go at 5:30, when the divers just started to show up.
I was sweating in my wetsuit and decided not to wait for anyone else and just go solo.
I dawned my BCD, and the middle strap that I had repaired from my last SCUBA dive broke again; I ended up tying the BCD closed.
The swells in the surf zone were sort of tricky.
I walked into the surf zone and put my fins on in chest high water with no difficulty.
Since I tied the two vest pieces together, the jacket was on crooked, so my spare air was falling out of the holder.
I secured my Spare Air with a D-ring that was hanging lose off my BCD and continued swimming out.
I submerged to 20 feet and swam West to the edge of the canyon and down.
I may have gotten off course or something; I leveled out at 70 feet and it took a while to get deeper as I swam.
Maybe my depth gauge was stuck?
I swam South a bit and then back, reaching a maximum depth of 85 feet.
I found a line that went somewhere… I decided to follow it, but it just appeared to follow along the canyon at 70 feet.
I swam up a bit to 65 feet and ran in to the famous "Vets' Park Pinnacle."
The Pinnacle is nothing more than a collection of cinder blocks, empty air tanks and other trash; it's very appropriate for such a place.
Burning down to 1700 psi, I started my way back up the shelf and ran across an orange traffic cone with lines running from it; a laminated label stated, "Please do not remove…"
I heard a buzzing noise, looked up and saw someone pass by on a scooter; we exchanged waves.
I slowly swam East, making sure I was under for 35 minutes.
I ascended and emerged right on target; Shanon and her group were entering for their dive.
I briefed them on the conditions.
The swells were picking up, but I managed to make a picture perfect exit, walking ashore.
Some Japanese tourists videotaped my exit.
I rinsed my gear off and walked to the Duster; the regular Divevets group were there gearing up for the night run.
I was debating whether or not I should leave, but then I remembered the traffic back to Long Beach; I decided to stay, slam beer and take pictures of the sunset.
Divers started entering the water as the sun was starting to set.
Shanon's group was exiting the water.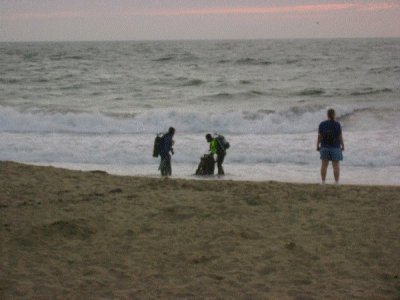 Shanon started running over to another diver who was on all fours trying to crawl out of the surf zone.
I jogged down the stairs to the sand where Shanon and someone else were assisting this diver who obviously was in some kind of trouble.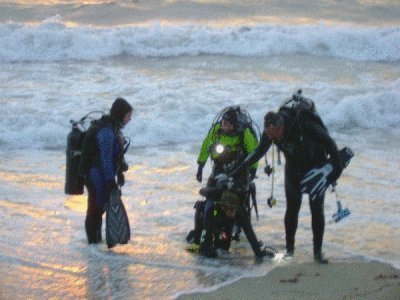 Dan quickly came over to assist.
The diver appeared exhausted, but was breathing and conscience.
Lifeguards ran over to help…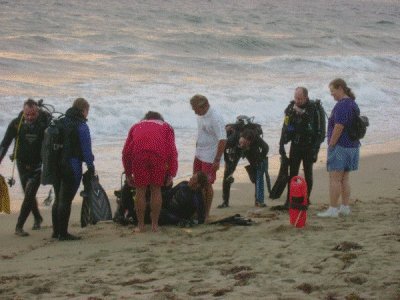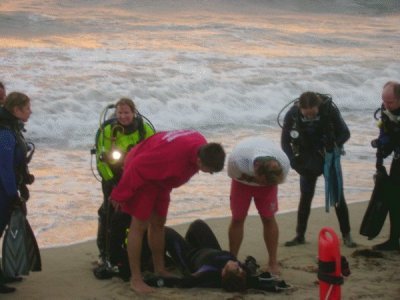 I stayed out of their way.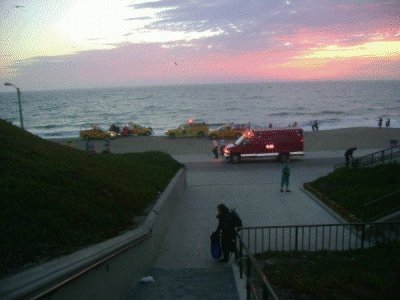 Soon, the paramedics, more lifeguards and the Fire Department showed up on the scene.
They gave the diver Oxygen and were standing around asking her questions.
She eventually stood up, sat in the back of the Lifeguard truck and was driven off somewhere.
I asked Shanon what had happened.
She said this diver was new to diving, got thrown, tossed and slammed in the surf zone (aka "Maytagged"), even when she was trying to crawl out.
Beach diving in these kinds of swells can be very exhausting, and when you're in the surf zone, the only one that can help you is you.
Thankfully the diver is alright; she was in great hands with this bunch.
I drank a few more beers in the parking lot while trying my best to socialize with the other divers, Russell from the group introduced himself.
The Divevets write up of the night can be found here:
http://www.divevets.com/index.php?option=com_smf&Itemid=44&topic=1128.0
Comments Off

on Logged Dive #248 – Wednesday Evening At Vet's Park