My wetsuit is getting pretty threadbare and I just lost all my money at the racetrack, so I decided to strike it rich in Gold country again.
It didn't rain much last Winter and this place has been heavily worked for the last 150 years, so I was hoping just to collect some flakes; a teaspoon full of Gold flakes today is worth $600.
My digging compatriot Ron, aka "Mr. Know It All" did his traditional job of carrying the beer and sluice box for our hike up in to the hills.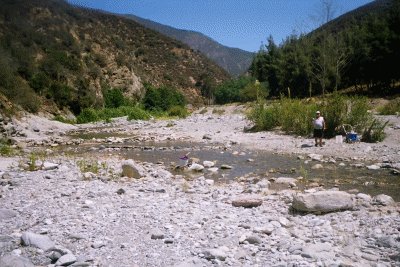 We found a spot where we were hoping Gold would have collected.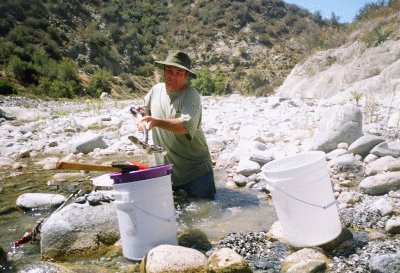 I dig under a rock.
Ron brought some wenches to move large rocks, which worked really well.
We over turned a few rocks that shined with specs of a nice Gold color!
We collected these rocks to scrape the Gold flakes off once at home.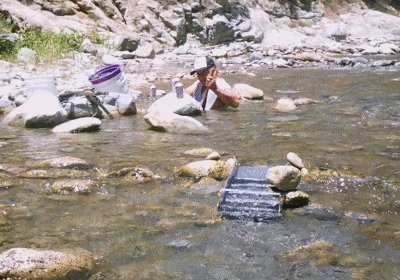 I gave Ron one beer for every foot of ground he could dig.
If he had the strength, he would probably have dug to China.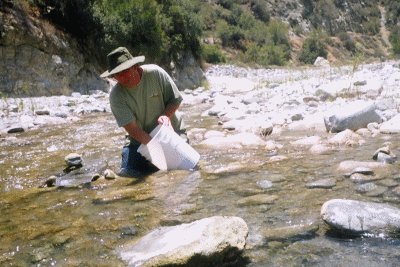 I calculated that we must have moved 30 to 40 gallons of heavy black sand – digging, classifying and running it through the sluice box.
I picked out a few Gold flakes, so I had some hope for when we panned the concentrate.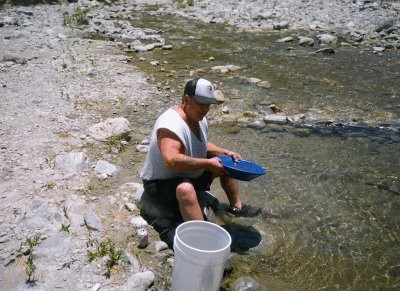 Without falling over, Ron did a good job of panning the concentrate; he took out a heavy magnet and picked up every last spec of everything that was in the pan… 40 gallons of black sand netted us nothing, but at least we had the rocks to scrape!
Unfortunately, the rocks ended up being covered with pyrite – fools Gold!
So, $20 in gas and a case of beer later, my Gold take was probably four small flakes – not even enough to buy any neoprene cement.
Comments Off

on Gold Prospecting The East Fork Of The San Gabriel River