While strolling through a used book store, I came across a $1 book entitled, "Exact Southern California Gold Locations."
Being only a dollar, I figured that I couldn't go wrong.
One of the known Gold locations was the East Fork of the San Gabriel River, a 90 minutes drive from where I live.
With Gold now trading at over $600 a troy ounce – the equivalent of a teaspoon full of Gold dust, I decided to recruit help and venture off to collect a few ounces or more.
Two ounces of Gold would buy me a very nice dive computer and even a dry suit!
I called my brother and diving buddy Nick and asked them if they wanted to help with the prospecting in return for a share of the Gold.
One of my potential constituents asked something along the lines of, "Gold prospecting? Is that where you drive up in to the mountains, hike for a couple hours to dig holes, separate gravel and pan sand while standing in a cold stream of water?"
"Uh, I will bring the beer," I said.
Having nobody taking my offer, I stopped by Home Depot and talked to some day laborers.
"¿Usted tiene gusto de cavar para el oro?" I asked as best I could.
They just laughed.
But I soon noticed that a lot of them already had more Gold on their teeth than we could hope to find in one afternoon.
Sitting at a local pub, drinking a beer and pondering how I could manage the prospecting operation alone, I ran in to one of my neighbors, Ron – aka "Mr. Know It All."
Ron said, "Sure I would love to go dig for some Gold, especially if you bring the beer."
With the help of a few bar patrons, we pried Ron's ass off the bar stool and sent him home to rest.
At 5 AM I picked him up and we were off to the East Fork of the San Gabriel River.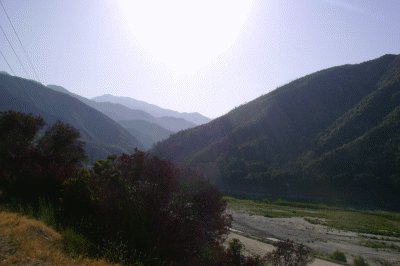 There's nothing like mountain air in the early morning.
We parked at the end of the road, scratched my daily "Adventure Parking Pass" and shouldered the gear.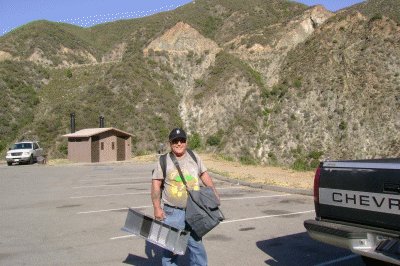 Ron carried the sluice box and bag of beer that kept dripping ice water down his leg.
We hiked an hour up river.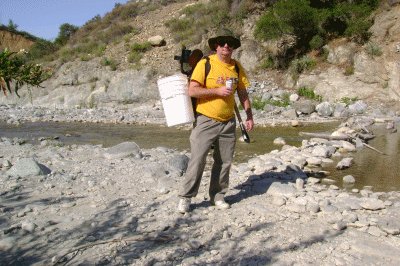 I carried the buckets, classifiers, shovels, pick, pans, metal detector and refining kit.
We hiked until Ron couldn't walk anymore.
We found a part of the river that had receded a bit and was surrounded be trees and roots.
From what I understood about where Gold settles, this was the perfect place.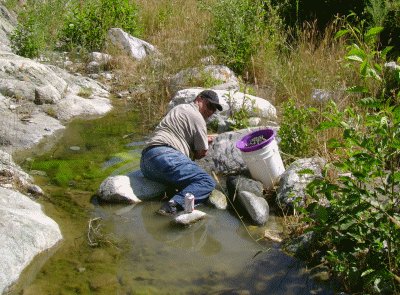 Ron started digging around a rock.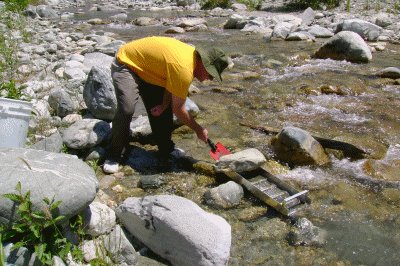 …as I set up and fed the sluice box.
We must have dug, classified and shoveled about 40 gallons of gravel through the sluice box that morning.
The many beer breaks relieved the back fatigue.
But next time, I'm going to bring gloves.
I think the gravel wore away several layers of the skin on my hand.
Also, this kind of gravel is heavy with iron, quartz and hopefully Gold.
After four hours of dig-shovel-classify-sluice-beer break, we had a good amount of concentrate to pan.
I think the last time I panned for Gold was as a kid at Knott's Berry Farm.
Everyone has their own unique style to twirling a pan; I just had to find mine.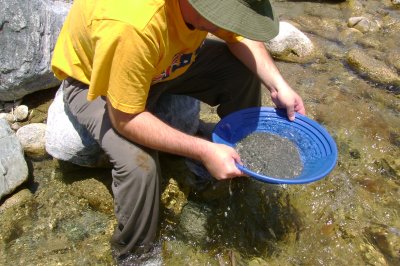 The concentrate is pretty heavy, but the Gold is heavier.
After a few minutes of twirling the pan – my pan has ridges on it to make the task easier – I was down to about a cup of concentrate with what looked to be some Gold color.
I bottled what was left in the pan to separate later at home with tweezers.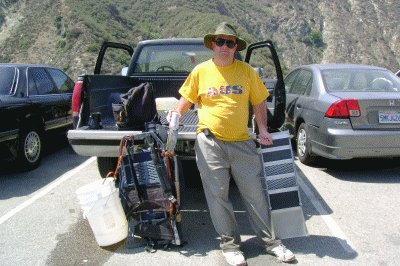 We made it back to the truck to rest and drink the last cold beer.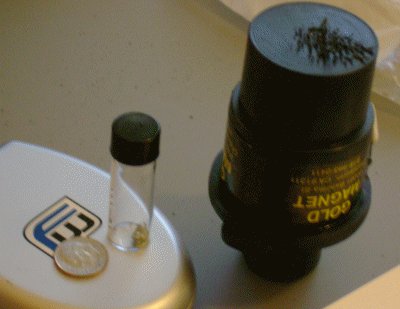 Once home, I took a magnet and lifted the iron filings away and picked out the Gold with tweezers.
We didn't get much and what we did get had a high quartz concentration – Ron didn't even care about splitting the Gold.
Even so, what I had, wouldn't even cover the gas for the trip.
But I guess I am psycho, because I really did enjoy the trip.
I'll find the mother load, one day.
From this day forward, Ron and I greet each other by saying, "What up digga'?"
Comments Off

on Quest For New Diving Equipment! Prospecting The East Fork Of The San Gabriel River