Casino Point, Catalina, CA
Night time, Solo Diving
In With: 3000 psi
Out With: 1200 psi
Max depth: 50 feet
Waves: Insignificant
Visibility: 15 feet, maybe 20
Water Temperature: Warm
Total Bottom Time: 45 minutes
After a great dinner at Steve's Steakhouse and a walk down the pier with my family, I did a night dive.
I carried all my crap from the hotel to Casino Point; my brother Paul, sister Kate and my father followed.
There was a class in the water already.
The eerie green glow of all their lights was predominant.
Once in the water I descended near the buoys.
It was really spooky – spookier than I thought it would be.
I've dove Casino Point a lot and at night it looks totally different.
Yes, fish do sleep – either that or a fish – a White Sea Bass – was dead at the bottom.
Bigger fish kept following me around.
Lobsters were all over the ground – none legal size, but it's a game preserve anyway.
I made it down to 50 feet and decided there was just as much to see at 30 or 40 feet.
It was like touring a haunted kelp forest.
My light hit kelp, rocks, and fish, with a pitch black background.
I ran across the buoys again, but couldn't find them on the way back.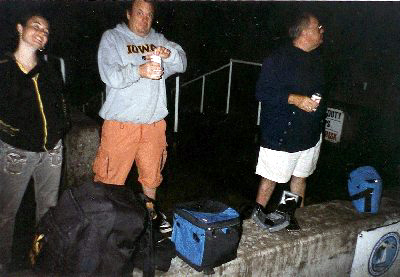 I surfaced, got my bearings and submerged again.
I found the two buoys and swam to the staircase.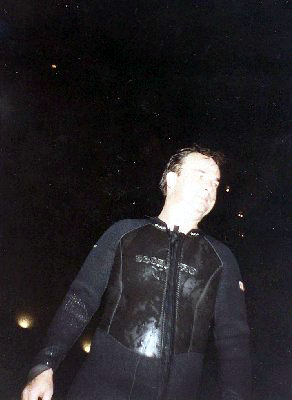 My "safety crew" greeted me with a beer.
We humped all my gear back to the Hotel and went out and partied with my brother and sister.
Comments Off

on Logged Dive #202 – Casino Point Solo Night Dive