Safety Worker For The Cabrillo Museum's Annual Chocolate Lobster Dive
Cabrillo Beach, San Pedro, CA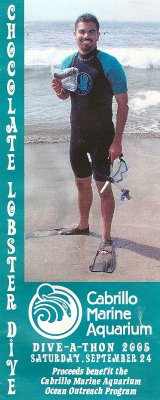 Steve and Laurie from American Diving, Instructor John and many of the traditional event crew all participated as support staff for this event.
I worked as a safety diver for the "Chocolate Lobster Dive."
It was a charity event to benefit the Cabrillo Marine Museum.
Early in the morning, John and I took a bag each of numbered cement lobster tails out in kayaks and seeded the lagoon.
Each tail was worth a prize or raffle ticket.
About 150 divers participated.
Pacific Wilderness handled the contest border; American Diving (our group) handled the Kayaks.
Once the contest started, the divers entered the water with their game bags and searched for these cement lobster tails in what was probably 1-2 foot visibility.
The waves breaking on shore made the event even more challenging for all involved.
One of the Dive Masters stopped a buddy team from entering the water tied to each other!
There was a group of bubbles that we watched go way out of the boundary and back.
Two women surfaced near my kayak; they were obviously exhausted.
I offered them a tow; they declined at first until I told them that that was my job.
I really wish another kayak was near my area.
I started towing the both of them, and they were REALLY heavy with drag.
Soon, a lifeguard jet ski came over the assist, towed them the rest of the way to waiting shore support — I bet they never counted on that much attention!
Steve was yelling over at me, but I couldn't hear what he was saying over the surf.
I paddled over and was pushed by the waves onshore.
Steve said, "We have a lost buddy who answers to the nickname of 'Sarge.'"
Steve followed with a description and also told the fact that his buddy didn't know his real name.
I put on a great show trying to get back out through the surf in the kayak.
I must have wiped out almost a dozen times and later found out that a Daily Breeze photographer was taking pictures of my attempts.
At one point I got dumped, stood up and the kayak, riding a shore swell knocked my feet right out from underneath me.
I looked really hard the next day, and thankfully there were no pictures of me!
Steve begged me, "Please make sure we don't have to rescue one of our safety divers."
I eventually made it back out to deliver the message to the rest of the crew about the missing diver.
'Sarge' was later found already on shore.
At the end of the event, John and I wiped out again coming in on the kayaks.
I hit my head, but thankfully not too hard.
All in all, a hard, but successful, event!
Our group performed four rescues and countless assists.
Comments Off

on Safety Worker For The Cabrillo Museum's Annual Chocolate Lobster Dive