"Geiger", Catalina, CA
Diving off the Bottom Scratcher Boat
Solo Diving
In With: 2700 psi
Out With: 500 psi
Max depth: 50 feet
Waves: Insignificant
Visibility: 20 feet
Water Temperature: Cold
Total Bottom Time: 50 minutes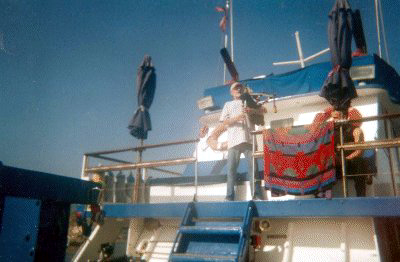 We were treated to a bagpipe concert.
Tim and Reyna didn't have air by the time we reached this spot.
This was the last dive, so I didn't care if I got banned from diving for going solo.
"Same day, same ocean," is "Southern California Buddy Diving."
I jumped off the boat and submerged to 40 feet.
I went towards the shore and found many reefs with the biggest lobsters that I have ever seen.
I mean, one must have been at least 10 pounds!
I just couldn't reach them.
My hand got caught on a piece of sunken bamboo (it really was bamboo!), as I tried to free myself, the stick went in to the lobster hole.
Luckily for the lobsters, they did not jump out in to my hands.
I looked up as a class of divers passed by.
It must have been a sight for the students to see a solo diver accidentally prodding a lobster hole with a stick; purely by accident of course.
I dove around toward the end and ran across the anchor line.
A few more feet further, I went over an underwater cliff that went down to 50 feet.
I swam around until I got to 500 psi and then I ascended to the top, right under the steps, right on target.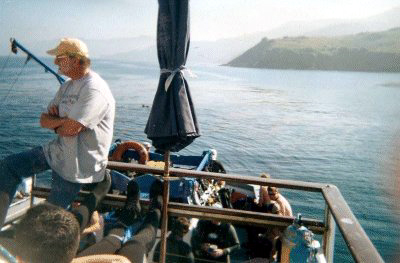 For a Dive Master that was sooo concerned about people diving solo, he never cared that I always came up alone.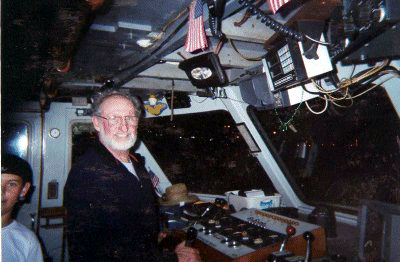 I kicked it with Captain Greg most of the way back.
There was a severe lack of single hot chicks on this boat.
Captain Greg explained to me the nature of the Dive Boat business.
You could have $400,000 invested in the boat, but might only make $50,000 a year as the owner and Captain.
The crew basically makes minimum wage plus tips.
At the end of the trip, Bobby the deckhand gave his usually good bye, "You've cheated death another day."
Another great day of diving aboard one of my favorite boats!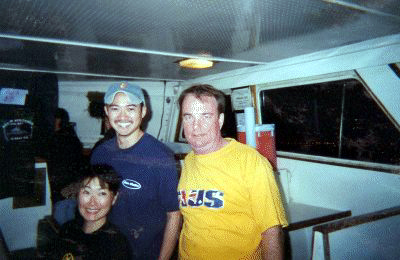 Reyna, Tim and Me on the way back.
Comments Off

on Logged Dive #104, Geiger, Catalina Island, CA