Long Point, Rancho Palos Verdes, CA
(aka The Old Marineland)
Diving With John H.
In With: 2600 psi
Out With: 200 psi
Max depth: 55 feet
Waves: 1-2 feet, pretty calm
Visibility: 20 feet in some places
Water Temperature: Getting cold
Total Bottom Time: 45 minutes
I took my time getting to Long Point; this was supposed to be a solo dive.
Once I geared up, I had major problems with my rig free flowing.
This has been happening about once every four F'ing dives!
Anyway, as I finally pieced together a working rig from my other rigs, someone pulled up and said to me, "hey, I see you diving solo all over the place…"
He must have geared up quickly; by the time I got down and entered from the point, he was right behind me.
"I'm following you," he said.
Realizing that I had only 2600 psi, I canceled plans to look for recently sunken boat and agreed to follow him.
John H did a macho man belly flop off the Point with his spear gun.
We debated on where to exit.
Since he said he would teach me how to exit the Point, we decided to go West.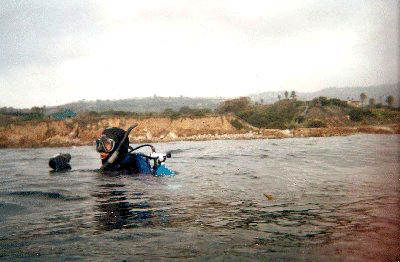 We explored the kelp and lobster holes.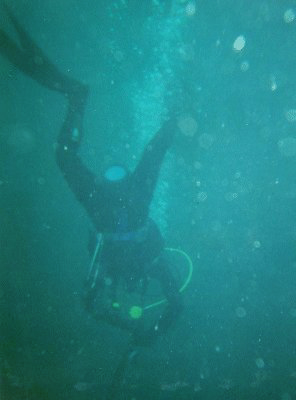 John speared a few fish – a sheephead and a White Sea bass.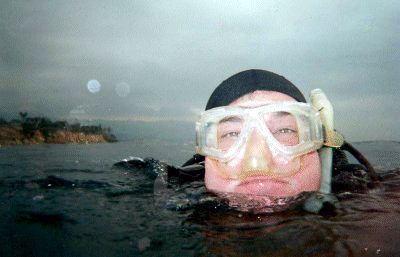 I went up first when I had 200 psi – John stayed under for about 10 additional minutes.
We were way the hell out!
A few hundred yards South West of "the Point."
After a 20 minute surface swim against the current, we "surfed" onto The Point.
John H's girlfriend Mayna complimented the green color of my Duster.
I think John remembers the car, not necessarily me.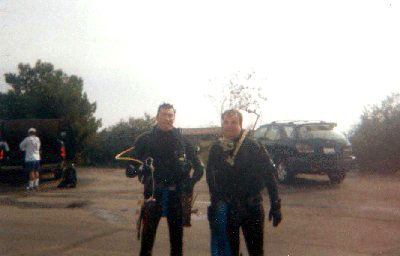 The lobster John caught was given to me.
I'll be anyone's buddy if they give me lobster!
Comments Off

on Logged Dive #94 Old Marineland, Hunting With John H.