The Divevet's 4th Annual Underwater Pumpkin Carving Contest
Veteran's Park
Redondo Beach, CA
Solo Diving
In With: 2500 psi
Out With: 900 psi
Max depth: 70 feet
Waves: None!
Visibility: 15-25 feet
Water Temperature: Cool, in the 60's
Total Bottom Time: About 40 minutes with a 25 minute shore break
I've been running around all morning long.
I've had problems with the Duster, had to buy memory for my new camera, in addition to beer and a pumpkin for the contest.
I arrived at 10:15 AM, 45 minutes early.
Nick was supposed to meet me, but didn't show up until later, without air and his regulator – he was rushed too.
He helped me last night when I had car troubles.
I signed a Divevets waiver…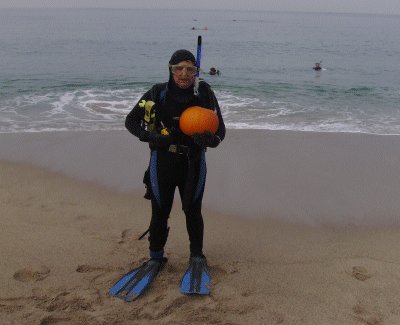 …and headed out to the water to do some carving.
The suggestion was made to me to put weight in the pumpkin so it would sink; I filled mine with a few handfuls of sand.
EASY OUT!
There were no waves!
I swam out and submerged to 20 feet and started carving.
I already knew what I was going to do, and my idea was sort of simple – I carved two eyes, a nose, mouth and ears.
I was back on shore within 15 minutes.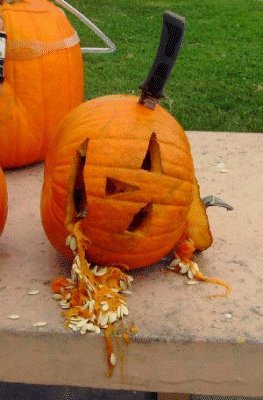 I went back to the table, turned my pumpkin sideways, stabbed it with a dive knife that I found a while back and decorated it with pumpkin guts.
I took my new underwater camera and decided to devirginize it.
Again, I made it out with no problems.
There was no surf zone as there was no surf.
I tried finding divers who were busy carving pumpkins, but didn't see any by the time I made it to the shelf.
I went over the shelf and found the "monument" at 70 feet.
I tested my camera by taking various pictures of the site – and a spectacular looking site at that!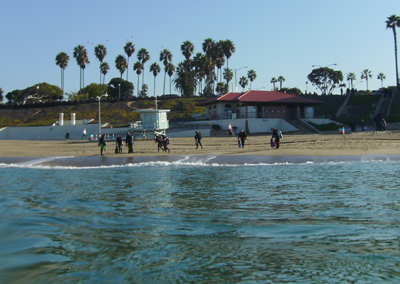 I tried my famous "hold my arm out and take a self portrait" snapshot.
I made it back up to the top of the shelf and slowly swam back to shore.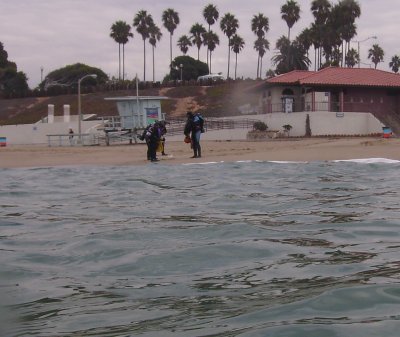 Almost in, I noticed some divers coming out, pumpkins in hand.
I had done really well on air and followed them to get some shots.
There were about four or five carvers and two others watching and taking pictures…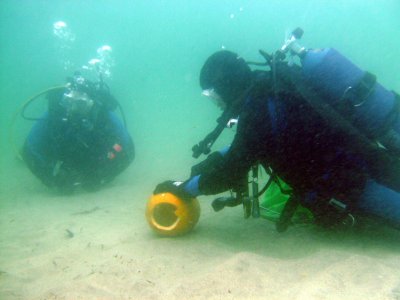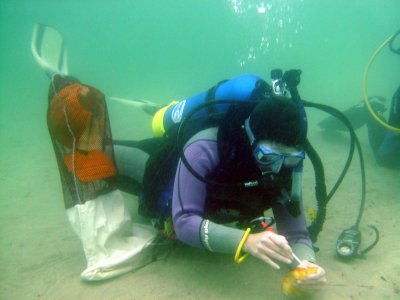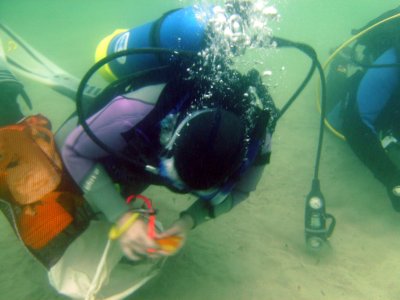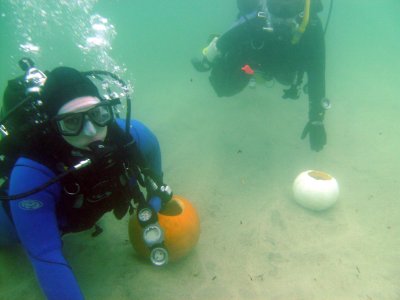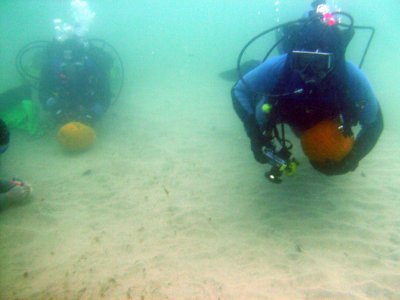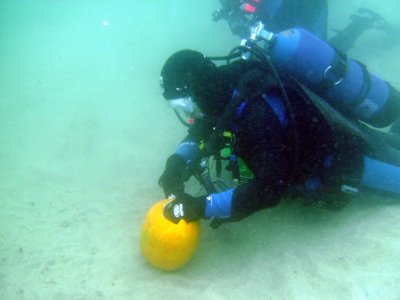 I took a few snap shots and went ashore – I was getting thirsty.
My brother Paul stopped by Veteran's Park to see if I was there; I was, so he joined me and Nick for the festivities.
The beer and bratwursts flowed freely…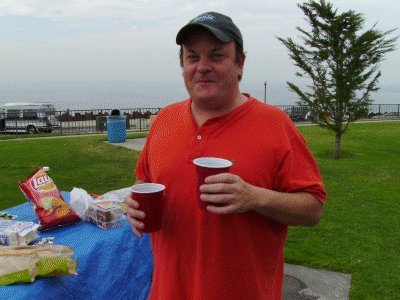 …as the pumpkins came ashore and collected on the contest table…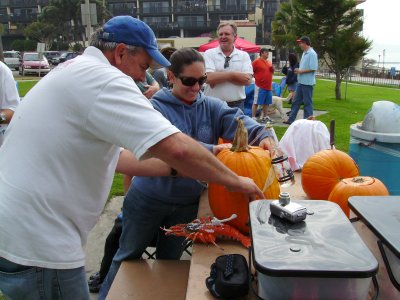 The judges chose the winners…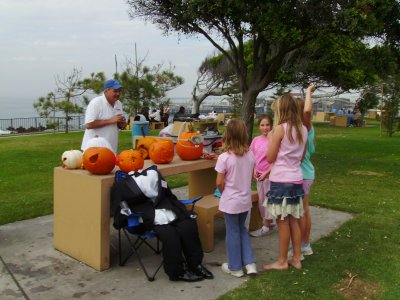 When it was all said and done, I won nothing!
Not first, second or third… not even the prize for the worst.
When I asked one of the judges why I didn't get anything, she said, "your entry wasn't scary enough."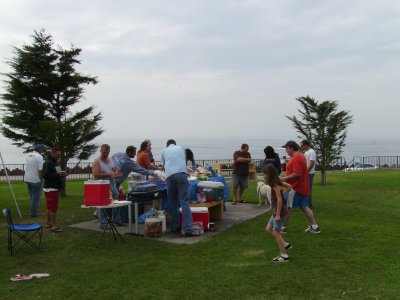 The party continued with the rest of the brats, beer and jello shots.
Another great day of Southern California diving and partying!