Logged Dive #315
Veteran's Park, Redondo Beach, CA
Solo Diving/SoCal Buddy Diving
In With: 2900 psi
Out With: 1300 psi
Max depth: 68 feet
Waves: Pretty flat
Visibility: 15 feet
Water Temperature: About 58 degrees, colder at depth
Total Bottom Time: About 40 minutes
Having gotten burned by the judges at the last underwater pumpkin carving contest, I decided that I would try for the "worst pumpkin" prize.
Nobody needed a buddy, so I planned to just carve my pumpkin really quick, return to shore and go back out again for a leisurely dive.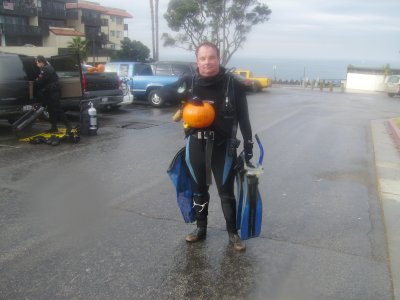 It rained for a short period of time, getting my pumpkin and SCUBA gear wet – I was so pissed!
I entered the water with the help of a Pacific Wilderness Divemaster, who held my pumpkin as I entered – the swells were so flat.
I submerged in 15 feet of water and started carving; not even two minutes later, I had the winner!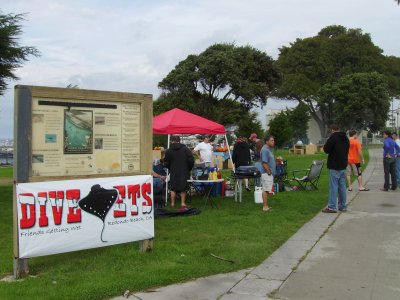 I returned to shore to drop off my entry and reentered the water to do some photography.
Heading to the shelf, I ran across two divers working on a pumpkin…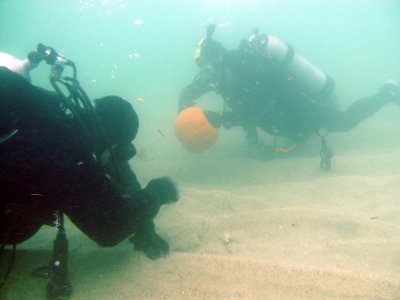 A couple pictures later, and I was on my way to hopefully find TwinDuct and a few more carvers – unfortunately, it's hard to find people underwater sometimes.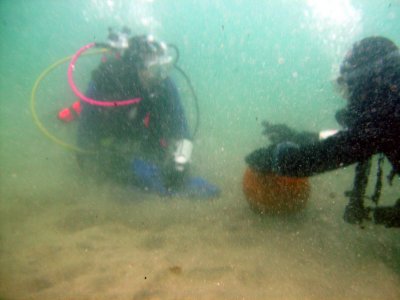 I found another dive team working on their creation.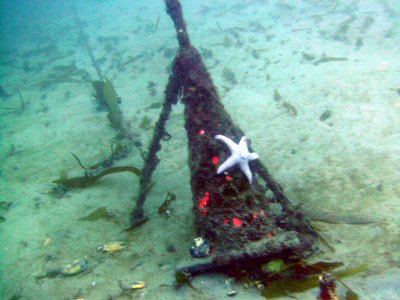 I came across an orange traffic cone!
I was so excited!
I swam down the canyon and ran across "The Monument…"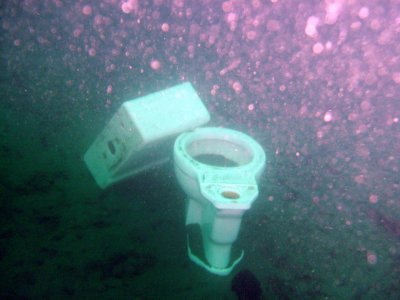 The newest addition to the cinder blocks and miscellaneous trash is a toilet.
Realizing that I never refilled my Spare Air because of a slow leak (sort of like not wearing your seat belt on the freeway), I headed up to shallower water.
At the lip of the shelf, visibility got really bad…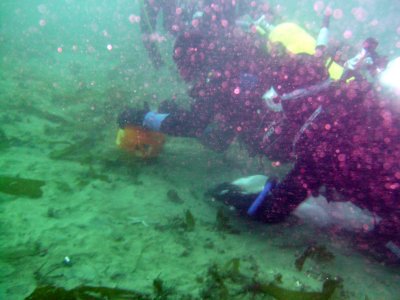 Through the silt, emerged three divers' silhouettes.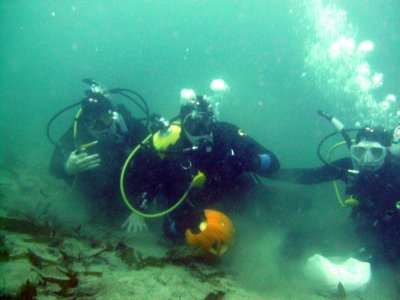 …Ah, Ha! Three more underwater pumpkin artists!
I made it back to shore without incident when I got discouraged that I couldn't locate my friends.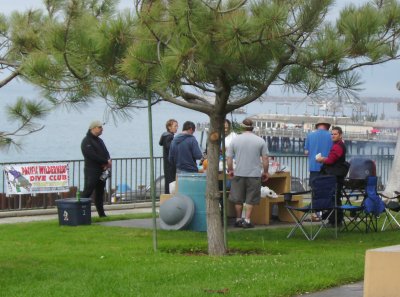 We shared the ocean and park with the Pacific Wilderness Underwater pumpkin carving contest; I think we had more chicks at our event.
Who I took pictures of, I really don't know – they could be from Divevets or Pacific Wilderness; everyone looks the same underwater.
Dan from Divevets put a hot dog that fell on the ground in the mouth of my pumpkin.
He said, "That will make it either the best or the worst… you'll get something."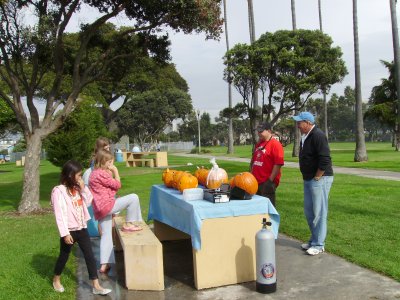 The judges judge the pumpkins.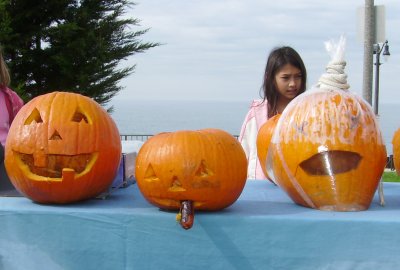 From left to right, a traditionally carved pumpkin, my pumpkin and TwinDuct's 'drowned pumpkin.'
My brother showed up to cheer me on and help us debrief.
It came time for the awards!
The winner for the worst pumpkin…. was Me!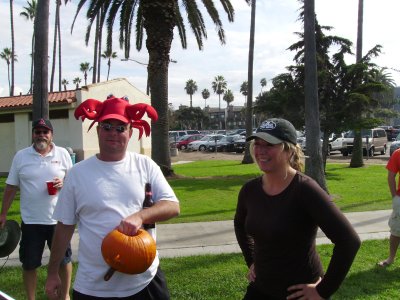 Montana bestows my prize for worst pumpkin – a crab hat and the book "Fitness For Divers."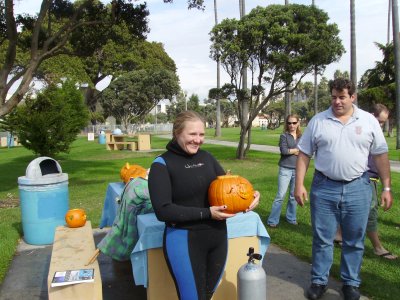 Good2BFit won first place.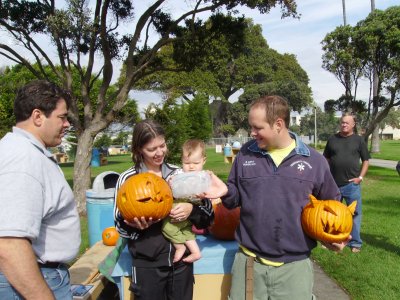 A couple coincidentally wins second and third place.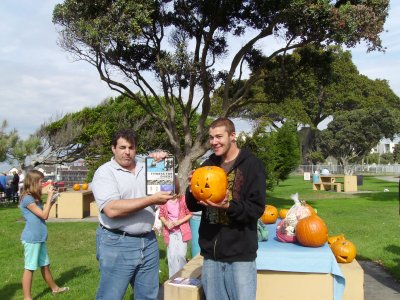 The fourth place winner.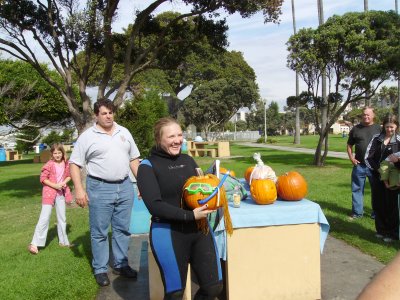 Good2BFit takes fifth… wait!
A double entry?
I'll have to remember that strategy next year!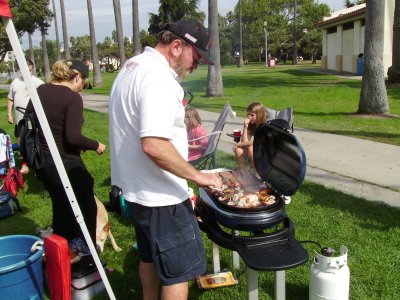 The event included a gourmet meal cooked on an outdoor stove.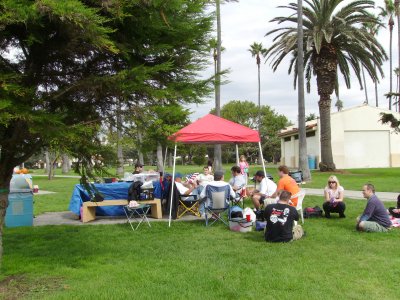 Another great debriefing with a lot of non-divers and family members.
Someone yelled, "Beer down! Beer Down! I smell bacon!"
A cop rolled up and hassled us…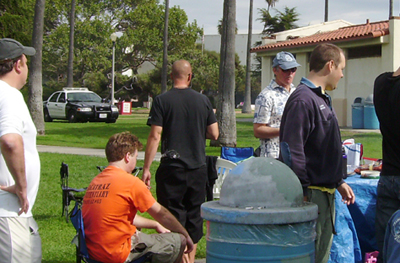 Someone had a dog and the cop told her to get the dog out of the park.
Wow! Dog Police?
The festivities wrapped up by 2 PM; I left the grounds triumphantly with my worst prize prizes!