November 8, 2013
We moved to the next spot where they threw their nets over before I went in.
If you don't know how I got on a boat with some hoop netters, read my last post.
I went over and down.
Logged SCUBA Dive #455
Solo Diving
Secret Location: 44 69 72 65 63 74 6c 79 20 69 6e 73 69 64 65 20 74 68 65 20 6d 6f 75 74 68 20 6f 66 20 74 68 65 20 62 72 65 61 6b 77 61 74 65 72 2c 20 74 6f 20 74 68 65 20 72 69 67 68 74 20 6c 6f 6f 6b 69 6e 67 20 6f 75 74 2e
Long Beach, CA, USA
In With: 2900 psi
Out With: 1400 psi
Max depth: 45 feet
Waves: Pretty flat
Visibility: shit to 10 feet
Water Temperature: 62 degrees
Air Temperature: 72 degrees
Total Bottom Time: 25 minutes or so
I hit bottom at 45 feet; the floor was a three foot deep mass of mush.
I swam towards the wall where there was a mass of boulders; starting at the bottom I went up.
I didn't see one lobster – not one.
I came across a few molts, which gave me hope, but I just didn't see any lobsters at all.
They weren't in the rocks, on the rocks or out in the mush.
Not to come back empty handed, I put a lobster molt in my bag, and after about 25 minutes doing a lobsterless search for bugs, I called it quits.
I surfaced, signaled with my light, and the boat came and picked me up.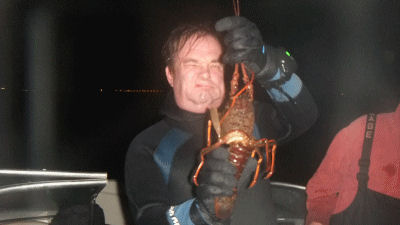 Me with my molt – that is just a lobster shell.
They then went around and pulled the ten hoop nets that they dropped before my dive.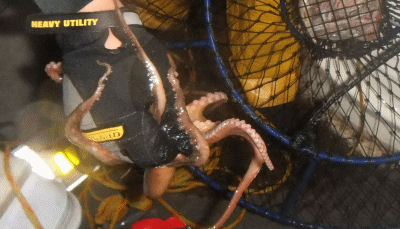 They pulled up an octopus.
Ranger Danger was about to throw it back, but Luis said, "Keep it, I can make tacos with it."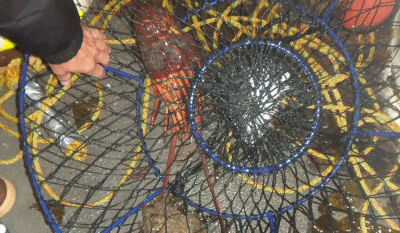 Ranger Danger pulled up a bug!
Finally, we are not skunked!
Well, at least there's a bug on the boat.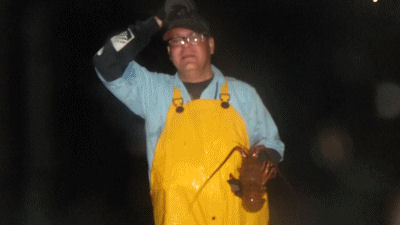 Ranger Danger shows his bug.
Captain Tom said, "Enough of wasting our time going SCUBA diving, let's go where the lobsters are…"
He started up the boat and went inside the harbor.
You can hoop net in certain parts of the harbor, but diving anywhere in the harbor is illegal without Police permission.
I don't mind because harbor diving is nasty.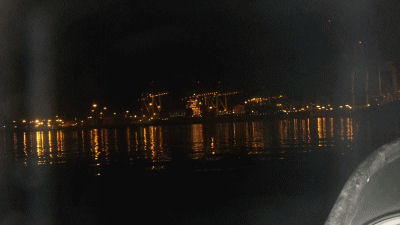 The Los Angeles Harbor
We dropped ten hoop nets at two points and drank beer for 40 minutes waiting for the lobsters to crawl into the baited nets.
It was Luis's turn to pull the nets.
The first pull yielded nothing.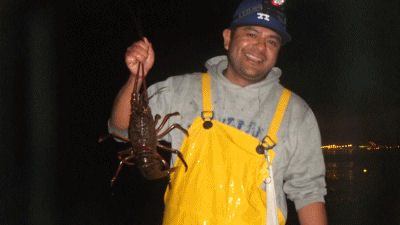 The second pull yielded Luis his first bug.
The other three at this spot were empty, or as Captain Tom called them, "blanks."
We went to the second spot where Luis kept pulling the nets.
I was looking over Captain Tom's shoulder to see what was inside when the net broke the surface.
Suddenly, I got an elbow in my stomach and a push to the other side of the boat, where I landed on the cooler.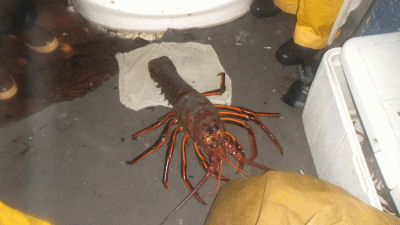 Holy crap! A huge bug landed on deck!
"We had to get that thing in the boat, it was hanging on the outside," Captain Tom said.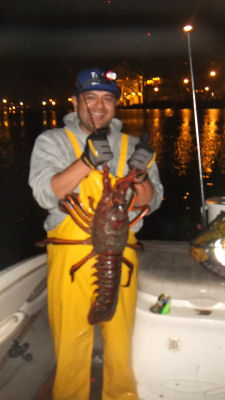 Luis with his monster bug.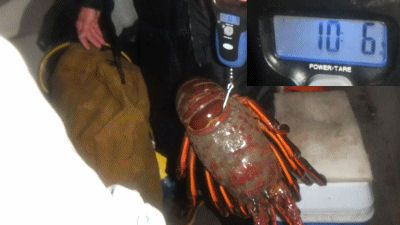 The bug weighs in at 10.6 pounds.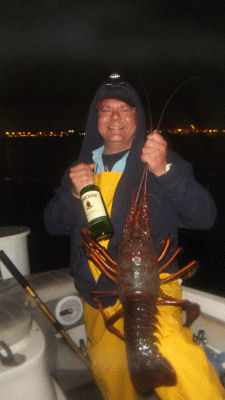 Ranger Danger poses with the monster lobster.
I filled out another line in my lobster report card to reflect the gear change…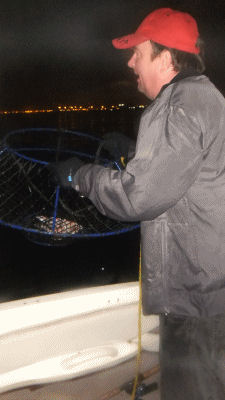 Me throwing a hoop net.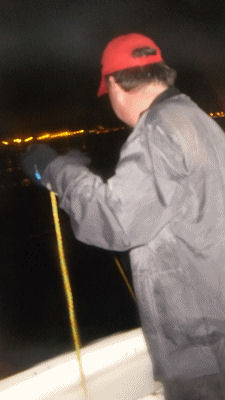 Me pulling a hoop net up.
I did as well at hoop netting as I did with SCUBA diving for lobster – ZERO!
We stayed there for another drop, and ended up catching one more lobster.
We tried other spots, but had no further success.
We headed back around 2 AM.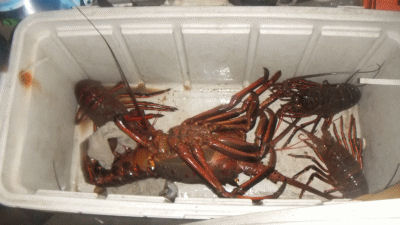 The catch for the night – four lobsters and one octopus.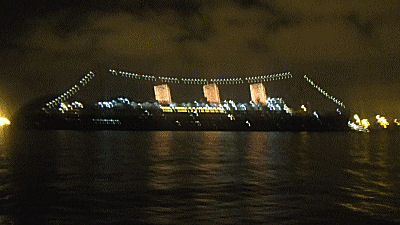 So the final score for tonight:
SCUBA Diving – 0 lobsters
Hoop Netting – 4 lobsters
It was a fun and interesting trip, however, mixing hoop nets and SCUBA on the same boat just is really awkward.