November 8, 2013
I was so sore last Thursday from Cage Fighting training earlier in the week, that I took the night off and went to a local bar to ingest some recovery carbs.
I was greeted by the hot bartender by her yelling, "So, where the fuck is my lobster? You gave everybody one except me!"
Yeah, the last trip I got skunked, but I never promise anyone lobster until I actually have them.
That greeting sparked a conversation with another patron who also goes lobster hunting.
"Yeah, I have a friend with a boat, if you want to go out Friday night for some hunting, we have a spot," the guy said, who would later identify himself as Ranger Danger.
Not knowing if he was bullshitting me because he was drinking, I took his number and followed up the next day – yep, we were going.
We met at the local pub, where he picked me up to get my SCUBA gear at my apartment in the ghetto.
"Why are you bringing all that shit?" Ranger Danger asked.
"Uh, we're going lobster hunting, right?"
"Yeah, but we use hoop nets," he responded.
Oh, Fuck!
I guess I should have asked for details on this trip!
I was determined to dive – scoop up the lobsters, limit, and drink beer while I watch their futile effort to score the big bugs; at least, that was my plan.
So, for this trip – Captain Tom, Luis, Ranger Danger, all hoop netters, and me on SCUBA.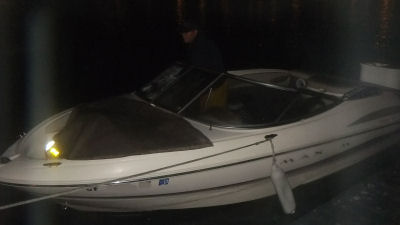 Captain Tom's boat.
We boated out of the harbor, but within the break wall, to a secret spot.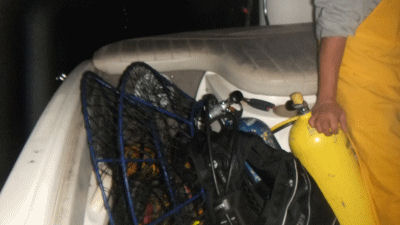 Hoop Nets next to SCUBA gear.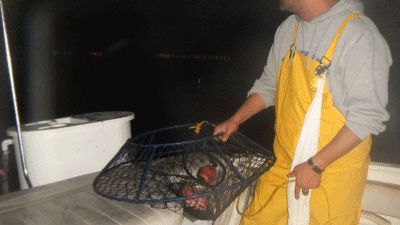 They threw baited hoop nets over.
"OK, we can't anchor, but we'll know where you are by your light; if you pull this off, I'm gonna take a refresher course and join you next time," Captain Tom said.
I was determined to limit.
I geared up and flipped backwards over the starboard side.
Logged SCUBA Dive #454
Solo Diving
Secret Location: 49 6e 20 74 68 65 20 62 72 65 61 6b 77 61 74 65 72 2c 20 6f 75 74 73 69 64 65 20 74 68 65 20 68 61 72 62 6f 72 20 6f 66 66 20 74 68 65 20 69 73 6c 65 20 6f 66 20 43 68 61 66 66 65 65 2e
Long Beach, CA, USA
In With: 2900 psi
Out With: 1500 psi
Max depth: 35 feet
Waves: Pretty flat
Visibility: shit to 10 feet
Water Temperature: 62 degrees
Air Temperature: 73 degrees
Total Bottom Time: 25 minutes or so
I submerged to a barren wasteland of boulders – I searched in the holes, up and down, going East.
I saw one lobster and pinned it – it was so short, I didn't even bother measuring it, and let it go, unharmed.
I continued hunting… some molts, but no lobsters.
Fuck, they must be deeper?
I took a heading and went deeper – the visibility turned to shit.
Off the rocks, the floor is a three foot deep mass of mush.
After about twenty five minutes or so, not seeing any legal lobsters at all, I surfaced.
I spotted the boat, gave three blinks on my light, and was picked up.
"There's nothing down there," I said.
Captain Tom expressed some concern when I went deeper because they lost sight of my light.
Once on the boat, they went around pulling their nets.
All "blanks" except for one sheep crab.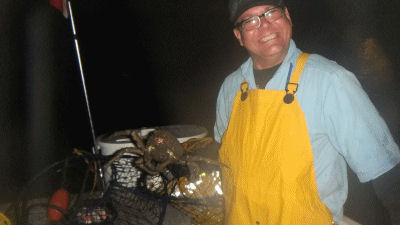 Ranger Danger looks way too happy to have caught a sheep crab.
The sheep crab was thrown back.
We went on to our next spot – more to come.