Promptly showing up at 8:15 AM, I noticed that the free lot was almost full and divers were starting to gear up.
But I didn't recognize any of the divers; where were the regulars?
I decided to check out the conditions.
Talk about starting immediately?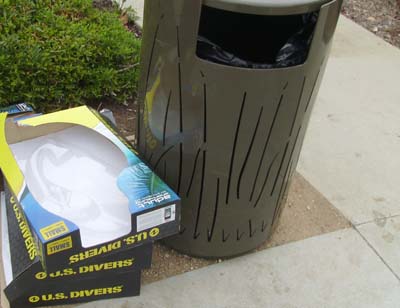 Three boxes of cheap snorkel gear was by the trash.
A group must have just came from Big 5 and decided to see if their gear fits – I am guessing.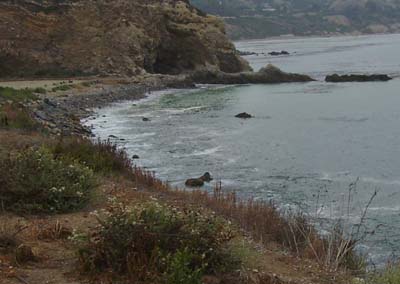 The Cove looked foamy, I met the group of regulars who were walking from The Point.
In Nice Bob's words, "You would be risking your life entering off the Point, for barely any visibility."
Conditions at the Cove looked divable from and entry and exit point of view, but the conditions looked crappy.
A few divers dove here and later reports confirmed five to eight feet of visibility.
The group decided to check out Honeymoon Cove; I followed.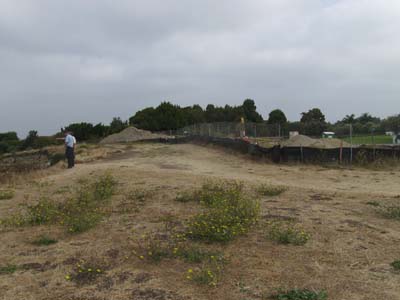 There's some kind of construction going on at Honeymood cove; probably another mansion.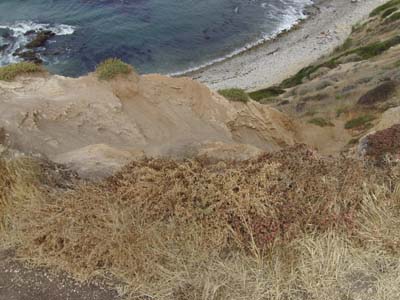 Dive conditions looked good, but the trail still sucks.
I have dove here before and have been here when the group decided to dive.
The trail fucking sucks, and I had a lot of stuff to get accomplished today, so I called the dive – by the way, I didn't get much done regardless.
Most of the group decided to dive Honeymoon Cove, but I split and ened up in San Pedro at Rebel's Bar to watch the FIFA officials try and fix the Womens' World Cup kickball match in favor of Brazil – The USA still won!
Ha! Ha! Screw Brazil!
If I'm going to start whimping out on macho dives, I think I should go back to Wednesday night dives at Veteran's Park – at least I would get wet.
To get off the subject of diving a little bit, for the past few years I have been helping to set up professional fireworks shows on the 4th of July.
This year, Professional Debriefer Paul was able to document the occassion with two of his award winning videos.
So, this is my one day a year job:
To view this video on YouTube, click here.
To view this video on YouTube, click here.
Next weekend is Military Bob's last potential dive with us; I think it's time for another parking lot party to say farewell.
Comments Off

on Sunday Dive Conditions Report and 4th Of July Video