Since this will be my third straight season of lobster hunting on SCUBA, I have decided to share some important advise and tips on how to make your lobster hunting trips more successful and keep the Department Of Fish And Game off your back.
I am breaking this in to a two part series.
This week are the basics that a lot of readers already know; next week will be the secrets of success.
When To Hunt
Lobster season starts at 12:01 AM the Saturday before the first Wednesday in October and runs until the next Wednesday after the 15th of March.
For the 2008 season, the season runs from 12:01 AM on September 27, 2008 until 11:59 PM, March 18, 2009.
Lobsters are nocturnal; they hide in rocks and reefs during the day and come out at night to seek food.
So, diving at night is a necessity for successful lobster hunting.
Yes, you can hunt during the day, but it requires a lot more luck and effort.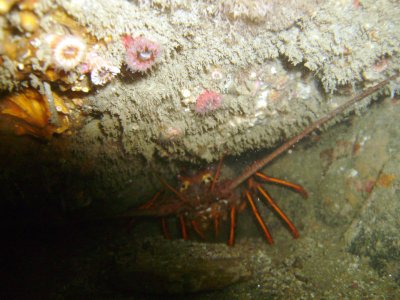 When the sun's out, you'll be digging into holes that are shared by eels and sometimes disassembling portions of the reef – not worth it in my opinion.
Make Sure You Are Properly Equipped
Aside from your standard SCUBA gear, you'll need:
• A heavy duty pair of thick nylon gloves.
Even though spiny lobsters have no claws, if you pin them or hold them incorrectly, their tail can wrap around your hand and the spikes can puncture your skin; the "bulls" also are able to inflict a painful bite.
• Be sure to obtain a current California Fishing license, with an "Ocean Enhancement" stamp along with a "lobster report card" – something new this season.
• A good underwater halogen light and a reserve light; good lights pay for themselves by catching more lobsters.
Rechargeable batteries will also be good to your budget in the long run.
• A lobster gauge for measuring the carapace.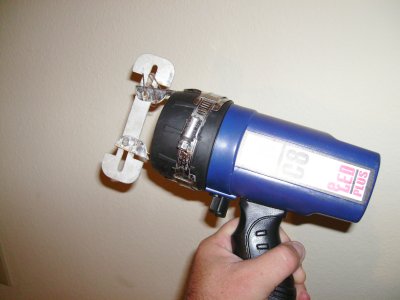 I have one that fits on my light; I can measure the lobster and hold my light with one hand.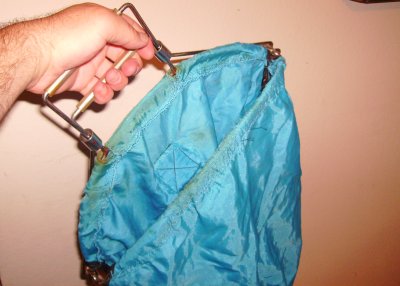 • A good, spring loaded lobster bag that you can open with one hand, that stays closed by default, and a cheaper "holding bag" to keep your lobsters in between dives.
Basically, with a lobster in your hunting hand, you want to plan to do everything else with your other hand – measure, open your bag and insert.
Know How To Stay Legal
Observe the rules on how to catch lobsters and you should stay out of trouble…
First, the obvious – hunt only during lobster season!
• Have your fishing license with the proper endorsements within 500 feet of you when diving from a boat or shore.
• You must catch lobster with your hands; spearing or netting them while diving is illegal.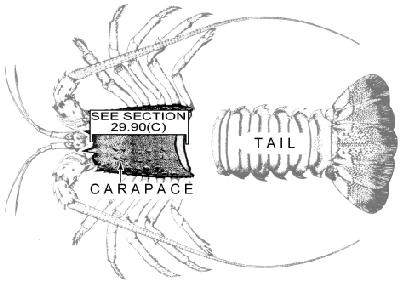 • The carapace of the lobster must be at least 3 1/4 inches long.
Rule of thumb, if the lobster looks like it's probably legal, throw it back; if it feels like you're grabbing a beer can, bag it!
• You must carry your lobster measuring device with you while you dive; all lobsters must be measured in the water and released unharmed if under sized.
• The bag limit for a 24 hour period is seven legal lobsters; "trading up" is illegal.
• Even in season, it is illegal to take "egg bearing" female lobsters; "egg bearing" females will have a swollen underside.
• You must keep your lobsters whole while at sea, although I have also heard they must remain whole until eaten.
• As a recreational lobster hunter, you cannot sell your catch; I give many tails away during the season and tend to have a lot of friends at that time.
Make Sure You Are Physically And Mentally Prepared
Night time SCUBA diving freaks a lot of people out; every passing sea lion might look like a shark, every piece of kelp may look like an electric ray.
A first time night diver described the experience as "very claustrophobic."
Make sure you have done a few "for fun" night dives to get comfortable with the concept.
Lobster hunters also make really crappy dive buddies; be sure you are self reliant underwater.
Be sure you are physically able to perform the tasks at hand, whether it be shore diving or boat diving.
Eat a good meal before hand to provide you enough energy; the crap about not eating an hour before you swim is a wives' tale.
Pin Lobsters, Don't Grab Them
So what happens when your light hits a traveling lobster that's out foraging for food?
Personally, I move my light off to the side, towards the back, swim up and pin (NOT GRAB) the lobster by it's carapace.
Pin it against the ground, which can be tricky depending on the terrain.
Hesitation, waiting, thinking and positioning yourself for too long will cause the lobster to flee.
You have to develop the skill of spotting them, approaching them and pinning them in a matter of a few seconds.
Lobsters crawl forward looking for food very slowly, but in a panic, they flap their tail and swim rapidly backwards to avoid danger.
If you don't have a good grip on them, their tail will propel themselves out of your hand.
Yes, they use their spiny tail as a defense also; grab them at the tail, and you might pay in a few puncture wounds.
Lobster Hunting Verbage
Bug – Another term for a lobster.
Bull – Large, even huge lobsters that can bite…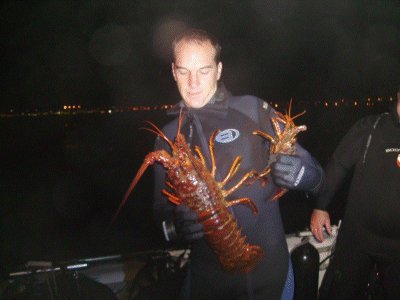 From left to right, a "bull" compared to a "legal" lobster.
DFG! – When you hear this, make sure you don't have any illegal catch.
Opening Night – The morning lobster season opens.
It's actually Saturday morning, but hunters show up Friday night; so, they call it "opening night."
Short – Your lobster is too small; not legal. Throw it back.
Next Week: Where To Go, Boat Tips, Shore Diving Tips and other lobster hunting secrets!