May 18-19, 2015*
My mission now took me from Flagstaff, Arizona to Henderson, Nevada.
From there, we were to take a flight from McCarran Airport to Des Moines, Iowa for the second leg of the mission.
Driving went well except for encountering some bums at a gas station before transitioning from the 40 to the 95.
We pulled up to get gas, and I was immediately approached by some Indian looking guy who needed some help getting to Phoenix, because his car broke down.
I told him, "Dude, I'm from Long Beach, I know a hustle when I hear one."
He disappeared only to be replaced 30 seconds later by a young white guy who said he didn't have any money, but would like to wash our windows as a courtesy of "love" in return for any donation.
I started pumping the gas and told him that my windows were clean, as I grabbed a squeegee and started to clean them.
Was I being mean?
Was I due for some karma?
All I can say is, I got some sadistic joy in seeing their disappointed faces when I turned them down – much like the joy some women get when they turn down a handsome stud who invites them to dinner.
We continued to the 95 North.
Traffic was going fine – 80 miles an hour as I passed some kind of a parked state truck, with some guy on the side of the road waving a red flag.
What the hell does that mean?
I turned a corner and slammed on the brakes because of what we were coming up on very fast…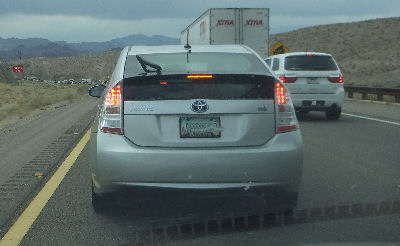 Traffic came to a dead stop, with vehicles stopped at least a mile in front of us.
I mean, a dead stop… some guy was out of his car, peeing on the side of the road, other drivers were smoking and conversing outside of their cars.
After almost an hour, traffic started to move, but very slowly.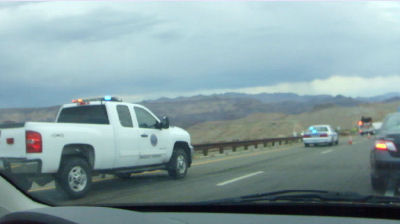 After another hour, we approached the scene of the accident.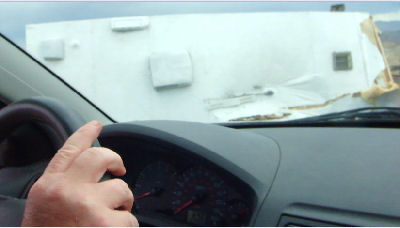 It was an overturned motor home that blocked both lanes – traffic was squeezing through the emergency lane, as a crew was crushing up the wreck and hauling it away.
We soon made it to Henderson, Nevada to await our flight to Des Moines, Iowa the next day.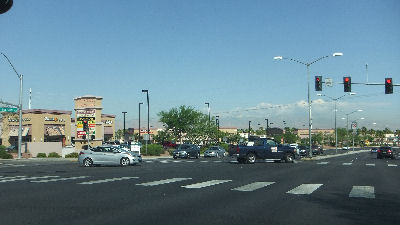 Henderson, Nevada looks nothing like it's Las Vegas counterpart – the mafia must pay off the Henderson City Council to not build any casinos within the city limits.
The next morning, we drove to McCarran Airport and parked the car.
I hate airport security.
After taking my shoes off, emptying my pockets, taking my belt off and putting my laptop in a separate X-ray tray, they wanted me to go through a porno-scanner.
I told the woman, "I want to go through the metal detector, or take a pat-down."
"Male assist! Male assist! We have a voluntary opt out on aisle four!" she screamed for all to hear.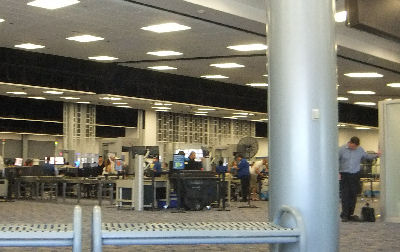 There were some kids behind me and an old man.
The T.S.A. lady closed the porno scanner and let the people behind me walk through the metal detector.
I said, "Why can't I go through the metal detector?"
"You already opted out," she said.
So, fifteen minutes later, after the blue glove treatment and bomb swab, I gathered my stuff to go dress in a corner.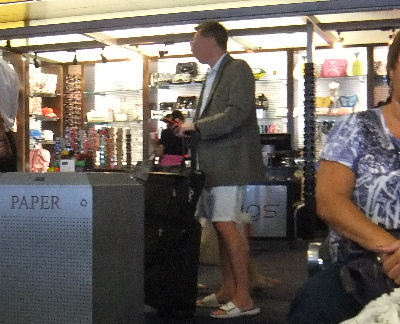 Someone who just went through security forgot to put his pants back on.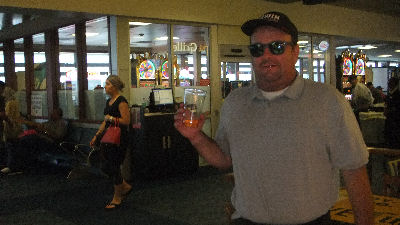 After a few beers and a shot of Jameson, we're off!
We flew the cheapest airline we could find – Southwest Airlines.
And of course, with the cheapest flight also comes a cattle-run for seats.
When boarding was announced for our sequence, there was a very condensed line pressing against the gate.
A lady in front of me remarked, "This line is very cozy."
I said, "Just wait until you get in the plane."
I don't know if it was the alcohol on my breath, or what, but she moved to the back of the line.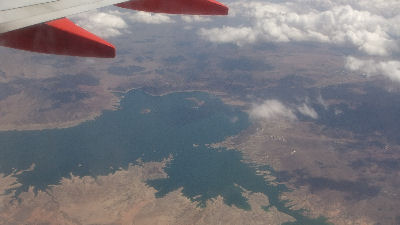 The flight to Des Moines was uneventful, but included a free bag of crackers and a Flat Tire Beer.
I was reading the USA Today, Tuesday, May 19th 2015 edition, when on page 4A, I spotted the following news blurb…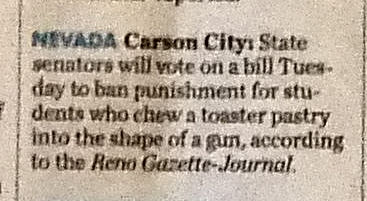 Nevada, Carson City: State Senators will vote on a bill Tuesday to ban punishment for students who chew a toaster pastry into the shape of a gun, according to the Reno Gazette-Journal
Holy, Fuck!
How the hell did that ever even become a punishable crime?
We landed without incident.
We had found the cheapest rental car ever off of Craig's List – $14 a day for a car, unlimited miles.
The only catch?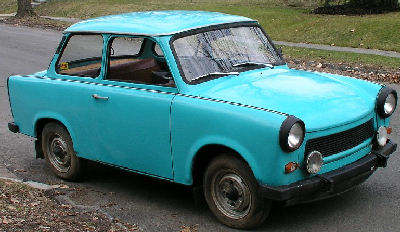 It was a 50 year old, two stroke Communist made car called a Trabant.
There was a repair manual and tools in the trunk and instructions on how to mix oil with the gasoline when refueling.
I had a hard time starting it, and when the engine finally did, it sounded like a lawn mower, and must have spewed out more exhaust in a minute than most new cars do in a lifetime.
I know how to drive a stick shift, but three on the tree was extremely awkward.
Having left the GPS in Las Vegas, we pulled into a gas station to buy maps to plan the mission route.
First off, when I asked the 18 year old clerk where the maps were, he told me just to get online and Google it.
Well, that was not possible, but low and behold – after some searching – I found some crusty old maps of Iowa next to the motor oil section.
The clerk wouldn't bend on the price even though they were old and damaged – we bought two different maps at a dollar each.

We carefully planned our route to the Motel and our mission.
We are suppose to rendezvous with "Secret Agent K" tomorrow.
More to come…
*Post delayed due to security and other reasons.