I took a break from the zodiac to try my lobster liberating ability on the Sea Bass, a ten diver charter boat out of Ports O' Call in San Pedro.
The divers were a mix local experienced divers including Reverend Al, Chipper, Jordan, Nice Bob, other Jeff, Mike S. and Gino C.
Catalina has lots of bugs, and with the new fishing preserves all over Palos Verdes and Catalina, I thought this trip could would be worth it, once I limited.
Even though there is a compressor on the boat, I brought two tanks just in case I didn't want to wait for an air fill.
The boat left at 9:01 PM for the "hour and a half" trip to the Catalina.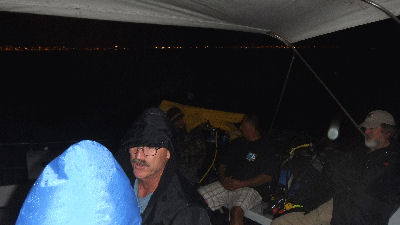 I'm not sure if it was the boat or the slight swells, but it was a bumpy and wet ride out.
Once we reached the island, it took another 40 minutes to reach our destination.
Logged SCUBA Dive #422
Solo Diving/SoCal Buddy Diving
Secret Location: 54 68 65 20 50 6f 69 6e 74 20 74 68 61 74 20 69 73 20 6c 6f 6e 67 20 6f 66 66 20 74 68 65 20 64 6f 6d 65 20 6c 69 6b 65 20 72 6f 63 6b 20 6e 65 78 74 20 74 6f 20 61 20 6d 6f 6f 72 2e, Catalina Island
In With: 2900 psi
Out With: 1000 psi
Max depth: 65 feet
Waves: Pretty flat
Visibility: Up to 20 feet
Water Temperature: 58 degrees
Air Temperature: 69 degrees
Total Bottom Time: About 35 minutes
We anchored in 65 feet of water and we were told by the Captain, that there is a reef that runs along the bow.
I was the third diver over and under.
All I saw was sand and grass – I had flash backs from when I got skunked in 2005 aboard the Bottom Scratcher – the boat anchored in one barren spot all night long.
I knew this wasn't going to be the case, but everyone wanted to limit and get home early.
I looked at my computer, and the thing was off.
Fuck! No computer, and I didn't bring my table!
I went as shallow as 20 feet, where the vis went to nothing and the surge picked up.
I saw one short lobster this entire dive; this place sucked and I didn't want to waste bottom time here, especially now that I would have to guess my bottom time and surface intervals.
I returned to the boat.
Everyone got skunked except for Reverend Al, who got a monster and a legal, and Nice Bob who got a few.
Al got his in 70 feet, Bob had stumbled on the a reef in 35 feet and liberated four.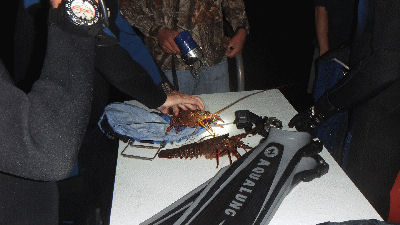 Great, everyone else missed these places; why were we anchored here and why are we anchored so deep?
The Captain said, if we were any closer, he would drag anchor and he'd have to fire the boat up with us in the water.
Comments Off

on Opening Night Of California Lobster Season!